REFRAME is delighted to announce some exciting new ventures at its digital platform along with some related 'real-world' events. Please scroll down for the following contents.
Musical Materialities in the Digital Age
Publication of SEQUENCE 1.2, 2014
Reflecting and Remembering: The Work of STUART HALL
Researching Uniqueness
Found in Translation Symposium
1. First of all, today we launch a new website called Musical Materialities | In the Digital Age (MusMat), co-edited by Richard Elliott, Lecturer in Popular Music at the University of Sussex,  and Elodie Roy, of the Music Department, Newcastle University.
What are 'Musical Materialities'?
For a start, there is the fascinating array of artefacts that accompany musical practices and that provide vital reference points for historical research while inviting new creative uses, rediscoveries and (re)mediations. Such artefacts include instruments, scores, transcribing devices and sound recordings, as well as the various materials that accompany them. They also add to the ever-growing archives of past objects, whether stored in physical or digital forms. Music's material traces serve as vital ways of mediating memory, whether in private collections or public exhibitions. Furthermore, the use of musical 'ephemera' such as record sleeves, programmes, flyers and posters as a primary means for putting the popular musical past on display in museums and galleries has highlighted the ways in which such objects are not so ephemeral after all. More broadly, 'musical materialities' refers to any process by which the act of musicking is made material. The reference to 'the digital age' serves to highlight the relationship between physical artefacts and their digital/virtual counterparts. [About MusMat]
Musical Materialities in the Digital Age is also the name of an academic conference (taking place at Sussex University on 27-28 June 2014), a broader research project as well as the aforementioned online resource (the new website for REFRAME). The website is designed as a repository for materials related to the conference and the research project and will include updates on both, reports and reviews, analytical pieces, discussions and interviews, links to complementary resources and embedded media. Some emblematic, already published material is linked to below:
More details about the conference can be found at the MusMat site and on its Facebook page.
2. Publication of SEQUENCE 1.2, 2014: "An Allegory of a 'Therapeutic' Reading of a Film: Of MELANCHOLIA" by Rupert Read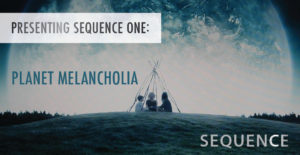 We are delighted to announce the publication of a response to Steven Shaviro's magisterial article "MELANCHOLIA, Or The Romantic Anti-Sublime", SEQUENCE 1.1 (2012), the launch essay for PLANET MELANCHOLIA, the inaugural issue of SEQUENCE, REFRAME's experimental, peer-reviewed, media, film and music studies serial publication.
Rupert Read's response to Shaviro (the publication of which was delayed somewhat by the need to locate a technological solution to the matter of showcasing its innovative form: 33 philosophical sections, with 33 endnotes and 33 sidenotes) offers a personal, affective, and deeply philosophical account of Lars von Trier's 2011 film Melancholia, one which engages in detail not only with Shaviro's work on this film, but also, as the earlier essay also did, with the important issues Melancholia raises about depression and the extinction of our planet.
Further responses to Shaviro's article are also in the works, and will be announced here soon. You can also read the second issue of SEQUENCE: 'We Need to Talk about the Maternal Melodrama'.
3. REFLECTING AND REMEMBERING: THE WORK OF STUART HALL, 8 May, 2-5.45pm, large Lecture Theatre, Jubilee Building, University of Sussex, Falmer..
STUART HALL, the renowned sociologist and cultural theorist, died in February this year.
He was Director of the Centre for Contemporary Cultural Studies at the University of Birmingham and played a leading role in the development of the field of media and cultural studies. Later, as Professor of Sociology at the Open University he reached a wider public in his broadcasts and media appearances, discussing the inequalities of race and class. His analysis of the Thatcher years in Britain has never been surpassed, and his comments on the current neoliberal conjuncture were incisive. He was a public intellectual in every sense, and as such stands out as a leading thinker in post-war Britain. For these reasons the
Sussex Centre for Cultural Studies
has organised an event in his memory and honour.
Programme:
2pm: Screening of John Akomfrah's film: THE STUART HALL PROJECT4pm: Panel Discussion of Stuart Hall's work and legacy withAVTAR BRAH       DAVID MORLEY      NIRMAL PUWAROrganised by
Sussex Centre for Cultural Studies
, Sussex University
Avtar Brah is Professor Emerita of Sociology, Birkbeck College, London. Her books include Cartographies of Diaspora: Contesting Identities; Hybridity and Its Discontents: Politics, Science, Culture (edited with Annie Coombes); Thinking Identities: Racism, Ethnicity and Culture and Global Futures: Migration, Environment and Globalization (both edited with Mary Hickman and Mairtin Mac an Ghail). She is the Feminist Review Collective's longest serving member; Feminist Review 100 was inspired by her 1999 article: 'The scent of memory: strangers, our own, others' and included a piece by Stuart Hall: 'Avtar Brah's cartographies: moment, method, meaning'.
David Morley began his career at the Birmingham Centre for Contemporary Cultural Studies, working with Stuart Hall, and is now Professor of Communications, Goldsmiths College, London. He is the author of Everyday TV: Nationwide (with Charlotte Brunsdon); The Nationwide Audience; Family Television; Television, Audiences and Cultural Studies; Spaces of Identity (with Kevin Robins); Stuart Hall: Critical Dialogues in Cultural Studies (co-edited with Kuan Hsing Chen); British Cultural Studies (with Kevin Robins) Home Territories: Media, Mobility and Identity; Media and Cultural Theory (edited with James Curran) and Media, Modernity and Technology: The Geography of the New.
Nirmal Puwar is Senior Lecturer in Sociology, Goldsmiths College, London. She is the author of Space Invaders: race, gender and bodies out of place, and has led several creative collaborative projects, including 'Noise of the Past', a public intervention in war and memory, launched in Coventry Cathedral on the 8th November 2008. She is Director of the Methods lab at Goldsmiths and co-editor with Les Back of Live Methods. She recently published a reflection on the significance of Stuart Hall as a public intellectual and in her own personal development in Open Democracy.


4. Call for papers: Researching Uniqueness, 6th annual Brighton-Sussex postgraduate conference, 6th June 2014
CALL FOR PAPERS
RESEARCHING UNIQUENESS: HOW LIFE HISTORY RESEARCH ENTAILS SINGULAR QUESTIONS AND SPECIAL OUTCOMES.
The 6th annual Brighton-Sussex postgraduate conference, Co-organised by the Centre for Life History and Life Writing Research (University of Sussex) and the Centre for Research in Memory, Narrative and Histories (University of Brighton), 6 JUNE 2014 at The Keep, Brighton
Life history methods across disciplines offer special challenges but they also offer uniquely rich results. This conference will focus in particular on the tension between analysing the individual's unique experience and understanding the social or collective contexts which define it. It will also more broadly address the complexity and variety of its methods as it is used across disciplines, from qualitative social sciences to literary auto/biographical studies, to oral history, the documentary arts and narrative psychology. It will consider the experience of the researcher as we find ourselves steered in unique investigative directions, thus shaping the way knowledge develops in particular ways. It will acknowledge how researchers working in this field are more likely to encounter and tackle challenging, underexplored or unexpected themes not always present in mainstream narratives or 'traditional' sources.
We invite postgraduate participants to present at this conference their contributions on why it was pivotal to prioritise the life history methodology in answering initial research questions and how this approach subsequently shaped and impacted their research and findings.
Lunch provided and workshop-style presentations encouraged.
Please send a 300-word abstract, a brief biography (including name, degree, year and research interests), 5 keywords, and your contact details to a.d.c.ferreira-campos@sussex.ac.uk by 2nd May 2014.
5. Finally, a reminder of the Found in Translation Symposium on Intra-disciplinary collaboration and communication, part of REFRAME's Mediamorphosis website projects for the Creative Critical Practice Research Group. For students, artists, researchers, composers, designers, faculty…
Dates and Location: 1st May and 2nd May 2014, The Creativity Zone, University of Sussex, UK
Outline:
Typically attention is given to the value of interdisciplinary activity across broad fields such as art and science. Funding is regularly allocated for the development of protocols and to assist communication between these traditions. What happens to communication across different disciplines within arts and humanities? How does translation of activity and information from one medium, or specialist arts or humanities area, into another allow knowledge to be explored in different ways? Can the process, including misunderstanding and learning, be considered a creative act in itself?
Concretely it is the case that much is taken for granted even in conversations between practitioners from different arts practice backgrounds such as music composition, film and visual art. When Humanities strands are considered the potential for confusion, or worse, fear of collaboration, is amplified. This is despite the fact that many practitioners, academics and researchers collaborate and draw frequently on each others' fields. Artists often refer to philosophical theories or history, film makers work with designers and composers for example.
The symposium is oriented towards artists, researchers, students, faculty and other professional creative organisations. The initiative was instigated by Creative Critical Practice Research Group (CCPRG) based at University of Sussex through discussions with Professor of Performance Technologies, Sally-Jane Norman, and is hosted by the Attenborough Centre Creativity Zone, which is providing key resources for FIT. The symposium also benefits from support and endorsement from the open access academic platform REFRAME, doctoral students from the University of Sussex, Royal College of Art, Universities of Brighton, West London, Glasgow, linkages with the University of Dundee, the Consortium for the Humanities and the Arts Southeast England (CHASE) and additional funding kindly provided by the University of Kingston.
Keynote Speakers:
Day 1: Dr Mary Anne Francis, University of Brighton, will discuss the function of translation in a multi-modal arts practice and in relation to multi-disciplinary research.
Day 2: Prof. Simon Penny, University of California Irvine, will draw on his artist-engineer background and experience as founding director of the Arts, Computation and Engineering Masters programme at UCI.
Programme Sessions:
Taking its cue from attempts by entomologists to transcribe the sounds of insects as musical notation an exploration of the ends to which sound and image are used to encode each other. Led by composers/musicians Justin Grize with Daniel Hignell.
Adopting a hands-on technical approach, transducers/transduction will be explored in their relations to translation. Led by musicians/composer s Joe Watson with Danny Bright.
Translating a multidisciplinary practice into sensuous knowledge, lending itself to potentially conflicting literacies and interpretations. Led by illustrator Nanette Hoogslag with artist Cecile Chevalier and composer Evelyn Ficarra.
Walter Benjamin's The Task of the Translator will offer a starting point for debating the relevance of philosophical theories to translation in practice. Led by Dr. Daniel Steuer.
Artist Micheál O'Connell and composer Stace Constantinou use their experience of working together on a joint exhibition Trainofthoughts (2012) as case study.
Reflection on scholarly video-making practices using existing film footage, in creative critical contexts, and on possibilities for peer-review, publication, academic reception and teaching of such work. Led by Dr. Catherine Grant with Dr. Ian Garwood and Frances Hubbard.
Janina Moninska directs Liebe Mutti, a Live Art Intervention using 39 German letters written by [her] Polish father from Dachau Concentration camp 1940-1945.
Site and registration information: http://www.sussex.ac.uk/acca/newsandevents?id=22997
Or contact: mo99@sussex.ac.uk