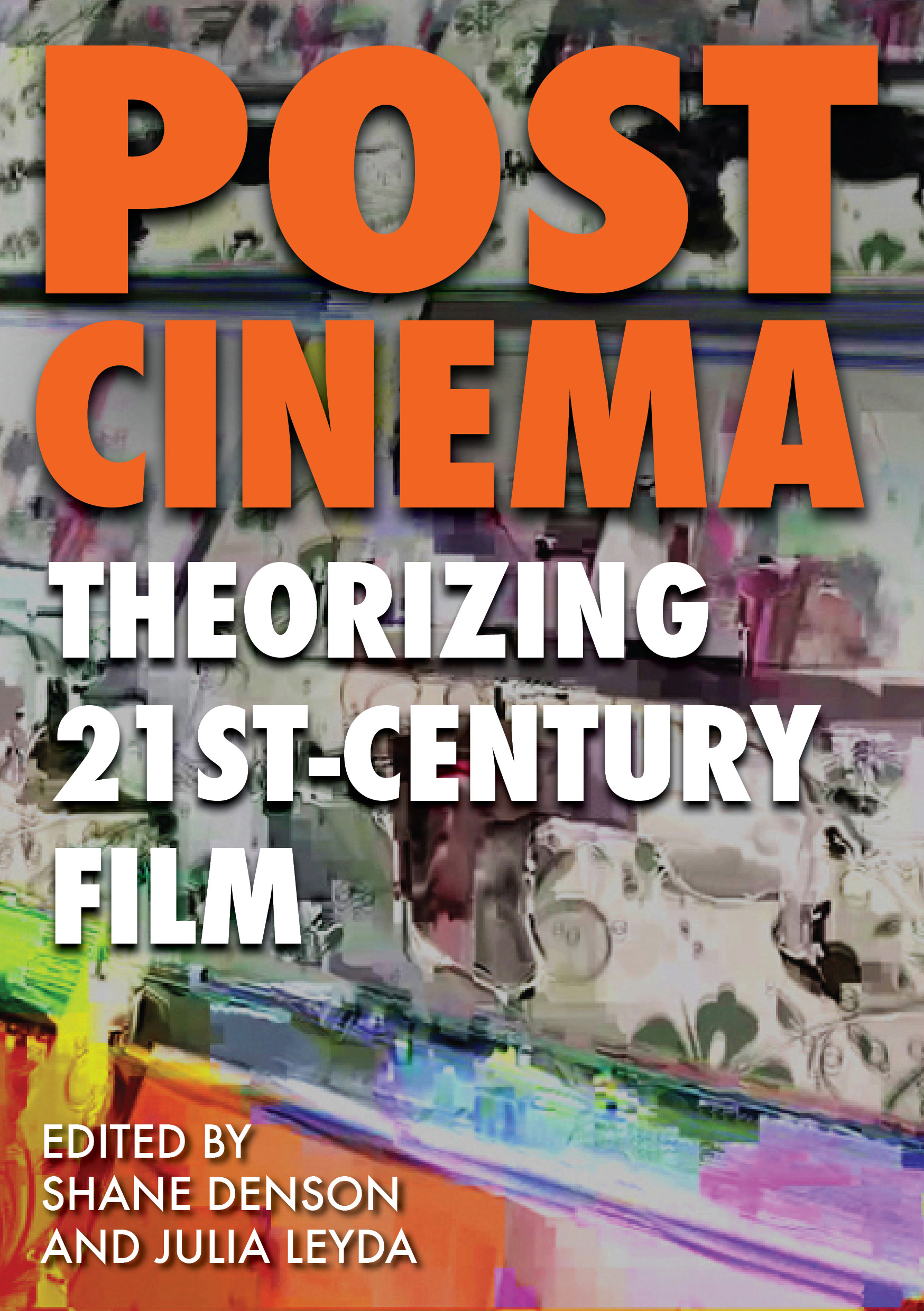 PUBLISHED IN APRIL 2016.
Post-Cinema: Theorizing 21st-Century Film
Falmer: REFRAME Books, 2016.
ISBN 9780993199622 (online)
https://reframe.sussex.ac.uk/post-cinema/
ISBN 9780993199639 (PDF)
Download PDF 13mb
Download PDF 9mb
Edited by Shane Denson and Julia Leyda 
If cinema and television, as the dominant media of the 20th century, shaped and reflected our cultural sensibilities, how do new digital media in the 21st century help to shape and reflect new forms of sensibility? In this collection, editors Shane Denson and Julia Leyda have gathered a range of essays that approach this question by way of a critical engagement with the notion of "post-cinema." The contributions take as their critical starting-points concepts such as Steven Shaviro's "post-cinematic affect" and "post-continuity." They expand and build upon the ideas of these and a range of other thinkers, with the goal of coming to terms with an apparently new media ecology that requires us to search for a fresh critical vocabulary. By examining the experiential, technological, political, historical, and ecological aspects of the transition from a cinematic to a post-cinematic media regime, these chapters explore key questions in breaking this new ground, seeking and articulating both continuities and disjunctures between film's first and second centuries. Questions of aesthetics and form overlap with investigations of changing technological and industrial practices, contemporary formations of capital, and cultural concerns such as identity and social inequalities. The impact of digitization on taken-for-granted conventions is also in play: intermediality, new forms of distribution both licit and illicit, academic and critical reliance on genres and discrete media formats—all of these come under scrutiny as paradigms shift in the post-cinematic era.
---
Shane Denson is a DAAD postdoctoral fellow at Duke University, where he is affiliated with the Program in Literature, the Department of Art, Art History & Visual Studies, and the Information Science + Studies Program. He is also an assistant professor at the Leibniz Universität Hannover and a member of the interdisciplinary research unit "Popular Seriality—Aesthetics and Practice," based at the Freie Universität Berlin. From September 2016, he will be Assistant Professor of Art & Art History (teaching in the Film & Media Program) at Stanford University. He is the author of Postnaturalism: Frankenstein, Film, and the Anthropotechnical Interface (Transcript-Verlag / Columbia UP, 2014) and co-editor of several collections: Transnational Perspectives on Graphic Narratives (Bloomsbury, 2013), Digital Seriality (special issue of Eludamos: Journal for Computer Game Culture, 2014), as well as the present volume.
Julia Leyda  is Senior Fellow in the Institute for Advanced Sustainability Studies, Potsdam, as well as Fellow with the DFG Research Unit "Popular Seriality–Aesthetics and Practice" and Senior Research Fellow in the Graduate School for North American Studies, both at the John F. Kennedy Institute, Freie Universität Berlin. In August 2016, she will take up an Associate Professorship of Film Studies in the Department of Art and Media Studies at the Norwegian University of Science and Technology in Trondheim. She is editor or co-editor of Todd Haynes: Interviews (UP of Mississippi, 2014), Extreme Weather and Global Media (with Diane Negra, Routledge, 2015), and The Aesthetics and Affects of Cuteness (with Joshua Paul Dale, Joyce Goggin, Anthony P. McIntyre, and Diane Negra, Routledge 2017). She is author of American Mobilities: Class, Race, and Gender in US Culture (Transcript, 2016), and is working on two new books: Home Economics: The Financialization of Domestic Space in 21st-Century US Screen Culture and Cultural Affordances of Cli-Fi: 21st-Century Scenarios of Climate Futures.
---
Contents:
Perspectives on Post-Cinema: An Introduction – Shane Denson and Julia Leyda
Parameters for Post-Cinema
1.1  What is Digital Cinema? – Lev Manovich
1.2  Post-Continuity: An Introduction – Steven Shaviro
1.3  DVDs, Video Games, and the Cinema of Interactions – Richard Grusin
Experiences of Post-Cinema
2.1  The Scene of the Screen: Envisioning Photographic, Cinematic, and Electronic "Presence" – Vivian Sobchack
2.2  Post-Cinematic Affect – Steven Shaviro
2.3  Flash-Forward: The Future is Now – Patricia Pisters
2.4  Towards a Non-Time Image: Notes on Deleuze in the Digital Era – Sergi Sánchez
2.5  Crazy Cameras, Discorrelated Images, and the Post-Perceptual Mediation of Post-Cinematic Affect – Shane Denson

2.6  The Error-Image: On the Technics of Memory – David Rambo
Techniques and Technologies of Post-Cinema
3.1  Cinema Designed: Visual Effects Software and the Emergence of the Engineered Spectacle – Leon Gurevitch
3.2  Bullet Time and the Mediation of Post-Cinematic Temporality – Andreas Sudmann
3.3  The Chora Line: RealD Incorporated – Caetlin Benson-Allott
3.4  Splitting the Atom: Post-Cinematic Articulations of Sound and Vision – Steven Shaviro
Politics of Post-Cinema
4.1  Demon Debt: Paranormal Activity as Recessionary Post-Cinematic Allegory – Julia Leyda
4.2  On the Political Economy of the Contemporary (Superhero) Blockbuster Series – Felix Brinker
4.3  Reality Effects: The Ideology of the Long Take in the Cinema of Alfonso Cuarón – Bruce Isaacs
4.4  Metamorphosis and Modulation: Darren Aronofsky's Black Swan – Steen Christiansen
4.5  Biopolitical Violence and Affective Force: Michael Haneke's Code Unknown – Elena del Río
Archaeologies of Post-Cinema
5.1  The Relocation of Cinema – Francesco Casetti
5.2  Early/Post-Cinema: The Short Form, 1900/2000 – Ruth Mayer
5.3  Post-Cinematic Atavism – Richard Grusin
5.4  Ride into the Danger Zone: Top Gun (1986) and the Emergence of the Post-Cinematic – Michael Loren Siegel
5.5  Life in Those Shadows! Kara Walker's Post-Cinematic Silhouettes – Alessandra Raengo
Ecologies of Post-Cinema
6.1  The Art of Morphogenesis: Cinema in and beyond the Capitalocene – Adrian Ivakhiv
6.2  Anthropocenema: Cinema in the Age of Mass Extinctions – Selmin Kara
6.3  Algorithmic Sensibility: Reflections on the Post-Perceptual Image – Mark B. N. Hansen
6.4  The Post-Cinematic Venue: Towards an Infrastructuralist Poetics – Billy Stevenson
Dialogues on Post-Cinema
7.1  The Post-Cinematic in Paranormal Activity and Paranormal Activity 2 – Therese Grisham, Julia Leyda, Nicholas Rombes, and Steven Shaviro
7.2  Post-Cinematic Affect: A Conversation in Five Parts – Paul Bowman, Kristopher L. Cannon, Elena del Río, Shane Denson, Adrian Ivakhiv, Patricia MacCormack, Michael O'Rourke, Karin Sellberg, and Steven Shaviro
7.3  Post-Continuity, the Irrational Camera, Thoughts on 3D – Shane Denson, Therese Grisham, and Julia Leyda
7.4  Post-Cinema, Digitality, Politics – Julia Leyda, Rosalind Galt, and Kylie Jarrett