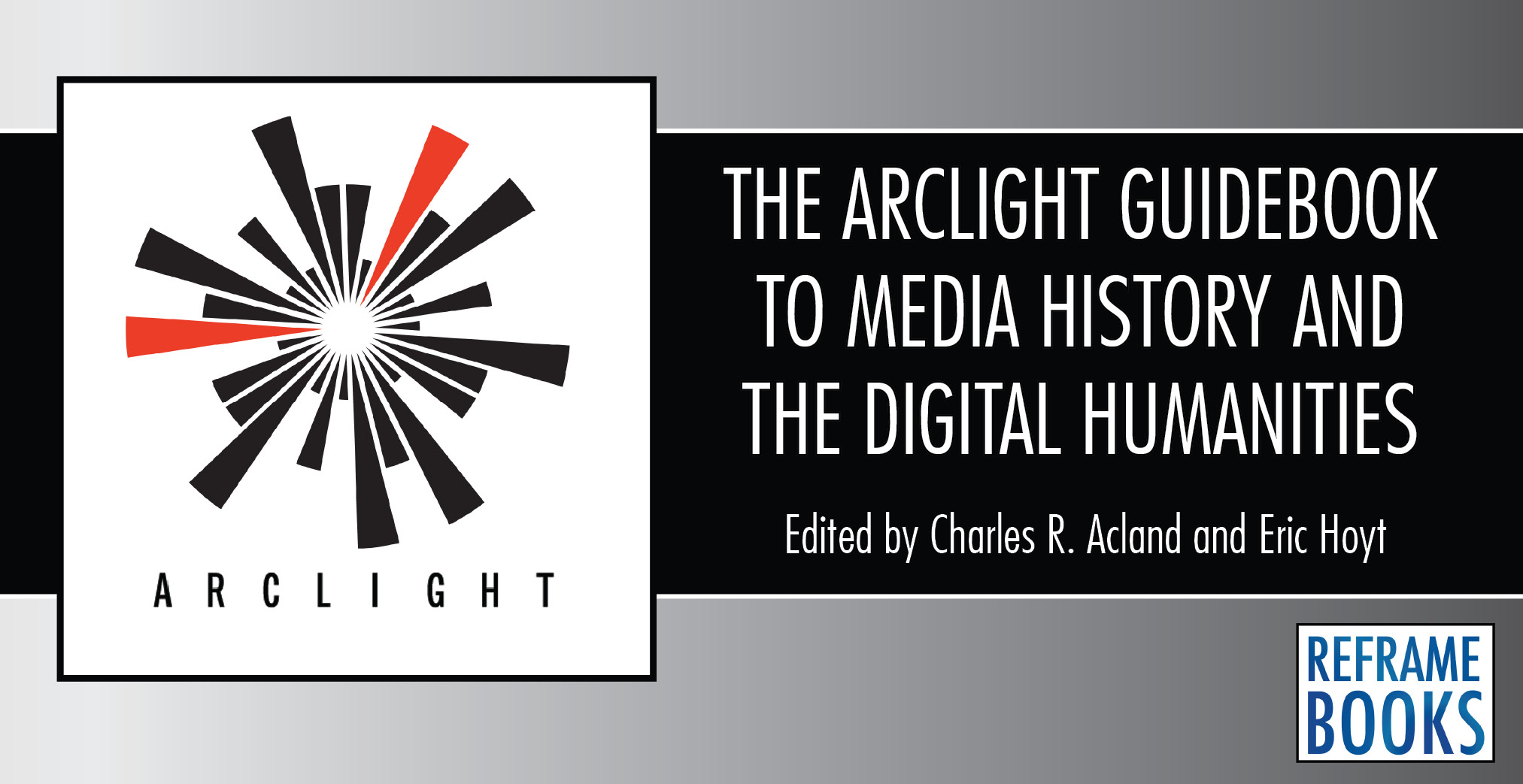 ---
**NEW!**
From the tremendous video libraries of YouTube and the Internet Archive to the text collections of the HathiTrust and the Media History Digital Library, media historians today confront the challenge of engaging with an abundance of cultural works that have been transformed into data. What new skills, competencies, and tools do media historians and scholars need in an era of digital research?
The Arclight Guidebook to Media History and the Digital Humanities, edited by Charles R. Acland and Eric Hoyt, seeks to answer this question—and raise many more—by examining what media historians are doing right now with digital tools and methods. Across seventeen chapters, contributing authors discuss the ways in which they are using or building digital technologies, assessing strengths and weaknesses, and responding to successes and failures. Topics explored include search, maps, big data, text mining, video analytics, databases, networks, and new forms of publication. All authors attempt to be reflexive about how the media of the twenty-first century shape our engagement with the past.
By aggregating these perspectives, and including an index and a glossary of key terms, this collection seeks to be a "guidebook" that surveys what media historians are doing with digital tools and charts a course for how the field of media history might move forward in an ongoing dialogue with the digital humanities.
The Arclight Guidebook to Media History and the Digital Humanities is published by REFRAME Books in association with Project Arclight (Falmer: REFRAME Books, 2016).
Table of Contents
Acknowledgements
"A Guide to the Arclight Guidebook"
Eric Hoyt, Kit Hughes, and Charles R. Acland
PART I: Searching and Mapping
1) "The Quick Search and Slow Scholarship: Researching Film Formats"
Haidee Wasson
2) "Search and Re-search: Digital Print Archives and the History of Multi-sited Cinema"
Gregory A. Waller
3) "Using Digital Maps to Investigate Cinema History"
Laura Horak
4) "Field Sketches with Arclight: Mapping the Industrial Film Sector"
Kit Hughes
PART II: Approaching the Database
5) "Low-Tech Digital"
Charles R. Acland
6) "Excavating Film History with Metadata Analysis: Building and Searching the ECHO Early Cinema Credits Database"
Derek Long
7) "Show Me the History! Big Data Goes to the Movies"
Deb Verhoeven
8) "How Is a Digital Project Like a Film?"
Miriam Posner
PART III: Analyzing Images, Sounds, Words
9) "Coding and Visualizing the Beauty in Hating Michelle Phan: Exploratory Experiments with YouTube, Images, and Discussion Boards"
Tony Tran
10) "Looking for Bachelors in American Silent Film: Experiments with Digital Methods"
Lisa Spiro
11) "Terminological Traffic in the Movie Business"
Charles R. Acland & Fenwick McKelvey
12) "Digital Tools for Film Analysis: Small Data"
Lea Jacobs & Kaitlin Fyfe
13) "The Slices of Cinema: Digital Surrealism as Research Strategy"
Kevin L. Ferguson
PART IV: Process, Product, and Publics
14) "Digital Tools for Television Historiography: Researching and Writing the History of US Daytime Soap Opera"
Elana H. Levine
15) "When Worlds Collide: Sharing Historical Advertising Research on Tumblr"
Cynthia B. Meyers
16) "Networking Moving Image History: Archives, Scholars, and the Media Ecology Project"
Mark Williams
17) "Curating, Coding, Writing: Expanded Forms of Scholarly Production"
Eric Hoyt
"Keywords and Online Resources"
Robert Hunt and Tony Tran
Contributors
Index