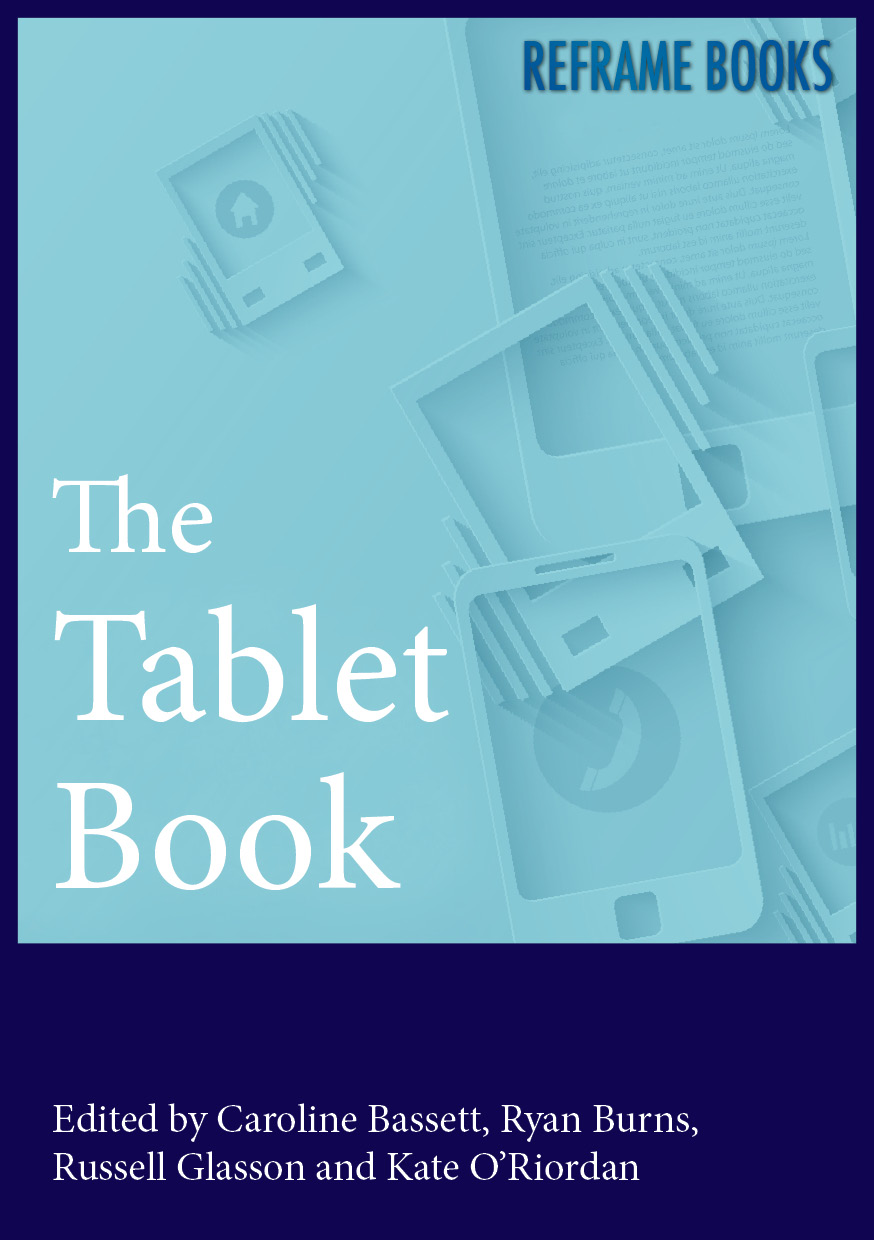 The Tablet Book
Falmer: REFRAME Books, 2015. 231 p.
ISBN 978-0-9931996-1-5 PDF
Edited by Caroline Bassett, Ryan Burns, Russell Glasson and Kate O'Riordan
Complete PDF
Individual chapter PDFs
Complete ePUB
In 2013, 43% of the US population and 30% of the UK population owned a tablet of some kind. At the same time, marketing reports indicated that tablets would take over from desktop computers and laptops. Multiple reports in the technology press used the tag line 'the year of the tablet'.
It was in this context, on 10th April 2013, that the editors of the volume published here hosted 'The Tablet Symposium' at the University of Sussex, UK. The symposium aimed to examine questions about the take up of tablets, readers and iPads across many walks of life, including academic, artistic, pedagogical, medical, corporate, activist and everyday contexts, and to create a space of dialogue, discussion and research community across these areas.
The Tablet Book builds on that event, gathering further research and commentary to mobilise a range of perspectives and approaches in thinking about and understanding the tablet computer. It is published by REFRAME Books in open access e-book formats both as a collection and as individual chapters.
Copyright chapters © 2015 Individual Authors. All Rights Reserved. Copyright e-formats & layouts © 2015 REFRAME Books. All Rights Reserved.
REFRAME Books publishes open access scholarly contributions to the fields of media, film, music, cultural studies, the digital humanities and journalism in a variety of e-reading formats. This imprint was launched in Spring 2015.
REFRAME is an open access academic digital platform for the online practice, publication and curation of internationally produced research and scholarship. It is supported by the School of Media, Film and Music, University of Sussex, UK.
REFRAME Books Credits
Cover design: Tanya Kant
Book design: Tanya Kant
Book Design and Layout Editor: Tanya Kant
Technical Editors: Russell Glasson and Tanya Kant
Managing Editor: Catherine Grant
Publisher contact: reframe.us@gmail.com
Cover page image credit: Shutterstock_39819541
See individual chapters for further image credit