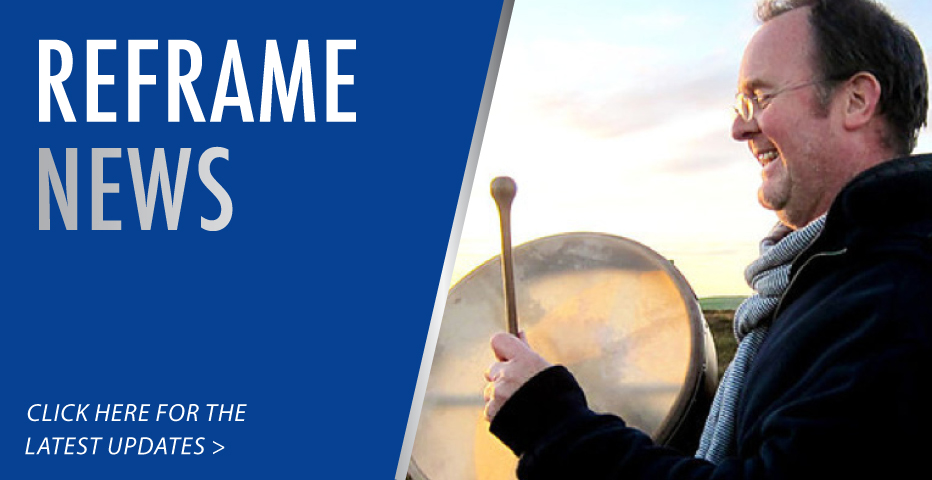 Here's the second of our occasional roundups of international news and links in media, film and music research — we're nearly ready to take the L plates off. Like everything else published by REFRAME, the selection here at the REFRAME[D] blog is especially shaped by our particular interest in open access scholarly material.
If you have any items that you'd like us to share in future — say, new OA academic websites, ejournals, or particular online content, digital objects or collections, free scholarly mobile applications, or events which will generate associated openly accessible resources — please contact us, or leave a comment below. Thanks!
Let us begin, this time, with a link to some musings on the real work of happiness from esteemed REFRAME editorial advisory board member Sean Cubitt (a blog essay written a few months ago, quite possibly after a vacation).
Let's also catch up with a great essay published last month by Michael Z. Newman as an entry at the Center for 21st Century Studies blog. "Intermediality and Transmedia Storytelling" was his response to a talk at University of Wisconsin–Milwaukee by Hans-Joachim Backe.
Here's a riveting review, by Francesca Coluzzi at Out of Ink, of A Book as a Flow of Tweets. Meanwhile, at the LSE Impact of Social Sciences blog, Alfred Hermida discusses the merits of social media for making academic impact, arguing that "social media is inherently a system of peer evaluation, where participation and engagement are recognised and rewarded through dynamic social interactions".
There is an excellent new issue of online journal Enculturation just out: Issue 14 – Computers & Writing 2012, ArchiTEXTure. In it, contributors were asked to "to think about how we compose digital texts for our research and our teaching, and to consider the challenges, benefits, and other issues related to the construction of texts in these changing and emerging spaces." There is a keynote on "Composing Objects: Prospects for a Digital Rhetoric" by Alex Reid (REFRAME editorial advisory board member).
EUscreen organised its final conference on September 13 and 14, focusing on Television Heritage and the Web. The conference looked back on lessons learned, showcased the achievements of the project and looked at the road ahead. This conference report wraps up the conference topics and debates. Presentations and video recordings of the conference are to be made available over the next days at the conference overview page.
Continuing with further EUscreen news, you may want to check the latest virtual exhibitions available via the EUscreen portal: http://blog.euscreen.eu/. One of the most recent ones added to the site has been curated by Czech TV and includes previously unseen television footage of the protests and events which led to the Velvet Revolution. The exhibition juxtaposes the footage which was broadcast with never-before-seen material which was recorded but never broadcast. More exhibitions are to be added to the portal in the next few weeks and will include a look inside Ceausescu's Romania as well as an extensive exhibition, provided by RTE, on the start of the Troubles in Ireland.
Over at media scholar Henry Jenkins' site there's part one of a very timely and important discussion between scholars Ellen Seiter and Pat Aufderheide (REFRAME editorial advisory board member) concerning Intellectual Property.
A new issue of Flow has been published (16.8). In it, you can find discussions of race and the aesthetics of authenticity in hyperreal television, marriage equality on TV, TV camera angles and queerness, and much more. What's more, Flow's 2012 conference schedule is now available with detailed abstracts available for each paper.
There was a really interesting online roundtable discussion, earlier this month, on the televised U.S. Presidential Debate of October 3, 2012 at the website of the American Historical Association.
At the Critical Studies in Television website (expertly edited, as ever, by  REFRAME editorial advisory board member Kim Akass), this week, John Ellis writes about the new series of Fresh Meat and wonders why there aren't even more sitcom-like comedies featuring students. There's a feature on the Lifetime remake of Steel Magnolias, with an all black cast that re-invigorates the original 80s film. And Billy Smart asks why more TV studies academics don't watch whole series, focusing his discussion on the 1980s BBC series Juliet Bravo. Plus the usual round-up of news, CFPs, and book and conference announcements.
Alexandra Juhasz has a great blog entry at Media Praxis in which she reflects on issues central to considerations of feminist digital space.

The In Media Res website has just begun a collection week on The Second Lives of Home Movies [October 15 – October 19, 2012]. It is curated by Andy Uhrich (Indiana University) and has lots of great looking material on the topic lined up to appear as the week progresses.
Here's a second reminder that the annual conference of the open access journal World Picture will take place at the University of Sussex, November 2-3, 2012. The conference programme is available as a PDF.
There will be a day of screenings and discussion in memory of the late, truly great filmmaker Chris Marker next Sunday, October 21, between 10.30am-10.30pm, at the Horse Hospital, Colonnade (behind Russell Square tube station), London WC1. The event is free with donations encouraged to cover costs). Check out this website for further information.
Over at the Cinetourist website, edited by UCL scholar and REFRAME editorial advisory board member Roland-François Lack, there is a fascinatingly recursive, and wonderfully illustrated entry on French New Wave films in French New Wave films. You can find earlier, highly original, related musings on New Wave film cameos and the films Les Bonnes Femmes and Touchez pas au grisbi.
Two further REFRAME editorial advisory board members have great film scholarly blogposts up: Girish Shambu on Room 237, and Criticism and Theory; and Kristin Thompson with "Around the world in a multiplex: First dispatch from Vancouver" and "More of the world in a multiplex: another dispatch from Vancouver".
And over at the Global Queer Cinema blog you can read the latest weekly roundup.
There is an exciting Chinese independent film festival happening in Newcastle, UK,  on November 9. It's the first ever UK spin off event of the Beijing Independent Film Festival and will showcase the latest works from Chinese indie filmmakers. Three of the four documentaries screened will be UK premieres. The admission to all films is free. There will be a Skype Q&A session with the director Zheng Kuo after the screening of his film The Cold Winter, and Dr Luke Robinson from Nottingham University will give the opening address. The event is supported by the Research Centre in Film & Digital Media, Newcastle University, and Li Xianting Film Fund, Beijing. All you need to do is register here.
Talking of film festivals, if you missed hearing of the inaugural event in New York City of the wonderful, newly founded, Film Festival Academy you can view the full report here. Film festival scholar Skadi Loist, one of the key members of the FFA team, also alerted us to Framelines' online archive of its film festival programmes. Thanks Skadi!
Shane Denson had two excellent entries — on "Crazy Cameras, Discorrelated Images, and the Post-Perceptual Mediation of Post-Cinematic Affect" and "Animation and the Delimitation of Cinema" — at the initiative für interdisziplinäre medienforschung blog.
And at Film Studies For Free (full disclosure: my other resource-aggregating blog!) there were posts on studies of Raymond Chandler's Work on Screen and David Lean.
In "From Bay to Brostep: Neoliberalism from post-cinematic affect to EDM" , Robin James  considers how observations by Steven Shaviro (philosopher, REFRAME editorial advisory board member and contributor to SEQUENCE) on developments in contemporary film might also be related to recent developments in contemporary music. Check out the rest of the great It's Her Factory blog, while you're visiting.
REFRAME editorial advisory board  member John Wyver let us know about Evoking the object – physicality in the digital age of music: Primus Luta on music, memory and the material. Check out the rest of John's great links here.
Take a look at the "Getting Nowhere" website, advertising an upcoming international festival celebrating the centenary of John Cage, organised by students and staff at the University of York, UK. Also, find out about POPMAC, an international conference in July next year, organised by the Society for Music Analysis and hosted at the University of Liverpool, home of the Institute for Popular Music.
REFRAME editorial board member Ed Hughes pointed us in the direction of the online recordings of 'the end of literacy' debate held by Brunel University's Institute of Composing and the Southbank Centre. Chaired by Peter Wiegold and introduced by Gillian Moore, Head of Classical Music at the South Bank, three distinguished speakers, composer Richard Causton, writer Mark Ravenhill and critic Paul Morley, discussed the nature of contemporary musical literacy. To see their individual contributions please visit the Institute of Composing's YouTube channel.
We also want to flag up an event involving one of Ed Hughes's compositions. On Wednesday October 18, at the Augustine Hall as part of the Canterbury Festival, there will be a performance of 'When the Flame Dies' — the result of Ed's collaboration with Roger Morris (librettist), with video design provided by William Reynolds. This new opera explores the life of French poet, novelist, artist and filmmaker Jean Cocteau and characters from his film Orphée. REFRAME hopes to have some openly accessible research material pertaining to this work in the near future. In the meantime, here is the video trailer:
Next, just in by email, some "Stop the press!"-type open access, practice news!
"Have you ever thought music from the Free Music Archive would pair nicely with all that great retro video ephemera in the Prelinger Archives? Here's your chance to show your vision in a contest we're calling "The Past Re-imagined As The Future." Enter before Nov. 4th and help us explore the possibilities of open digital archives.
Visit our contest portal for a fun how-to video, information about our winners screening at Anthology, pictures of our dashing panel of judges, and questions that are frequently asked. Two winners will receive an iThing! Plus, there's always the added prize that if you spend enough hours watching old timey videos, you just might find your 20's doppelganger."
And finally, for this week, REFRAME editorial board member Evelyn Ficarra passed on some super sonic studies links that will certainly be of interest and use to REFRAME[D] readers. Thanks Evelyn!


This work is licensed under a Creative Commons Attribution-NonCommercial-ShareAlike 3.0 Unported License.