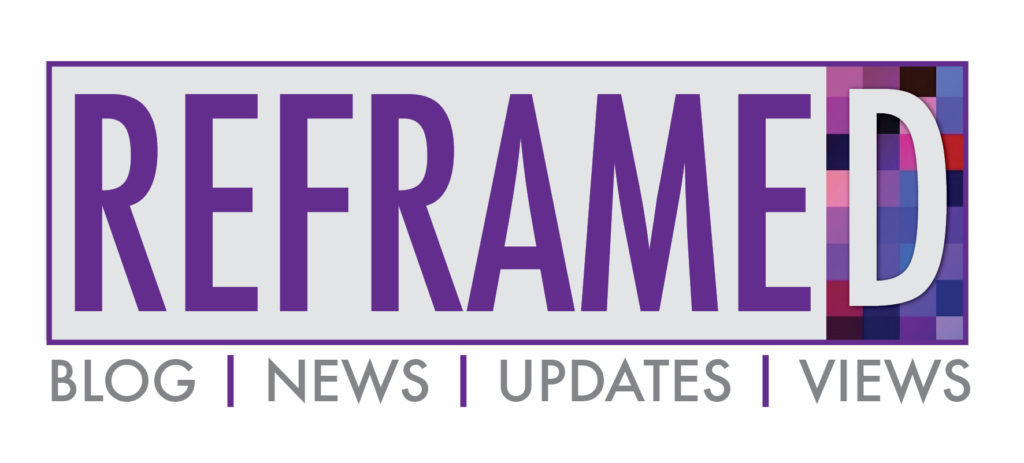 Today, we launch our occasional roundup of international news and links in media, film and music research. Like everything else published by REFRAME, the selection here at the REFRAME[D] blog will always be shaped by a particular interest in open access scholarly material.
If you have any items that you'd like us to share in future — say, new OA academic websites, ejournals, or particular online content, digital objects or collections, free scholarly mobile applications, or events which boast associated openly accessible resources– please contact us, or leave a comment below. Thanks!
In Media Res has just begun a collection week on Crossover Animation (October 8 – October 12, 2012), curated by Charlotte Howell (Georgia State University). Recent IMR collections have been dedicated to Political Networks, Fifty Shades of Grey, Anti-intellectual Property: Objects in the Information Age and TV Pilots.
There's a great interview at Full Stop with Gregory L. Ulmer, Professor of English and Media Studies at the University of Florida – thanks for the link go to Alex Neil, Associate Professor, English, University of Buffalo and REFRAME editorial advisory board member. And there's an excellent interview with Alex himself at FIGURE/GROUND COMMUNICATION, an interesting site in its own right. See, also, the recent interview at F/GC with media scholar Henry Jenkins.
Get ready for the launch of Itineration: Cross-Disciplinary Studies in Rhetoric, Media, and Culture, an international, refereed publication devoted to mapping the intersections of rhetoric, media, and culture at http://www.itineration.org.
Culture Machine 13 (2012) on "Paying Attention" should help to distract you in good ways.
The birth has also been announced of the potentially very distracting… BBC iPlayer Radio. http://www.bbc.co.uk/radio/ (thanks to David Hendy, REFRAME editorial board member, for the link).
There's a call for papers for Media in Transition 8: Public Media, Private Media. Conference dates are May 3-5 (Fri.-Sun.), 2013 and the conference will be held at the Massachusetts Institute of Technology, Cambridge, MA. Submissions accepted on a rolling basis until Friday, March 1, 2013 (evaluations begin in November).  A vast amount of wonderful, openly accessible material is always generated by the Media in Transition conferences: just check out the archive of previous 1999-2011 meetings.
As part of the four year Arts and Humanities Research Coucil funded project "Channel 4 and British Film Culture" (www.c4film.co.uk), the University of Portsmouth is hosting a conference at the BFI Southbank in London (November, 1-2, 2012) which invites media historians and key personnel from the film and television industries to debate and celebrate Channel 4's contribution to British film culture over three decades.
At the Critical Studies in Television website, this week the Telegenic blog offered a sneak preview of the first episode of Homeland, season 2. The Tragic Beauty of Ken Burns' The Dust Bowl (2012) by Gary R Edgerton is another advance preview. And Television Wetness by Sean Redmond is a playful look at TV and water. There is also the usual CSTV round up of CFPs, conference announcements and news. There was further coverage of US Premiere Week 2012: ABC and Premiere Week 2012: CBS at AntennaBlog, where Timeka Williams also takes a good look at daytime TV in "Steve Harvey and the Enterprise of Black Female Discipline".
The annual conference of the open access journal World Picture will take place at the University of Sussex, November 2-3, 2012. The conference programme is available as a PDF.
There are new blogposts by Chuck Tryon (Fayetteville University film and media scholar and REFRAME editorial advisory board member) on Knuckleball and Looper and an interview with him on "3D Boredom" at Indy Weekly. Chris Cagle has some very interesting musings on Film Studies blogging, with some great links. David Bordwell has posted on memory, patterns and pattern recognition in films and on the long take.
Join the debate on a new wave of queer cinema over at the Global Queer Cinema blog and also please check out GQC's latest weekly roundup.
Warren Buckland has made his review essay 'Solipsistic Film Criticism'–on chapters in Alex Clayton and Andrew Klevan's 2011 book The Language and Style of Film Criticism—openly accessible at NEW REVIEW OF FILM AND TELEVISION STUDIES. And you can read Clayton and Klevan's response to Buckland's review of their book here.
There is an excellent new issue of JUMP CUT. Multilingual film journal LA FURIA UMANA 14 is online. This week has also seen the launch of TOMA UNO, a new open access, Spanish-language, film journal based at the Universidad Nacional de Córdoba, Argentina. And if you haven't already checked it out another, relatively new, Latin America-based cinema journal desistfilm, a Peruvian publication in English, is definitely worth a visit.
You can view the full 94 (plus) minutes of film critic J. Hoberman's Milwaukee Film festival keynote: "State of Cinema in the 21st Century" (link via Ray Pride and David Hudson). Also read Kyle Hendrichs' discussion of Hoberman's argument in "Difference and the Digital Turn: Beyond Good and Evil?" at the Center for 21st Century Studies blog.
All the excellent keynote presentations from the recent Film-Philosophy Conference are available online. And, if you missed the first proper REFRAME[D] blog post, with its video interview with Rosalind Galt on her prizewinning book PRETTY: Film and the Decorative Image, you can find it here.
The below Open Access music (and sound studies) journals all now have new 2012 content online:
Finally, the third of the great series at the Live Music Exchange website on the theories that underpin that project's research is very much worth a visit: Matt Brennan and Emma Webster attempt to define the promoter and how they operate, in an extract from 'Why Concert Promoters Matter', originally published in Scottish Music Review in 2011.

This work is licensed under a Creative Commons Attribution-NonCommercial-ShareAlike 3.0 Unported License.