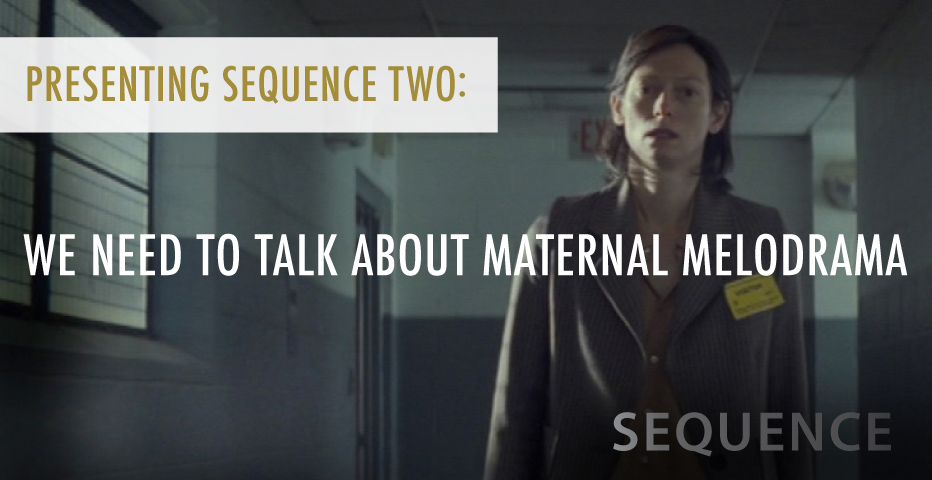 The REFRAME[D] blog is delighted to announce the launch of SEQUENCE Two, the second published issue of SEQUENCE: Serial Studies in Media, Film and Music, REFRAME's own experimental, peer-reviewed, sequential edited-collection format.
We are thrilled, also, that the inaugural contribution to this SEQUENCE–We Need to Talk about Maternal Melodrama–is an essay by Sue Thornham, esteemed feminist scholar, Professor of Media and Film, and Head of the Department of Media and Film, University of Sussex. The title of the essay is '"A HATRED SO INTENSE…": We Need to Talk about Kevin, Postfeminism and Women's Cinema'.
Professor Thornham's study is an excellent and very wide-ranging exploration of Lynne Ramsay's 2011 film which was based on Lionel Shriver's novel of the same name. Thornham also provocatively, and expertly, revisits important debates about maternal representation, matriarchal genealogy, feminist cultural production, and issues of classical and contemporary melodrama. After you've read this essay, if you work on cultural/media representations of motherhood or melodrama and you think you'd like to respond to, bounce off of, or otherwise fruitfully interact with Thornham's work, or with its topics more broadly, SEQUENCE would be very excited to hear from you. You can read more about responding here.
The subject of women's filmmaking is central to Thornham's recent book What If I Had Been the Hero? Investigating Women's Cinema, published by Palgrave and the British Film Institute in 2012 (you can download a free sample chapter of this book here).
On February 8, Thornham will give the keynote lecture at the Female Authorship symposium to be held at the Glasgow Film Theatre, as part of the Glasgow Short Film Festival. The symposium will consider a broad range of topics in relation to women and film, from issues facing contemporary filmmakers to topics of significance in contemporary scholarship and will include screenings and roundtable discussions on 'Feminism and Film' and 'Women and Film in Scotland'. Invited panelists include a range of filmmakers, academics, curators, artists and writers. You can see further details of this event here.
Meanwhile, feminist and other film and media theorists might also like to know of a related event, this week, in London. On February 9, the Birkbeck Institute of Humanities is celebrating the remarkable work of the one and only Laura Mulvey, For those unable to attend, it looks like a recording of this event will soon be freely available online courtesy of Backdoor Broadcasting Academic Podcasts. REFRAME[D] will be sure to let you know about that.