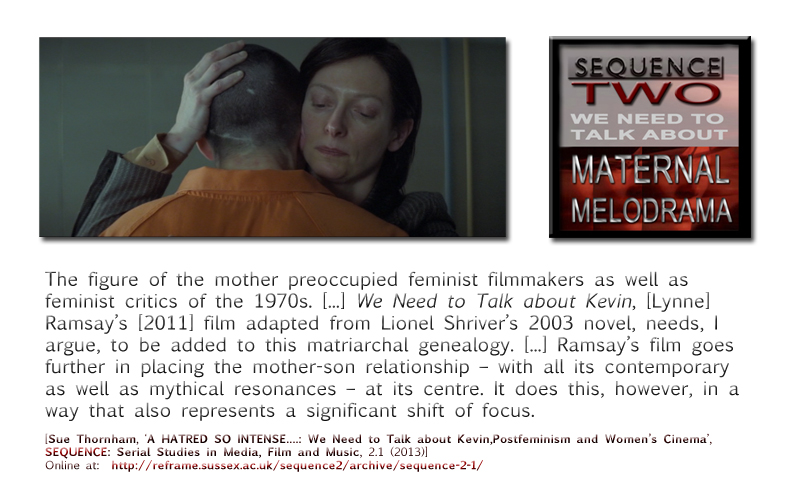 SEQUENCE Two: We Need to Talk about Maternal Melodrama is the second issue of SEQUENCE: Serial Studies in Media, Film and Music, REFRAME's experimental, peer-reviewed, sequential edited-collection format.
We are thrilled that the inaugural contribution to SEQUENCE Two: We Need to Talk about the Maternal Melodrama is feminist film and media scholar Sue Thornham's essay '"A HATRED SO INTENSE…"; We Need to Talk about Kevin, Postfeminism and Women's Cinema' (2.1 [2013]). Thornham's study is an excellent and very wide-ranging exploration of Lynne Ramsay's recent film, one that provocatively, and expertly, revisits important debates about maternal representation, matriarchal genealogy, feminist cultural production, and classical and contemporary melodrama.
As usual, as we are sequentially inviting responses to the first entry in this iteration of SEQUENCE, Thornham's article also constitutes a Call for Contributions for further We Need to Talk about the Maternal Melodrama sequences. If you're inspired to respond, especially if you have related research work in progress on any of the topics raised by her essay, and/or the SEQUENCE title, in relation to any relevant cultural or communications medium (not just cinema), please get in touch with us at SEQUENCEserial[at]gmail[dot]com. Multimedia responses of all kinds are also very much encouraged. But it would be worthwhile to discuss any substantial response with us at an early stage in your planning. All contributions need to comply with UK copyright law and the current understanding of fair dealing.
If you'd like to offer a shorter response, there is also the option of leaving a comment in the moderated stream at the foot of each SEQUENCE Two entry. SEQUENCES may be long and short in all sorts of ways.
We should be able publish 'full-length' responses quite quickly, although contributors should note that they will be formally peer-reviewed. But there are no editorial prescriptions on length or content, except that your work should be some kind of 'sequential response'. If you don't want to respond right away, you can still enter the 'chain' of responses later on.
SEQUENCE Two is being edited and produced by Catherine Grant, founder and (with Russell Pearce) co-editor of the SEQUENCE project.