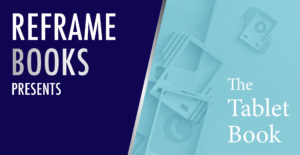 REFRAME is proud to announce the launch of its new publishing imprint REFRAME Books. The imprint will focus on publishing open access scholarly contributions to the fields of media, film, music, cultural studies, the digital humanities, and journalism, in a variety of e-reading formats.
REFRAME Books launches with the publication of The Tablet Book, edited by Caroline Bassett, Ryan Burns, Russell Glasson and Kate O'Riordan, a collection of seven original research essays which mobilise a range of perspectives and approaches in thinking about and understanding the tablet computer.
Book Design and Layout Editor: Tanya Kant
Technical Editors: Russell Glasson and Tanya Kant
Managing Editor: Catherine Grant
Publisher contact: reframe.us@gmail.com
Publisher's ISBN Prefix: 978-0-9931996
REFRAME is an open access academic digital platform for the online practice, publication and curation of internationally produced research and scholarship. It is supported by the School of Media, Film and Music, University of Sussex, UK.