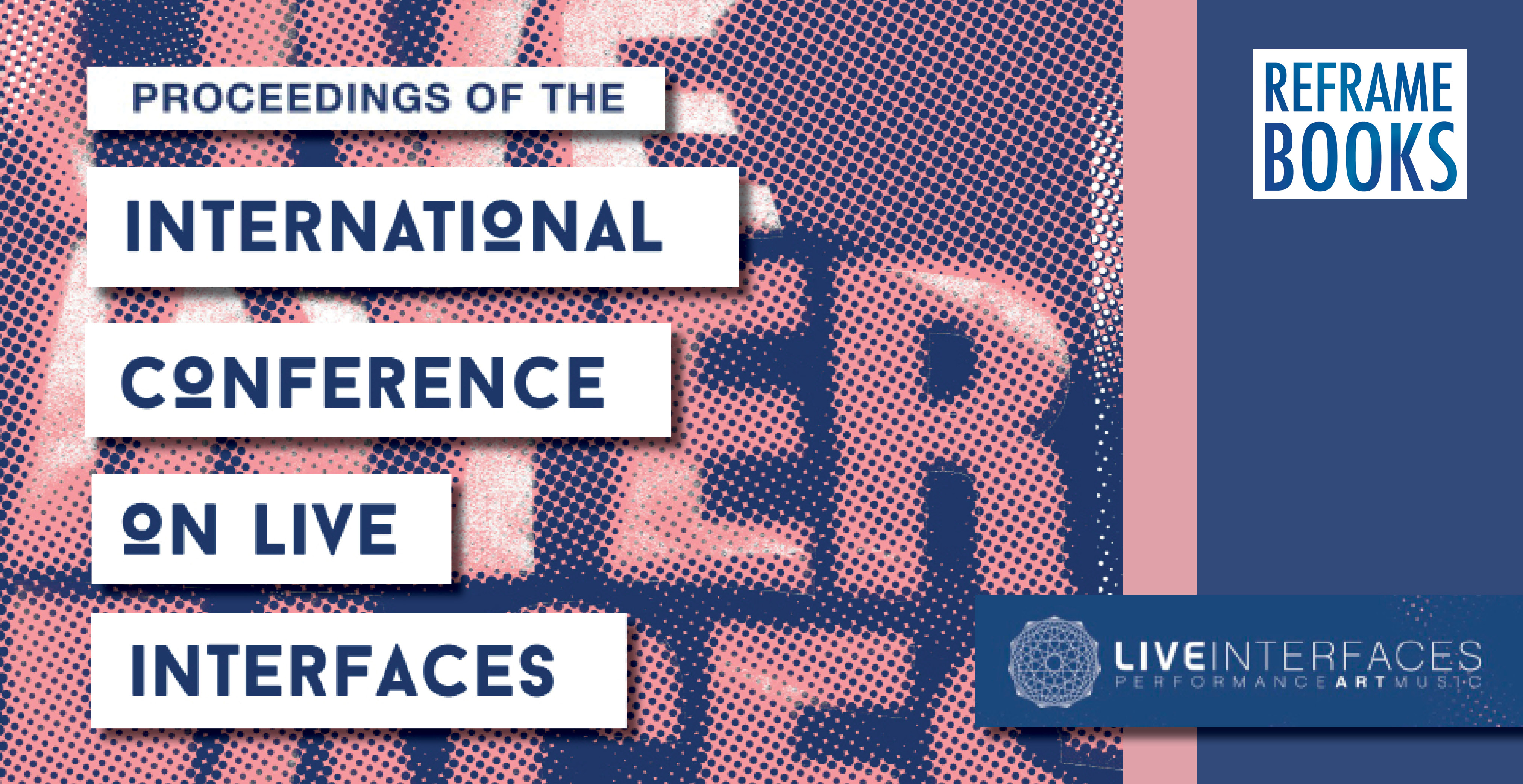 Proceedings of the 2016 International Conference on Live Interfaces

Edited by
Thor Magnusson, Chris Kiefer and Sam Duffy
Published by the Experimental Music Technologies (EMuTe) Lab, University of Sussex, in collaboration with REFRAME Books, Falmer, UK.
Online at: http://www.liveinterfaces.org/proceedings2016.html
ICLI 2016 Proceedings – High resolution PDF (205 MB)
ICLI 2016 Proceedings – Low resolution PDF (25 MB)
The proceedings of the Live Interfaces conference (http://thormagnusson.github.io/liveinterfaces/) are the outcome of a five-day gathering at the University of Sussex's Attenborough Centre for the Creative Arts in June 2016. The biennial ICLI conference is interdisciplinary and practice-based, unique in that it focuses on the role of performance interfaces across all of the performing arts. This year it became clear that ICLI has become an established platform for people operating in diverse sections of the arts to meet and discuss the embodied use of technology in live performance. With a focus on practice, the conference emphasised the role of performances, workshops and installations as well as papers and posters.
With submissions from musicians, dancers, roboticists, brain scientists, visual artists, philosophers, animators, sculpturists, and more, the proceedings illustrate the range of activities encompassed by this lively platform for knowledge exchange and new performance practices. The proceedings were peer reviewed and include long and short papers, doctoral colloquium papers, performance installation and workshop descriptions, as well as some documentation of the event itself. Much of the conference was also filmed and can be found on the YouTube channel embedded below.
---
---
Introduction
Editorial: On the Technology of Liveness  Thor Magnusson, Chris Kiefer and Sam Duffy
Papers
Introduction  Chris Kiefer
Dark Matter: Co-Reading as a Generative Ontology  Simon Biggs
Designing Mechatronic Sound Systems Inspired by Sinusoidal Mathematics  Daniel J. Reyes & Ajay Kapur
Designing Interactive Audiovisual Systems for Improvising Ensembles  William Hsu
Hacking the Body 2.0: Flutter/Stutter  Kate Sicchio, Camille Baker, Tara Baoth Mooney & Rebecca Stewart
Interfacing the txalaparta: digitising a traditional instrument with the help of its players  Enrike Hurtado
Collaborative coding interfaces on the Web  Jakub Fiala, Matthew Yee-King & Mick Grierson
Colliding: a SuperCollider environment for synthesis-oriented live coding  Gerard Roma
Short Papers
Challenges and New Directions for Collaborative Live Coding in the Classroom  Anna Xambó, Jason Freeman, Brian Magerko & Pratik Shah
Creative Thinking:
A Brain Computer Interface of Art  Claudio Lucchiari, Raffaella Folgieri, Ludovico Dei Cas & Francesco Soave
Face to Face – Performers and Algorithms in Mutual Dependency  Jan C. Schacher & Daniel Bisig
Pod: A Multi-Sensory Sound Interface  Michael Blow
Bridging the gap between performers and the audience using networked smartphones:
 the a.bel system Alexandre Resende Clément, Filipe Ribeiro, Rui Rodrigues & Rui Penha
Postdigital Efficiency in Interaction Design  Carina Westling
Tuning the Interface for Relational Listening  Ximena Alarcón
Posters & Demonstrations
The Augmented Acousmonium as Interface  Patrick Saint-Denis
Motion Origami  Daniel Bartos
Taptop: Using the Laptop Chassis as a Musical Controller  Oliver Thompson & Christopher Harte
Towards a Live Interface for Direct Manipulation of Spatial Audio  Jamie Bullock, Tychonas Michailidis & Matthieu Poyade
Translating Graphical User Interfaces: challenges for the design and standardization of mid-air interfaces  Tobias Mulling, Derek Covill & Lyn Pemberton
Artist-aware, zero install immersive virtual environment for collaborative live performances  Nikolai Suslov
Rainforest Sound Installation  Daniel Bartos
Gestural Control for Musical Interaction using Acoustic Localisation Techniques  Dominik Schlienger
AV Zones – Tablet App for Audiovisual Performance  Nuno N. Correia
SKR1BL  Jules Rawlinson
Doctoral Colloquium
Introduction  Joe Watson
Is There A Place In Human Consciousness Where Surveillance Cannot Go? Noor: A Brain Opera  Ellen Pearlman
The Application of Established Gestural Languages in the Control Mappings of Free-hand Gestural Musical Instruments  Dom Brown
A Theatre Wind Machine as Interactive Sounding Object  Fiona Keenan
FoxDot
Live Coding with Python and SuperCollider  Ryan Kirkbride
Interfacing with questions:
The unpredictability of live queries in the work of 'Thousand Questions'  Winnie Soon
Music-making for the Deaf: Exploring new ways of enhancing musical experience with visual and haptic feedback systems  Richard Burn
Augmented Space in Artistic Production:
The Relationship Between Moving Image and Physical Environments  Ivo Teixeira, Pedro Tudela & Miguel Carvalhais
Sonic Ghosting: developing an interface between space/place/memory and sound/music/noise  Danny Bright
Brain affordances: an approach to design for performers with locked-in syndrome  Andrés Aparicio
'Vivisecting' tempo-spatial semantics in immersive environments and hybrid events:
few methodologies for '3D VJs' and 'VR conductors'  Jānis Garančs
Algorithmic Interfaces for Collaborative Improvisation  Shelly Knotts
Installations & Interventions
Introduction  Cecile Chevalier
Signal to Noise: A Live Interface based on Analog Radio Interference  Tincuta Heinzel & Lasse Scherffig
A Sound and Puppet Archaeology of Vehicular Emissions and Other Excited Rotations: 
A Holiday Snap  Paul Rogers & Matt Smith
Brighton Community Choir Does… Without You  Daniel Alexander Hignell
DOT, a videogame with no winner  Henrique Roscoe
Synaestheatre: Sonification of Coloured Objects in Space  Giles Hamilton-Fletcher, Michele Mengucci & Francisco Medeiros
Lichen Beacons  Tom Hall, Drew Milne & Barry Byford
Limits To Growth  Martin Parker & Owen Green
[CUE]APORIA: a Philosophy Game  Aaron Finbloom & Sara Zaltash
Faux Pas  Lee Nutbean
Performances
Introduction  Alice Eldridge
Pathfinder: 
A performance-game for the augmented drum-kit  Christos Michalakos
Circles  John Robert Ferguson
Linguistic Margins/Visual Atolls 16: An Audiovisual Performance Suite  William Hsu
xynaaxmue pulse one  Eleonora Oreggia & Alex McLean
The Modified Cello  Dan Gibson
Evolver: An audiovisual live coding performance  Alo Allik
Tuned Constraint  Federico Visi
Owego System Trade Routes: Round Trip  Shawn Lawson, Ryan Ross Smith & Frank Appio
Babil-on V2  Greg Beller
Synap.sys  Henrique Roscoe
An Algorave with FoxDot  Ryan Kirkbride
Hacking the Body 2.0 Performance: Flutter/Stutter  Kate Sicchio, Camille Baker, Tara Baoth Mooney & Rebecca Stewart
s.laag (2016) – for game-audio with 3D body-scanned performer, composer and instrument  Ricardo Climent, Manusamo & Bzika
Owl Project – Rock Music  Simon Blakmore, Antony Hall & Steve Symons
DRIPPIGMENT  Ivo Teixeira, Rodrigo Carvalho, Tiago Gama Rocha & Francisca Rocha Gonçalves
Half-closed Loop — an improvisation environment for covered string and performer  Till Bovermann
Union  Shelly Knotts
Do the Buzzer Shake  Gerard Roma, Anna Xambó & and Jason Freeman
Interactive Tango Milonga: Fragments  Courtney Brown
Horizontal  Ben Neill
Workshops
Introduction  Paul McConnell
Sound and Space: Performing Music for Organ and Electronics  Dr Lauren Redhead & Dr Alistair Zaldua
Distributed Agency in Performance  Paul Stapleton, Simon Waters, Nicholas Ward & Owen Green
A Practical and Theoretical Introduction to Chaotic Musical Systems  Tristan Clutterbuck, Tom Mudd & Dario Sanfilippo
Interfacing the Txalaparta Workshop  Enrike Hurtado
Making High-Performance Embedded Instruments with Bela and Pure Data  Giulio Moro, Astrid Bin, Robert H. Jack, Christian Heinrichs & Andrew P. McPherson
Modular  Meet
Introduction  Andrew Duff