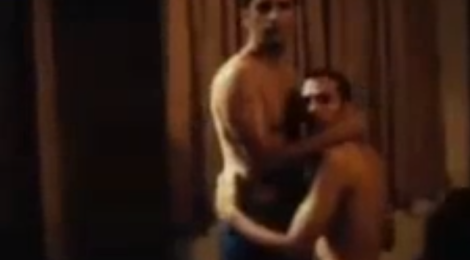 GQC has just discovered the wealth of fascinating material on queer global politics on In Media Res, which is an experimental platform that has since 2007 invited scholars to curate clips from cinema, tv, and the internet and contextualize their clips in the context of current theoretical and political debates. Until recently, we had wrongly assumed that the primary focus of IMR was US television programming  — and there is great analysis of TV here, including Joe Wlodarz on gay masculinity on 1970s — but we have also found lots on other media practices, much of it debating the politics of a queer global mediascape.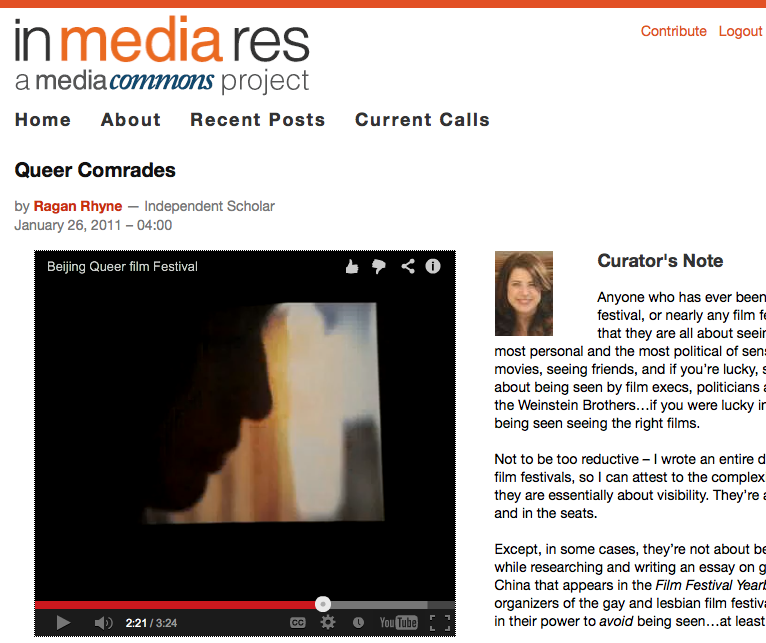 We were particularly interested to find this short essay by pioneering scholar of international queer film festivals,  Ragan Rhyne. In the piece, she challenges the assumption that visibility is the goal of all queer film festivals.  The essay talks about the history of Bejing Queer Film Festival (a festival still going strong today) and includes a recent clip of the programmers talking about the festival.  She writes:
" In 2001, the Tongzhi (Comrades) Film Festival was founded with a semantic sleight of hand – Comrades is slang for queer and university officials assumed they were dealing with the communist variety. […] The clip I'm featuring here is an earnest and heartwarming testament to the perseverance of its organizers. But it also suggests that the conventional wisdom that gay and lesbian film festivals are about visibility is challenged by tenuous relationships between the state and the market and the tension between governance and civil liberties in contemporary China. Indeed, 'Comrades' seems to have gotten far more coverage outside Mainland China than within, complicating the dynamics between local and global visibility and questioning our assumptions about what visibility means politically."
Other stuff to check out on IMR:
– Sreya Mitra's  piece on homoeroticism in popular Hindi Cinema from 2008.
– The debate on queer global citzenship as an extension of consumerism prompted by Hollis Griffin's "Queer, There, Everywhere: Buying & Selling Citizenship on Gay Narrowcast TV"
– Noah Tsika's "Queering the Olympic Charter: Media Representations of Gay and Lesbian Athletes in West Africa and the Diaspora"
– Dana Luciano rereading Born in Flames
– Dana Heller's arguing that  "queer desires disrupt the affective logic of liberal citizenship"