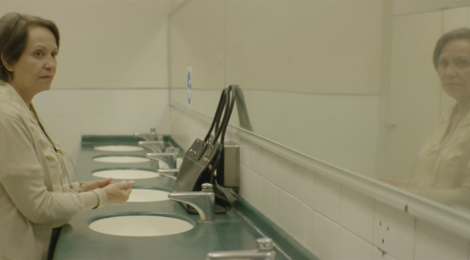 Today, Mediático presents an entry by regular contributor Carolyn Fornoff, Ph.D. candidate in Spanish & Portuguese at the University of Pennsylvania. Fornoff is currently completing work on her dissertation, Species Sadness: Sex, Politics and Nonhuman Creativity in Latin America. She has research interests in twentieth-century Latin American literature and film with a focus on Central America and Mexico, the environmental humanities and the politics of nature in culture, feminist and queer theories, and subjectivity and affect in contemporary culture and has previously written for Mediatico on the Guatemalan film Ixcanul. Fornoff has a website here and you can follow her on Twitter at @c4noff.
Is slow cinema boring? Perhaps in an age dominated by multitasking and productivity, being forced to slow down and face boredom is precisely the point. The 2016 feature film, Todo lo demás (Everything Else), proves once again that cinema can be both unhurried and compelling. Screened this past month at the Morelia International Film Festival (FICM), Todo lo demás is the debut fiction feature by Mexican American director Natalia Almada. Before this most recent film, Almada directed several acclaimed feature-length documentaries, all of which aired on US public television: Al otro lado (To the Other Side, 2005), tackling the US-Mexico border; El general (The General, 2009), about the political career of her great-grandfather Plutarco Elías Calles; and El velador (The Night Watchman, 2011), an intimate portrait of a cemetery in Sinaloa. In 2012, Almada received the MacArthur Genius Award, and used part of the proceeds to fund Todo lo demás, her latest piece of contemplative cinema and first foray into fiction.
It is worth mentioning that I saw this film from the comfort of my home in Philadelphia; a luxury made possible by an exciting FICM initiative to screen its participating films online for the duration of the festival. Hopefully this trend to virtually screen festivals will increasingly become common practice. The benefits are evident: independent films are made more accessible and reach broader audiences. The platform that hosted the FICM online screening, Festival Scope, intends to further such initiatives with the aim of expanding the global availability of international art house cinema.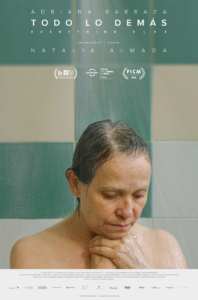 If Almada's most recent documentary, El velador, juxtaposed the cemetery's serene beauty against its garish structures and macabre symbolism, Todo lo demás similarly captivates viewers through an unexpected source: the humdrum life of a middle-aged, lonely bureaucrat (the fantastic Adriana Barraza). Echoing the anonymous structure of bureaucracy, the protagonist goes unnamed for the first half of the film, until the audience eventually learns from her swim instructor that she is Doña Flor. The instructor calls out her name three times as he directs her to jump into the pool. We watch as Flor gazes at the water, but never learn if she got in or not that time. Such is the nature of this film: it makes you wait. It tests—and cultivates—the viewer's patience as we watch, anticipating or hoping to glean information. In that sense, this is a film that unexpectedly generates suspense through the depiction of everyday routines. We watch Doña Flor paint her nails, uncertain whether something will happen, or whether we are just witnessing a weekly ritual. While suspense is contingent on uncertainty, it only works when the viewer is invested in the character. Todo lo demás successfully invests us in the trivial uncertainties that populate Doña Flor's life, from the small—like whether she will jump into the pool—to the large. We wonder if she will throw herself in front of the Mexico City Metro train, a thought planted in her mind, and ours, by a news report shown on a diegetic television earlier in the film.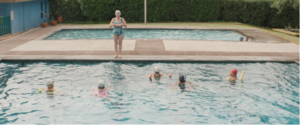 The spectator's experience of waiting and watching Doña Flor is mirrored in this scene in which swim students and instructor wait for her to jump in. In this shot a second pool duplicates the one in the foreground; this sort of replication or mirroring of images recurs throughout the film, giving a sense of infinite repetition.
When Doña Flor's name is spoken three times by her swim instructor, it is a significant moment. Her name is never uttered elsewhere; she lives a totally isolated existence as an anonymous cog in the Mexican bureaucratic machine. The repetition aloud of her name also echoes the entrancingly repetitive structure of the film. If the red tape and protocol that define bureaucracy have an affective resonance, this film suggests that it is a combination of frustration and boredom, which pervade the experience of those who navigate it, as well as the cogs themselves. Rendered simultaneously anonymous and powerful by the bureaucracy that she represents, Doña Flor at first appears to embody the cliché of a petty bureaucrat who reinforces ridiculous rules and invents problems where there are none. Yet the film relentlessly works against this assumption, pushing viewers to empathize with her. It does this by ushering us into the intimacies of her life as a lonely cat lady grappling with grief. This empathic relating is developed through point of view shots. In a long scene, we stare down at Doña Flor's hands as she washes dishes. The subjective camera lingers on the repetitive movements of the sudsy hands for so long that we begin to identify them as our own. Yet while we are allowed to inhabit her perspective, the film resists overt explanation. Without access to a facile narrative through which to understand what motivates or concerns Doña Flor, we are left to study her face or observe her habits and routines for clues. Adriana Barraza, who has previously appeared in films like Amores perros and Babel (for which she received the Oscar nomination for Best Supporting Actress), delivers a stunning minimalist performance. Barraza was awarded the FICM Ojo for Best Actress for the role, for embodying, and then slowly shedding, the stereotypes that dog our ideas about bureaucrats, middle-age women, and "crazy cat ladies."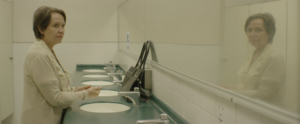 The repeated invocation of the mirror or duplicated images on screen can be understood as a commentary on representation, and whether cinema can accurately reflect reality. Mirrors also traditionally signal a double meaning or split personality; in this case, the rupture between Doña Flor's public personification of bureaucracy and her private grief. In this shot, the mirror is also used to destabilize the position of the spectator. We gaze at Doña Flor, who cannot see us. Yet, through the staging of a triangulated image, Doña Flor's mirrored visage seems to look straight at us.
Slowness has often been posited as a strategy that resists the logic of neoliberalism, which demands rapid and immediate transactions. Because of our desire for constant stimulus, it has become hard to set aside our cell phones long enough to go on a walk or sit down for a feature-length film. Almada's work has consistently played with how cinematic techniques can be used to extend, delay or decelerate our understanding of time and narrative. If a plot point involving the death of a cat usually cuts straight from its death to its disposal, Todo lo demás doesn't skip over any of the intermediate steps that connect these two moments. In an extended scene, we watch her carry the bundled corpse all the way down her steps to the dumpster. Why is it important to witness what might be considered "filler" by another film? Perhaps by not allowing viewers to flee or escape these interstitial moments, Almada asks us to be present, and to experience with Doña Flor a life that we might otherwise deny intensity or importance because of its commonality. The slowness of Todo lo demás requires that we approach the present as a moment imbued with intensities and affective resonances, that harkens up feelings from the past, or worries about the future, as long as we are able to sit with it long enough to notice.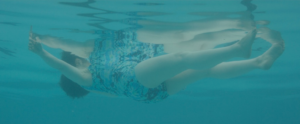 Floating, to rest without sinking, as a form of suspension in time.
Additional links: