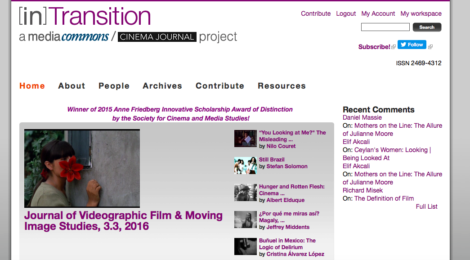 Mediático's co-editor Catherine Grant is also co-editor of the video-essay based publication [in]Transition: Journal of Videographic Film and Moving Image Studies. So she wanted the readers of this blog to know immediately that a new guest-edited special issue of this peer-reviewed journal  has just been published which is devoted to videographic work on Latin American cinema. The published videos are listed and linked to in the entry below.
This excellent issue was guest-edited by Latin American cinema scholars Michael Talbott, Castleton University, and Nicolas Poppe, Middlebury College (assisted by Christian Keathley for the journal's regular co-editors). Both Talbott and Poppe have published their own videographic work on Latin American cinema – it can be seen here and here.
While some of the video-makers whose work features in this issue had prior video-editing experience, others were first-time editors and creators. Their videos are accompanied in the issue by their curatorial/maker statements, as well as by peer-reviewer evaluations.