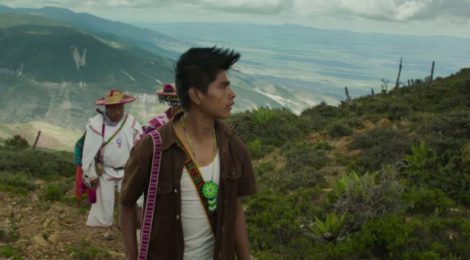 Today at Mediático we are delighted to present a review of El sueño del Mara'akame (Federico Cecchetti, 2016) which won the OJO prize at the Morelia International Film Festival in 2016 and Ariels for the best Opera Prima and Best Original Music in 2017 by Julia R. Brown, a Ph.D. Candidate in Hispanic Literatures at the University of California, Santa Barbara. She is currently teaching a course on marginality, gender and resistance in recent Spanish Film. Julia has also served as an editorial assistant and managing editor for Mexican Studies/EstudiosMexicanos. Contact her at  juliabrown@umail.ucsb.edu
El sueño del Mara'akame (The Mara'akame's Dream, Federico Cecchetti, Mexico, 2016) Beyond the Traditional/Modern Binary
by Julia Brown
In the weeks prior to its release in theaters, multiple culture and news websites in Mexico promoted El sueño del Mara'akame (The Mara'akame's Dream, Federico Cecchetti, Mexico, 2016) and celebrated its capacity to bring viewers into "el mundo de los huicholes".[1] Few recent Mexican films representing First Nation peoples have achieved both a critical thumbs-up from popular culture media websites and a spot in the major commercial theater chains. Fewer still can boast, as El sueño does, a dialogue predominantly in Wixárika with Spanish subtitles. Also noteworthy: the film sports a cast comprised both of non-professionally trained Wixaritari actors and professionally trained ones, most notably Mariana Treviño.[2]
Synopsis
Initial film frames convey overtly political messages about the sacred Wixárika desert and its endangerment caused by state-backed mining projects. However, these frames give way to a more subtly political, fictional coming of age story. The film's protagonist is Nieri (Luciano Bautista), a young man who aspires to sing in a rock band. His Mara'akame (huichol shaman) father (Antonio Parra) insists that his son is destined to follow in his footsteps as a Mara'akame. Rather than staging the modern against the traditional or bemoaning the indifference of younger generations towards the precarity of Wixárika lands, traditions and spiritual practices, Cecchetti's film frames Nieri's skepticism and rebelliousness as a personal reckoning with teenage impulses and a part of the process of coming of age in a culturally complex community.
Navigating Cultural Clashes
At 14 years old, Nieri is drawn to the forbidden and the unfamiliar: soft-porn magazines, urban life, and Huichol rock music, which his father denounces as "profane" and "evil". His father and other men in the community (women leaders or culture makers are notably absent) regard Nieri's interests with disdain and ridicule, to which the teenager responds by doubling down on these interests. Conversely, Nieri is eager to be accepted by a crew of older Wixárika teenagers, members of a rock band set to perform soon in Mexico City. The band is both a means of musical expression and a space to experiment with alternative cultural practices: drinking beer, watching Wixárika rock music videos with sexy mestiza dancers, singing in Spanish, and speeding around the community in their black pickup truck with subwoofers bumping Wixárika music.[3]
Early in the film, Nieri is given peyote to allow him to search for the Blue Deer, which will guide his actions and speak to him. Cecchetti treads carefully across this cultural terrain, avoiding the exoticizing trap of the marvelous. Thus Nieri's visions (a young boy, ants, and the Blue Deer) are integrated into the cosmogony of the film without the need to distinguish the rational from the spiritual. This is confirmed when Nieri speaks of a vision to his father, acknowledging that the boy his father is treating appeared to him after taking peyote. The Mara'akame, giving credibility to this vision, suggests Nieri is destined to cure the boy and use his singing for sacred purposes.
Nieri insists on sporting a fauxhawk and blasting Wixárika rock music on his headphones while on a sacred pilgrimage. Repeatedly, he refuses to fully relinquish his cultural affinities acquired, presumably, watching TV, consuming social media and from his bandmates. He also continues participating in the rituals and practices his father leads. Even when in the throes of teenage rebellion, Nieri does not reject the cosmogony which the senior Mara'akame embodies. Rather than being stuck at an impasse between the so-called "modern" and the "traditional" as one reviewer has suggested,[4] Nieri engages both in spiritual Wixárika life and teenage counter culture practices while taking a critical distance at times from each and recognizing that both can be repressive and conformist.
Finding a Middle Ground and Coming of Age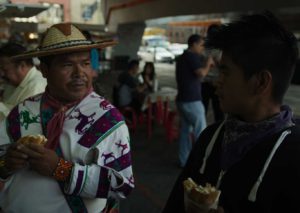 When Nieri accompanies his father to Mexico City, fulfilling his wish, his most powerful cultural and spiritual transformations take place. This migration constitutes a movement towards another cultural terrain in which the rituals and customs which his father hopes to inculcate in him are no longer dominant practices but marginal ones. Consequently, Nieri considers the Mara'akame prayers and rituals anew, while also discovering new ways of relating to urban cultures and creative expression such as beatboxing. The journey to the city is also a first-hand encounter with the prejudices and violence to which the Wixaritari and their practices are subject outside their own community. The violent bus search by checkpoint guards and accusation of drug running, the mugging Nieri experiences in Mexico City, and the cultural appropriation of spiritual peyote ceremonies by wealthy Mexico City hippies all reframe the possibility of Wixárika culture as itself counter culture and a rebellion against the most problematic aspects of mestizo, urban Mexican society.
Once reunited with his father whose forgiveness for his son's geographic and spiritual wanderings and loss of merchant goods is notable, Nieri can return home to take up the role of Mara'akame which was preordained, by his father and the spirits. He is framed on screen standing beside his father, clothed in embroidered white cotton shirt and pants and a hat in lieu of skull t-shirts and fauxhawk. The audience is not made privy to the ways in which Nieri will continue to embrace rock culture back home in Jalisco but as we see him and his community once again making the pilgrimage to the Wixárika desert and facing the mining sites, we are not led to believe that Nieri's lot in life will be determined by external Mestizo cultural and political forces as preceding indigenista cinema has often concluded. Instead, Nieri places his destiny in the hands of the spirits and the community he'll serve as a newly minted Mara'akame.
[1]"5 Razones para ver El sueño del Mara'akame". Sopitas.com. May 15, 2019. https://www.sopitas.com/entretenimiento/5-razones-ver-sueno-maraakame-federico-cecchetti/. See also https://www.mexico.com/la-guia/el-sueno-de-mara-akame-pelicula-estreno-mexico/.
[2] The practice of hiring non-professionally trained actors for industrial cinema has been used in other recent fiction films with protagonists of first-nation origins: Ixcanul (Jayro Bustamante, 2015) and Roma (Alfonso Cuarón, 2017).
[3] The precinct of Mezquitic, Jalisco, where part of the film was shot, is also home to the celebrated Wixárika rock group, Huichol Musical.
[4] Ibid.