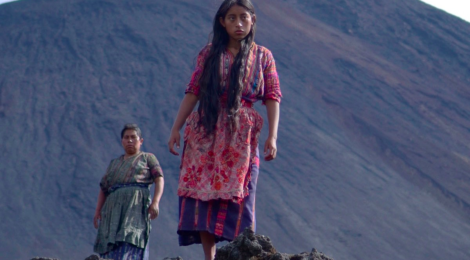 Today, Mediático presents an entry by Carolyn Fornoff,  Ph.D. candidate in Spanish & Portuguese at the University of Pennsylvania. Fornoff is currently completing work on her dissertation, Species Sadness: Sex, Politics and Nonhuman Creativity in Latin America. She has research interests in twentieth-century Latin American literature and film with a focus on Central America and Mexico, the environmental humanities and the politics of nature in culture, feminist and queer theories, and subjectivity and affect in contemporary culture. Fornoff has a website here and you can follow her on Twitter at @c4noff.
By Carolyn Fornoff
Central American cinema has gone from practically nonexistent to flourishing over the past decade. In Guatemala, this transformation began in large part with the creation of the Casa Comal collective, which established a film festival, Ícaro, in 1998 to promote regional cinema, and later expanded its operation to include a production company and a filmmaking school. Through the deliberate development of these regional networks and steady building of local audiences for regional films, cinema throughout the isthmus has experienced a long overdue renaissance. Yet in spite of the expansion of regional funding opportunities like CINERGIA, most Central American filmmakers are still left to their own devices. Jayro Bustamante's debut feature film, Ixcanul (which translates to "Volcano" from Maya Kaqchikel), provided evidence that the region had "arrived" when it garnered heaps of praise on the international film circuit last year. It was awarded the prestigious Silver Bear at the 2015 Berlin International Film Festival—notably, the first Central American film ever considered for the prize—and was also Guatemala's second official entry to the Academy Awards for Best Foreign Language Film (its first since 1994).
The fact that Ixcanul, one of the first Guatemalan features to ever receive broad international acclaim, focuses on the precarity of a young indigenous woman and features boldly lush cinematography of the Guatemalan highlands, may prompt potential viewers to respond with wary anticipation. International audiences have long been known to eagerly consume Latin American films that offer exoticizing, tragic narratives about the struggles of impoverished, unfamiliar cultural groups. Fortunately, Ixcanul falls into none of the usual essentializing traps. I was lucky enough to catch it at Mexico City's Cineteca Nacional during its 36 Foro Internacional de Cine this summer. Bustamante's directorial debut offers a beautifully filmed, specific and nuanced portrait of indigeneity in Guatemala today.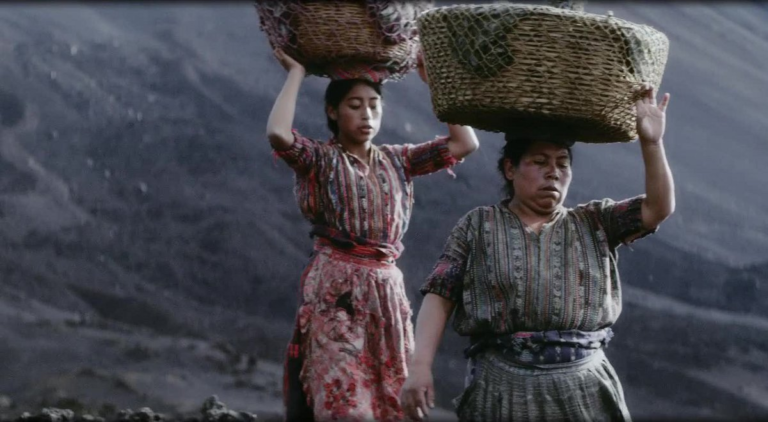 While many recent films emerging from Guatemala track urban stories, like Julio Hernández Cordón's excellent Gasolina (2008), others that highlight its rural landscape use it as a setting that is particularly apt for generating thrilling suspense, like the enjoyable romp 12 segundos (Kenneth Muller 2013) or novelist Rodrigo Rey Rosa's directorial debut, Lo que soñó Sebastián (2004, available on Vimeo). The volcano from which Ixcanul derives its title is similarly central; a looming presence and deep charcoal tonal backdrop that frames some of the film's most moving scenes. In the hands of cinematographer Luis Armando Arteaga, the volcano is rendered not just as a backdrop, but breathes life into the film, swirling mist and cinders around the characters, always seemingly on the verge of eruption.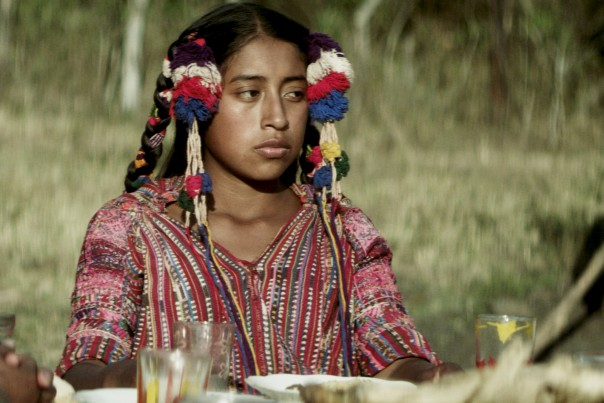 Ixcanul centers on a young indigenous protagonist and transpires almost entirely in the Kaqchikel language, structuring elements that are surprisingly rare for Guatemalan cinema, given that approximately 40% of the population identifies as indigenous. (As a side note, another such film organized around these elements that I am eager to see is La casa más grande del mundo (also from 2015, directed by Ana V. Bojorquez and Lucía Carreras). The plot tracks the coming-of-age of María (the expressive María Mercedes Coroy), a 17-year-old Kaqchikel woman. Her parents (Manuel Antún and scene-stealing María Telon) have arranged her hand in marriage to Ignacio (Justo Lorenzo), a widower with three children, who is also the overseer of the coffee plantation where her family lives and works. A lot rides on this arranged marriage: without it, her family risks losing both their livelihoods and home. María is indifferent toward Ignacio; instead she yearns for Pepe (Marvin Coroy, effortlessly exuding teenage angst), who inspires in her both lustful desire and fantasies about immigrating beyond the volcano to the United States.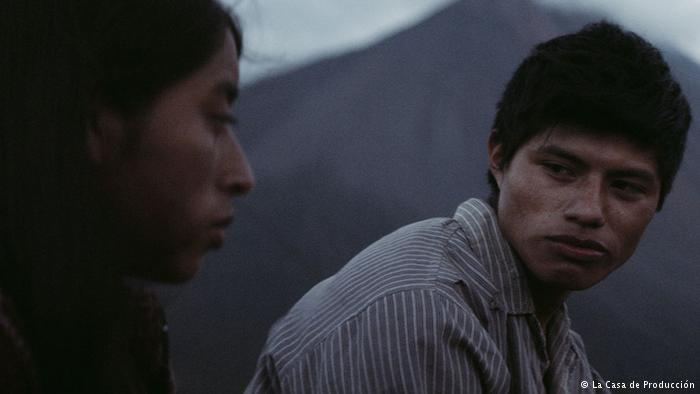 The film does justice to María's burgeoning desire in quiet scenes that close in on her face as she impassively observes, for instance, pigs fornicating after they have been fed rum. In a memorable sequence shot in deliberately rich earth tones—that could have turned hokey in the hands of a different director—, María tenderly sucks sap from a tree before pleasuring herself on its trunk. The unhurried eroticism of these exploratory scenes is set in stark contrast to the rough haste of the reality of consummation with an intoxicated Pepe. Without giving away too much, things quickly unravel for María: Pepe leaves for the US without her and she realizes that she is pregnant, a discovery that imperils her engagement as well as her family's home and livelihood. This turn of events sets other more tragic balls in motion, allowing the film to tackle the gendered and racist aspects of spirituality, agricultural labor, rural life, the healthcare system, and corrupt bureaucracy in Guatemala today.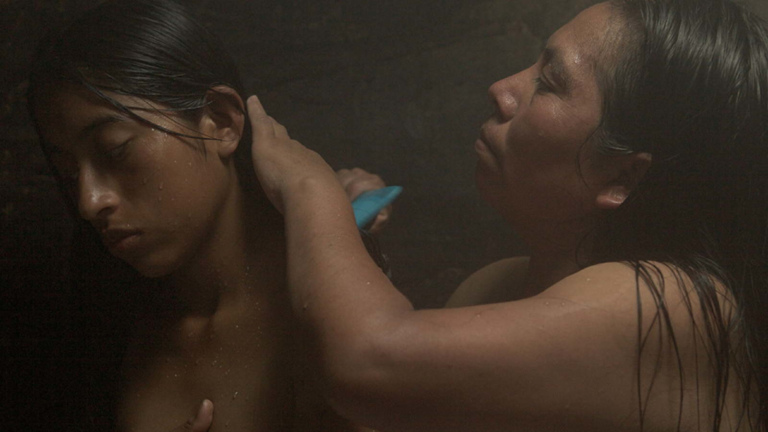 The final third of Ixcanul drives home the insurmountable language barrier that Guatemala's indigenous population encounters when navigating official spaces of bureaucracy. The absence of translators in key institutions such as hospitals or police stations disempowers these groups and facilitates their exploitation. Because Ignacio is the only individual who can speak both Spanish and Kaqchikel, the family is even more dependent upon him. Distressingly, he abuses this power at their expense. As viewers, we have access, like Ignacio, to both what is said in Spanish as well as to the subtitles of Kaqchikel. Because of this access, we witness the whole of Ignacio's manipulation in a way that the other characters can only sense. The contrast between the family's confusion and vulnerability and our own privileged access to both languages establishes for the viewer that we, too, are complicit in the uneven dynamics of language, knowledge, and power.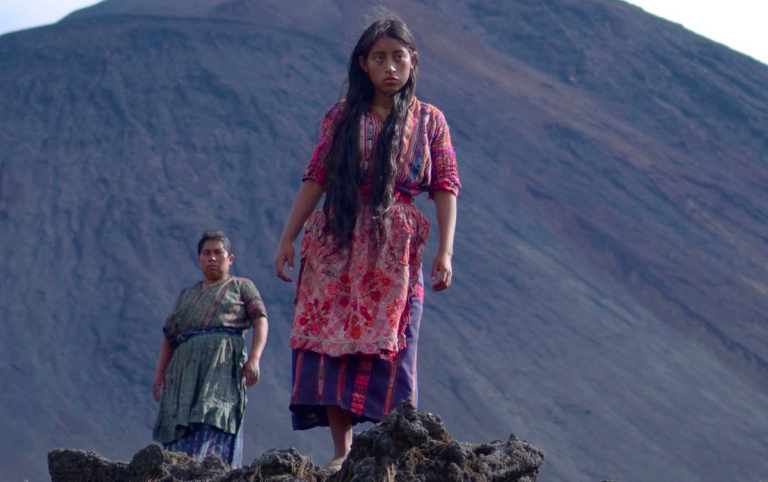 The representation of indigenous protagonists in Latin American films—when they are represented at all—is often highly problematic or suffers from one dimensionality. One such example is the largely excellent Mexican film La jaula de oro (Diego Quemada-Diez 2013), which narrates the efforts of a group of teenagers to emigrate from Guatemala to the United States. La jaula stages the tension that arises between the three ladino protagonists and Chauk, a Tzotzil boy from Chiapas who cannot speak Spanish. The cultural and social differences that surface between the four companions are central to the film, and skillfully developed in scenes where Juan mocks Chauk's indigeneity. Yet Chauk is largely one dimensional, trapped within the trope of the noble savage: a secondary character who is pure, well intentioned, asexual, and ultimately a victim whose presence serves primarily as the means to an end, so that Juan can overcome his prejudices.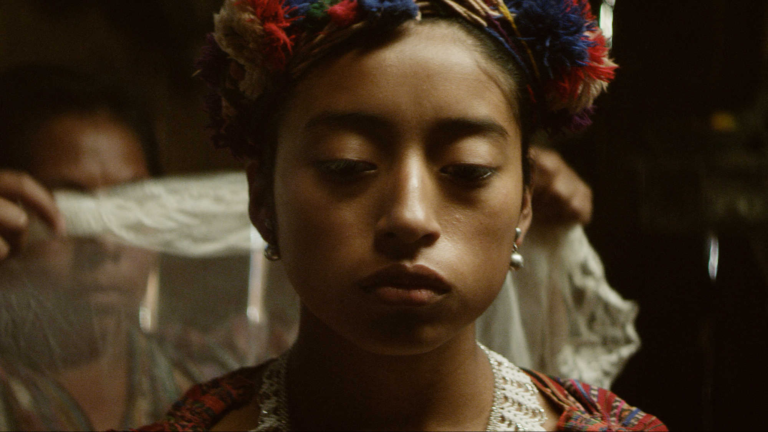 Without falling into the traps of essentializing Kachiquel culture, Ixcanul does a good job of rounding out its protagonists, and demonstrating the complexity of indigenous cultures, which are not exempt from problematic dynamics of sexism or toxic masculinity. By keeping the film grounded in the perspective of its young female protagonist, the viewer witnesses her navigate sexist tradition, corrupt bureaucracy, and international trafficking. Yet though Ixcanul peels back the many layers of injustice that ensnare María, she is rarely depicted as fragile, or as solely a victim. This is perhaps achieved through the film's spare use of dialogue and preference for close ups over point-of-view shots, tactics that generate ample space for María Mercedes Coroy to develop her character through restrained facial expressions that are, at times, hard to decipher. Coroy's eyes are privileged over the mouth; María rarely smiles, but split-second hints of upturned lips into a slight smile feel like an abundance, a privileged moment where we are allowed to glimpse her interior life.