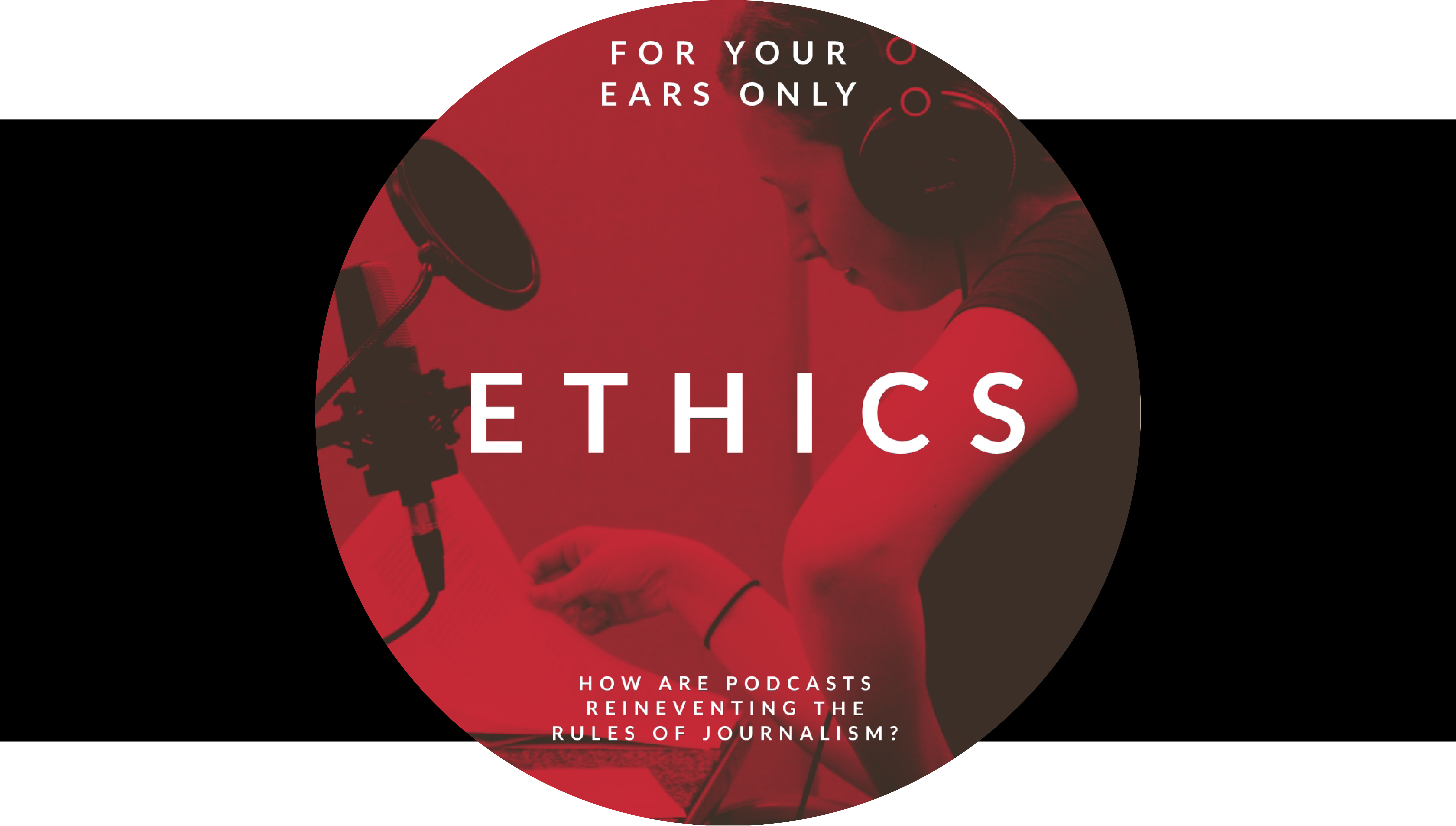 The 2014 first season of the podcast Serial was a watershed moment for not just for podcasting, but for journalistic ethics as well.  As Serial was garnering hundreds of millions of downloads and helping to bring podcasting into the cultural mainstream, it was also subtly exploring how podcast journalism might be different from its predecessors—commitments to "objectivity" and "detachment" began to evolve into commitments to "transparency" and human connection.  This New "New Journalism" was enabled by the independence of producers working in a podcast ecosphere with little institutional support or ethical oversight, and it was met with sharp criticism by traditionalist journalism scholars and the deans of prestigious schools of journalism (Goldstein, "The Complicated Ethics Of 'Serial,'" 2014; and Ward "The Magical Concept of Transparency," 2015).
In a world without gatekeepers or broadcast regulators, podcasters enjoy incredible freedom to pursue their own visions. In this Wild West of audio media, old standards are thrown off and rules are broken. But what are the consequences? In this episode we'll look at how podcasters are building new 

ethical

 principles and hear thoughts from Miranda Sawyer, Camilla Byk, Jad Abumrad and Serial's Dana Chivvis.
Release Date: 25th February 2019
Credits
Written & presented by Martin Spinelli and co-presented by Ella Gray Thomas
Produced by Ella Gray Thomas & Jack F Jewers
Sound by Andrew Duff
Additional music by Kevin MacLeod, licensed under creative commons.
Voice acting by Rachael Sparkes & Eion Mckenna
Executive produced by Martin Spinelli
Interview contributors: Miranda Sawyer, Alan Hall, Kaitlin Prest, Camilla Byk, Dana Chivvis & Jad Abumrad
Clips featured: Serial ('The Breakup' and 'What We Know')
For Your Ears Only was produced with the support of Arts Council England, Bloomsbury Academic, the University of Sussex, Brighton University, and the British Academy.
Twitter: @earsonlypodcast
Instagram: @earsonlypodcast