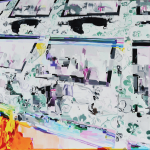 EDITORS' ACKNOWLEDGEMENTS
The editors would like to thank all of the contributing authors, as well as Catherine Grant and everybody at REFRAME Books for their hard work and support on this project.
Shane Denson: I would additionally like to acknowledge the material and intellectual support provided during the editing of this book by the German Research Foundation (DFG) and the German Academic Exchange Service (DAAD). Thanks also to my friends and colleagues at the Leibniz Universität Hannover, especially former mentor and collaborator Ruth Mayer; colleagues at Duke University, including Mark Hansen, Mark Olson, Victoria Szabo, Bill Seaman, Tim Lenoir (now at UC Davis), and everyone I've had the pleasure of working with in the Program in Literature, the Department of Art, Art History & Visual Studies, the Information Science + Studies program, and the S-1: Speculative Sensation Lab; as well as my colleagues in the Popular Seriality Research Unit, headed by Frank Kelleter of the Freie Universität Berlin. Thanks to Pavle Levi, Scott Bukatman, Pamela Lee, and Paul DeMarinis, along with my other soon-to-be colleagues in the Department of Art & Art History at Stanford University for their feedback, constructive criticism, and support. I would additionally like to thank Steven Shaviro, Patricia Pisters, Adrian Ivakhiv, and Mark Hansen for their participation in a panel on "Post-Cinema and/as Speculative Media Theory" at the 2015 Society for Cinema and Media Studies conference in Montreal (video of which is online). Thanks to Lisa Åkervall, Gregg Flaxman, Claudia Breger, and Anders Bergstrom for discussions of post-cinema at the 2016 SCMS conference in Atlanta, and to the many people who heard me talk and provided feedback on post-cinema at the Freie Universität Berlin, the University of Cologne, Texas State University, University of Wisconsin-Milwaukee, University of Toronto, University of Iowa, Duke University, and Stanford University, as well as at a variety of conferences around the world. Thanks to Julia Leyda for seeing this project through with me, as well as to my friends both in and out of academia for their support. Thanks, above all, to my family—first and foremost Karin, Ari, and Evie the Dog!
Julia Leyda: I must acknowledge the generous support of the American Studies Foundation of Japan and the Institute of American and Canadian Studies at Sophia University for international conference travel funding to attend the SCMS conferences in New Orleans (2011) and Chicago (2013) where crucial conversations took place that led to the completion of this book. A model of collegiality in his patience, diligence, and cool, Shane Denson has been a true hero in this process, which often felt like an insurmountable task undertaken while both of us were planning and enduring international relocations and job searches. Thanks also to Catherine Grant, whose vision and execution of an open access academic publishing platform at REFRAME continue to inspire me. I'd like to dedicate the book to Steven Shaviro, not only for his pioneering work in this field, but also in gratitude for his mentoring and friendship throughout these twenty-three years since I took his graduate seminar at the University of Washington, wired out of my mind on espresso and reveling in the majesty of Wax or the Discovery of Television among the Bees (David Blair 1993).
ACKNOWLEDGEMENT OF PREVIOUS PLACES OF CHAPTER PUBLICATION
Lev Manovich, "What is Digital Cinema?" – This essay was first published in 1996, in the German online magazine Telepolis, and has been reprinted, in modified form, in two book publications (see works cited). The version reprinted here, however, has appeared only on Manovich's website.
Steven Shaviro, "Post-Continuity: An Introduction" – This chapter was originally published on Steven Shaviro's blog The Pinocchio Theory, under the title "Post-Continuity: Full Text of My Talk," on March 26, 2012: <http://www.shaviro.com/Blog/?p=1034>. It was originally presented at the 2012 Society for Cinema and Media Studies conference in Boston. Reprinted with permission from the author.
Richard Grusin, "DVDs, Video Games, and the Cinema of Interactions" – A different version of this essay was published in Ilha Do Desterro 51 (Jul./dez. 2006): 69-91; and in Multimedia Histories: From the Magic Lantern to the Internet eds. James Lyons and John Plunkett (Exeter: U of Exeter P, 2007): 209-21.
Vivian Sobchack, "The Scene of the Screen: Envisioning Photographic, Cinematic, and Electronic 'Presence'" – This chapter reprints "The Scene of the Screen: Envisioning Photographic, Cinematic, and Electronic 'Presence,'" as it appeared in Carnal Thoughts: Embodiment and Moving Image Culture, by Vivian Sobchack. © 2005 by the Regents of the University of California. Published by the University of California Press. Reprinted with permission from the author and from the publisher.
Patricia Pisters, "Flash Forward: The Future is Now" – An earlier version of this paper originally appeared in Deleuze Studies Volume 5: 2011 supplement: 98-115, and is a companion piece to "Synaptic Signals" (Pisters 2011), which focuses on the schizoanalytic aspects of the neuro-image. Reprinted with permission of Edinburgh University Press.
Caetlin Benson-Allott, "The CHORA Line: RealD Incorporated" – The author wishes to thank South Atlantic Quarterly for permission to adapt this article from a 2011 special issue on "Digital Desire" edited by Ellis Hanson.
Julia Leyda, "Demon Debt: PARANORMAL ACTIVITY as Recessionary Post-Cinematic Allegory" –This is a reprint of the article published in Jump Cut 56 (2014).
Elena del Río, "Biopolitical Violence and Affective Force: Michael Haneke's Code Unknown" – Excerpt from The Grace of Destruction: A Vital Ethology of Extreme Cinemas by Elena del Río (forthcoming 2016) is reprinted with permission of Bloomsbury Academic.
Francesco Casetti, "The Relocation of Cinema" – From The Lumière Galaxy, by Francesco Casetti. Copyright ©2015 Columbia University Press. Reprinted with permission of the publisher.
Richard Grusin, "Post-Cinematic Atavism" – This essay was previously published in SEQUENCE: Serial Studies in Media, Film and Music, 1.3, 2014 and is reprinted here with permission of the author.
Alessandra Raengo, "Life in Those Shadows! Kara Walker's Post-Cinematic Silhouettes" – This chapter was first published under the same title in The Very Beginning/At the Very End. Eds. Jane Gaines, Francesco Casetti, and Valentine Re. Udine: Forum, 2010. 211-20. Reprinted with permission from Forum Editrice Universitaria Udinese. Artwork ©Kara Walker, courtesy of Sikkema Jenkins & Co., New York.
Adrian Ivakhiv, "The Art of Morphogenesis: Cinema in and beyond the Capitalocene" – This chapter includes modified segments of the concluding section of Ecologies of the Moving Image (Wilfrid Laurier University Press, 2013).
Therese Grisham, Julia Leyda, Nicholas Rombes, and Steven Shaviro, "The Post-Cinematic in PARANORMAL ACTIVITY and PARANORMAL ACTIVITY 2" – This roundtable discussion was first published in the online journal La Furia Umana 10 (2011). Web. <http://www.lafuriaumana.it/index.php/archives/34-lfu-10/45-la-furia-umana-10>.
Paul Bowman, Kristopher L. Cannon, Elena del Río, Shane Denson, Adrian Ivakhiv, Patricia MacCormack, Michael O'Rourke, Karin Sellberg, and Steven Shaviro, "Post-Cinematic Affect: A Conversation in Five Parts" – This conversation originally appeared in five daily installments, from August 29-September 2, 2011, on the MediaCommons website In Media Res, as a theme week devoted to Steven Shaviro's Post-Cinematic Affect. Web.<http://mediacommons.futureofthebook.org/imr/theme-week/2011/35/steven-shaviros-post-cinematic-affect-august-29-sept-2-2011>.
Shane Denson, Therese Grisham, and Julia Leyda, "Post-Continuity, the Irrational Camera, Thoughts on 3D" – This roundtable discussion was first published in the online journal La Furia Umana 14 (2012). Web. <http://www.lafuriaumana.it/index.php/archives/41-lfu-14>. [offline]