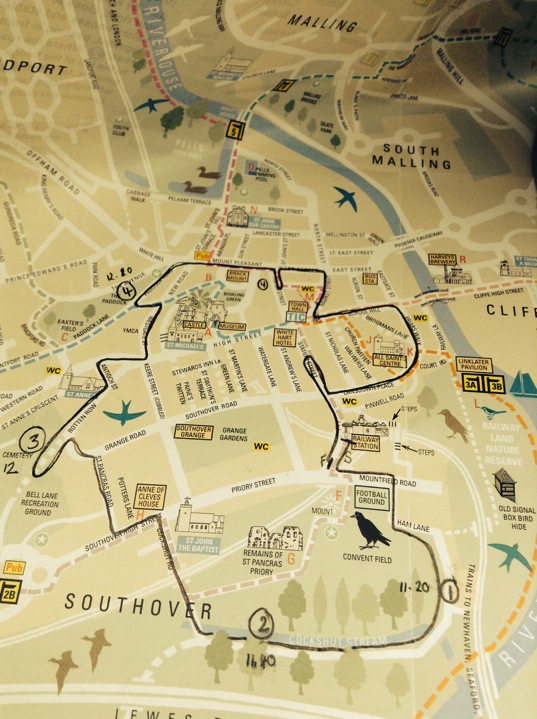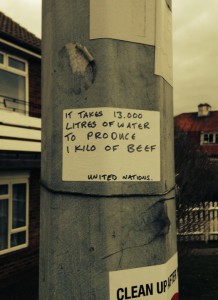 11:01 Mountfield Road
Lewes: Centre of the Cosmos: print in the window of the Tom Paine Printing Press. Absurd & yet somehow true for me: this small town with its own currency has a centripetal force which makes it effortful to keep in mind conditions in the wider world.
In this walk, I went looking for sights that disrupted this narrative of ease, security, self-sufficiency.
 Hand-written label on a lamp-post at the start of the walk: A still, small voice from the outside world.
Waiting List 1: Cars wait, engines running, fumes pooling, for entry to the dump: weekly Spring scene.
Moving to Lewes in 2002, young graduate, first-time buyer, I felt a wild excitement driving here with loads of old carpets and ceiling-tiles. Car windows down, I'd sing along to the radio.
Now, forty with young children, I feel a slight nausea coming to offload unwanted toys and clothes. I come alone, on the quiet, guilt-filled.
11.25 – 11.30 Cockshut Road
Fly-tipping limbo 1:
 This lane is a liminal space, hardly used, running unevenly between a
deep stream and the dual carriageway; place where people offload their
leftover lives when the dump is closed.
I made, below, a one-minute film, a meditation of sorts, to capture and convey the unsettling nature of fly-tipped stuff.
As their energy will not be released by recycling, the objects are rendered haunting, accusative
.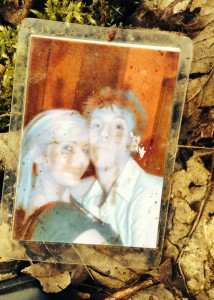 11:25 – 11:30 Cockshut Road
Fly-tipping Limbo 2: One of the burst bags exposes a young man's life: CD collection, wallet, XBox games, grooming set, Top Man hangers, ID card for a Brighton club, photo of him with an (ex?) girlfriend.
Thought about: Dante in the Inferno with the lovers Paolo & Francesca; Saxon burial hoards in the British Museum and how these belongings would look distributed thus in a display cabinet.
Felt: Unease, sadness.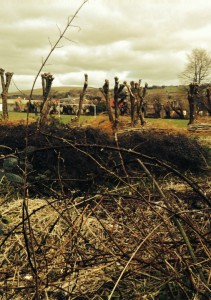 11:25 – 11:30 Cockshut Road
Fly-tipping Limbo 3: The desolate sensation was amplified further by the monotonous drone of the bypass just feet away and the amputated look of the trees, which have been pollarded in a style that shocks my West country sensibilities (coming as I do from a time & place where hedgerows were carefully coppiced).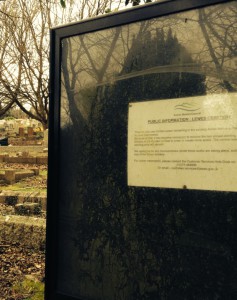 11:40 – 11:45 Rotten Row 
Waiting List 2: "There is now very limited space remaining in the existing Ashes Memorial Gardens for new internments. Because of this it has become necessary to remove the two annual planting borders in the Garden of Rest in order to create more space." Sign, Cemetery.
Think about: a double plot here where a friend's husband lies buried. She talks lately of impatience to join him; I will be coming here one year to clean their shared headstone.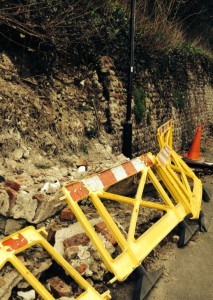 11:40 – 11.45 Rotten Row
Things Fall Apart: Three of the town's old flint walls have come down in the last month.
(The electricity cable underneath my street shears sometimes from the subterranean shifts to which the town – in addition to flooding – is prone)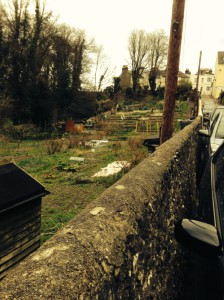 12:00 Paddock Lane/Hangman's Acre 
Waiting List 3: 17 years ago I put my name down for one of these allotments (formerly the site of the town gallows).
The waiting time remains as it did then.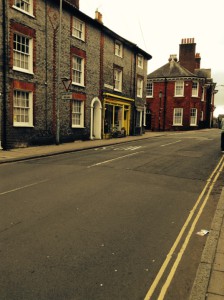 12:20 – 12:25 Mount Pleasant
Where the Old Go 1: Ron's
Before it became Mount Pleasant Cafe, rich with artistic touches, it was Ron's: a few shelves of canned goods and cleaning products.
Ron's hours were known only to lifelong residents of the surrounding streets. I liked the exclusive feeling, even though I was among the groups not catered for.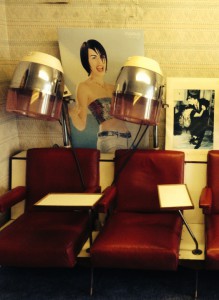 12:20 – 12:25 Fisher Street
Where the Old Go 2: Donald's
All hairdryers have worked continuously without fault since he opened in the 60s.
Out back, an elderly woman sits with her back to the sink, hair tight with rows of pink curlers. The smell of perm lotion triggers a sense memory of when my mother would 'do' pensioners in their kitchens while I stood ready to hand out papers and rollers.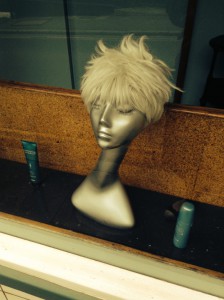 12:20 – 12:25 West Street
Where the Old Go 3:
Angela Hair Stylist 
Like Donald's, this façade has remained unchanged in the time I've lived here.
I have never seen anyone enter or leave.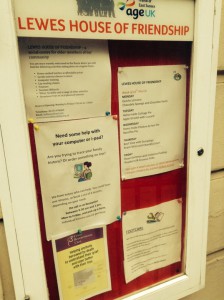 12:40 School Hill
Where the Old Go 4:
House of Friendship
Inside a man of great age is piecing together a jigsaw with painstaking care. His hand hovers, shakes.
The jigsaw reveals a red car, low to the ground, top open, racing through the sort of butterfly- & flower-rich hedgerows that have been lost in his lifetime and mine.