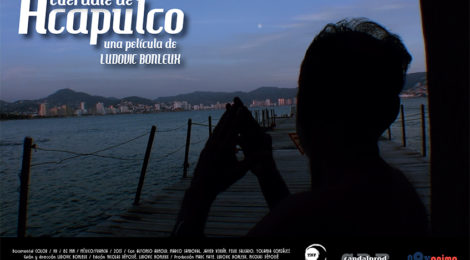 Today Mediático is delighted to present an interview in English and Spanish with Mexican based French documentary filmmaker Ludovic Bonleux about his three features The Crime of Zacarías Barrientos (2007), Remembering Acapulco (2013) and Guerrero (2017) by Mediático contributing editor Niamh Thornton (Reader in Latin American Studies, Liverpool University). Read Thornton's blog post giving an overview of Bonleux's work prompted  by the screening of Remembering Acapulco and a Q & A session hosted at the University of Liverpool on the 26th January 2017 here and Thornton's own blog here. Thornton's interview with Bonleux is presented first in English and then in Spanish below/en Español abajo. With thanks to Ludovic Bonleux for all images and trailers.[1. Thanks to Cornelia Grabner, University of Lancaster, in collaboration with Poetics of Resistance, for inviting Ludovic to the UK. His visit in January to Leeds, Lancaster, and Liverpool was supported by the Yves Hervouet Fund. Thanks, also, go to Manuel Moreno García del Pulgar, University of Liverpool, for carefully editing the Spanish version.]
Hoy Mediático presenta una entrevista en Inglés y en Español con el documentalista francés, radicado en Mexico, Ludovic Bonleux, sobre sus tres documentales El crimen de Zacarías Barrientos (2007), Acuérdete de Acapulco (2013) y Guerrero (2017) entrevistado por Niamh Thornton (Reader in Latin American Studies, Liverpool University), editor contribuyente  de Mediático. Se puede leer su entrada de blog sobre la obra de Bonleux, el screeing de Acuérdete de Acapulco y una sesión de preguntas y respuestas con Bonleux aquí y el propio blog de Thornton aquí.
GUERRERO,
una película de Ludovic Bonleux
2017, 114′, Bambú Audiovisual, Cadalpiotz, Imcine-Foprocine
"En el estado de GUERRERO, los activistas Coni, Juan y Mario se rebelan ante la impunidad, sin importar los sacrificios y riesgos que sus luchas implican."
La pagina FB:
https://www.facebook.com/guerrerofilm/
BIO
Ludovic Bonleux is a French documentary filmmaker who has made Mexico his home. A historian by training, his films often draw on the past to illuminate the present. He focuses on individuals whose lives have been affected by violence as a result of actions by state and non-state actors. He has directed The Crime of Zacarías Barrientos (2008), a film that traces the legacy of the 1970s Dirty War on a murder in 2003; the web doc US Caravana (2012), produced by Carmen Aristegui on the drug-related violence, feminicide, and migration; Remember Acapulco (2013), an exploration of the resort city of Acapulco and its people; and he is currently completing Guerrero, due for release later in 2017.
NT: For anyone not familiar with your work, how would you describe your style as a documentary filmmaker?
LB: It's difficult to answer that question because each one of my documentaries is different and I try to explore new ground with every project.  The Crime of Zacarías Barrientos (2007) is a historical film that alternates interviews with archival material, Remembering Acapulco (2013) is a critical account of the dark side of the resort city and Guerrero (2017) is a journey deep into the world of the activists from Guerrero. These three documentaries were filmed in the Mexican state of Guerrero, but I have also filmed in the US: US Caravana (2012), a film denouncing the war on drugs (available online at uscaravana.com). The common theme in all of my work is human rights and condemning the violation of those rights.
NT: What is it like to be a director of documentaries in Mexico?
LB: Much as it is in the rest of the world, the production context for documentary making in Mexico can be complicated. It is clearly much cheaper to make films now thanks to the availability of affordable good quality cameras. However, skilled crew (producers, directors of photography, sound recordists, editors, post-production technicians, etc.) are expensive. I have the advantage of being able to apply for Mexican and French finance. So, my first film, The Crime of Zacarías Barrientos was entirely produced with French finance, thanks to funds from the Centre National de la Cinématographie (CNC, the French national film fund) and a local television channel, Images Plus. My second documentary Remembering Acapulco was made on a micro budget. I was lucky to get backing from a French producer called Novanima (technical support with a camera and some expenses for development and distribution) and from a Mexican producer Terra Nostra Films (with editing, post-production visual effects, and distribution). For the most part, I self-funded the film. I travelled to Acapulco to shoot it in my free time and edited it at home in Mexico City. I was lucky to get help from the Instituto Mexicano de Cinematografía (IMCINE) for my third documentary, Guerrero, that's currently in post-production. This has meant that I have been able to earn a wage as a director and work with a lot of skilled crew. This last film has had no French financing, although I have applied to several funds.
NT: What are the specific ethical questions for a documentary maker, like you, who makes films against the backdrop of the current violence in Mexico?
LB: In my opinion, ethics are integral to all elements of documentary making. These ethics reside in two axes: do not lie to the audience (that is, do not lie about the facts) and, consequently, stick as closely as possible to the experiences of the protagonists of the documentary. The second is to respect the dignity of the people I film. With respect to this second point, you have to be very careful because a documentary can destroy someone's reputation and very few people deserve that.  You have to be very careful with regards to how you show violence on screen, because violence is omnipresent in certain parts of Mexico and it's used by cartels and, sometimes, by the government to terrorize the population. Some documentary makers decide not to show bodies or blood out of respect for the dead and their families. They also avoid it so as not to participate in the "spectacularization" of violence fomented by mass media and criminals. That being said, sometimes, I show [dead] bodies (in all three of the films shot in Guerrero) because these bodies are part of everyday reality for the people there. Bodies are not hidden and they demonstrate the violent climate in which the locals are living. However, these images must be chosen very carefully and not given too much time on screen. For example, with Remembering Acapulco there is a dead body at the beginning of the documentary to "set the scene", to show the context of the drug violence and, after that violence (Acapulco is one of the most violent cities in the world at the moment) takes place off-screen (through sound, in conversation, in celebrations, in situations like Spring Break, or in photographs). It renders it unnecessary to show it repeatedly on screen, but we know that it's there. In Guerrero several violent episodes are shown. Working with the editor, we decided that one moment was too difficult to show for any length: a mother mourning at her son's burial. The audio was much more violent. It leaves the audience much more uncomfortable [to hear her] while watching the face of her dead son behind the glass front of the coffin.
NT: Your films tackle challenging themes that confront current Mexican reality and draw from the recent past. What are the biggest challenges for you in completing these projects?
LB: In general I try to make work that address the following four areas: denouncing the violation of human rights; recording the struggle of those fighting for justice; by shining a mirror up to them in my documentaries, providing a space for those people to reflect on their practices; and, obviously, make quality films […] I make films conscious that those who are in them will see them (people from Guerrero in general), that they will be seen by people in Mexico and around the world who are interested in human rights and in cinema itself.
Entrevista
BIO
Ludovic Bonleux es un director de documentales francés que ahora reside en México. Historiador de formación, sus películas retoman el pasado para esclarecer el presente. Se centra en las vidas de la gente afectadas por la violencia, ya provenga esta del propio estado o de individuos o entes particulares. Entre otros, ha dirigido El crimen de Zacarías Barrientos (2008), una película que rastrea el legado de la guerra sucia de los años setenta en un asesinato en 2003; un documental en línea, US Caravana (2012), producido por Carmen Aristegui que trata de la narco-violencia, el feminicidio y la migración; Acuérdate de Acapulco (2013), un examen e investigación a la ciudad de Acapulco y su gente; actualmente está en la fase de posproducción de Guerrero, que se espera estrenar en 2017.
NT: Para aquellos que aún no hayan tenido la oportunidad de ver sus películas ¿cómo describiría el estilo de documental que usted hace?
LB: Es bastante difícil contestar a esta pregunta porque mis documentales son todos diferentes e intento, en cada uno, explorar nuevos caminos. Así: El Crimen de Zacarías Barrientos (2007) es más un filme histórico, que alterna entrevistas y archivo audiovisual; Acuérdate de Acapulco es un cuento corrosivo del lado oscuro de la ciudad balnearia y, el tercero, Guerrero es un viaje a lo más profundo del mundo de los activistas de la región de Guerrero, las tres filmadas en el estado mexicano de Guerrero; pero también he filmado en Estados Unidos: La caravana por la paz con dignidad y justicia, que recorre este país denunciando la guerra contra las drogas en 2012 (está disponible en la web: US Caravana  [uscaravana.com]). Sin embargo, el tema común que vertebra todo mi trabajo tiene que ver con los derechos humanos y con la denuncia de los atropellos a esos derechos humanos.
NT: ¿Cómo es ser director de documentales en México?
LB: Como en todo el mundo. Hacer documentales en México puede resultar complicado en términos de producción. Es claro que hoy en día tenemos opciones muy económicas para poder filmar, gracias a la buena calidad de las cámaras y su costo asequible. Sin embargo, rodearse de gente competente (productores, directores de fotografía, sonidistas, editores, post-productores etcétera) cuesta dinero. Mi caso es particular y cuento con algunas ventajas, tengo la posibilidad solicitar financiación en México y Francia. Así, mi primer documental, El crimen de Zacarías Barrientos, se produjo integralmente en Francia gracias a la ayuda económica del Centre National de la Cinématographie (CNC, el instituto de apoyo al cine de Francia) y de la cadena de televisión local Images Plus. Mi segundo documental, Acuérdate de Acapulco, se realizó con muy poca financiación. Tuve la suerte de tener el apoyo de una productora francesa, llamada Novanima (apoyo técnico con una cámara, y algunos gastos de desarrollo y de difusión), y de la productora mexicana Terra Nostra Films (con la edición, la post-producción de imagen y la difusión). Sin embargo, está película la costeé, en gran parte, yo mismo, cuando tenía tiempo libre iba a Acapulco a filmar y luego regresaba a la ciudad de México para editarla. Para mi tercer documental, Guerrero (2017), que está actualmente en postproducción, tuve la suerte de tener el apoyo de Instituto Mexicano de Cinematografía (IMCINE), lo que me permitió tener un sueldo de director y poder trabajar con mucha gente competente. Para esta película no tuve apoyos franceses a pesar de haber solicitado financiación a alguna fundación.
NT: ¿Cuáles son las cuestiones éticas específicas para un documentalista, como usted, que filma en el contexto de la violencia actual en México?
LB: Para mí, la ética es la base del trabajo del documentalista. Esta ética se estructura sobre dos ejes: el primero, no mentir al público (es decir no mentir sobre los hechos) y, por tanto, tratar de quedarse lo más cerca de las experiencias de los protagonistas del documental. El segundo es respetar la dignidad de la gente que filmo. En este sentido hay que tener mucho cuidado porque un documental puede destruir la imagen de una persona y muy poca gente se merece eso. Con respeto a la violencia en la pantalla, violencia que es omnipresente en ciertas zonas de México y que está usada por los carteles y a veces el gobierno para aterrorizar a la población, hay que tener mucho cuidado. Ciertos directores de documentales deciden no enseñar cuerpos ni sangre, por respeto a los difuntos y sus familias. También evitan ese mostración para no participar en la "espectularización" de la violencia, fomentada por los medios masivos y los mismos delincuentes. No obstante, yo enseño a veces cuerpos (caso de mis tres documentales filmados en Guerrero), porque esos cuerpos son partes de la realidad de la gente, no están escondidos y enseñan el clima de violencia en el que vive la gente. Sin embargo, esas imágenes tienen que ser elegidas con mucho cuidado y no exponerlas durante mucho tiempo en pantalla. En el caso de  Acuérdate de Acapulco, puse al principio del documental un muerto, para "plantear el decorado", para enseñar el contexto de la narcoguerra y, después de eso, la violencia (Acapulco es una de  las ciudades más violentas en el mundo hoy en día) se queda fuera de pantalla (en el sonido, en los discursos, en celebraciones, en situaciones como el springbreak o en fotografías). Ya no es necesaria verla tanto, sabemos que está ahí. En el caso de Guerrero, se ven varios episodios violentos, pero el momento más duro, que tuvimos que reducir con el editor, porque era insostenible, fue el llanto de una madre en el entierro de su hijo. En este momento, el audio era mucho más violento, dejaba al espectador mucho más incomodo, que la cara del muerto mismo que se percibe detrás del cristal del ataúd.
NT: Usted se centra en temas difíciles que tratan de la actualidad mexicana y del pasado reciente, ¿cuáles son los retos mayores para usted en realizar sus proyectos?
LB: En general trato de trabajar cuatro puntos: denunciar los atropellos a los derechos humanos, registrar el combate de la gente que lucha por la justicia, permitir a esta gente analizar sus prácticas gracias al espejo de mis documentales y, por supuesto, hacer obras cinematográficas… Hago mis películas con la idea de que las vean tanto la gente que filmé (la gente en Guerrero en general), la gente de México, y del mundo en general, interesada tanto en los derechos humanos como en el cine.