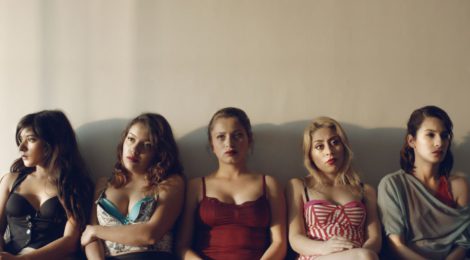 Today, Mediatico is delighted to present an entry by regular contributor, Olivia Cosentino,  a Ph.D. student in Latin American Literatures and Cultures at The Ohio State University. She is interested in the intersections of gender and modernity in post-Epoca de Oro Mexican film as well as contemporary Mexican cinema. 
by Olivia Cosentino
David Pablos' second feature film, Las elegidas, recently swept the top prizes at Mexico's Ariel awards on May 28 – Best Picture, Director, Breakthrough Performance (for Nancy Talamantes who plays Sofia), Cinematography and Original Screenplay. After making its rounds on the festival circuit in 2015, including screening in the Un Certain Regard category at Cannes, Las elegidas was released theatrically in Mexico and France in 2016. Netflix acquired the film – likely due to the cultural capital and connections of its production company CANANA, brainchild of Gael García Bernal and Diego Luna – and it became available in the U.S. on May 8. (I note it is also currently available via Netflix in the UK and Ireland.) Many Mexican films these days die off in the exhibition and distribution stages without ever being seen by Mexican, let alone global, audiences. Las elegidas, in this regard, is lucky. Pablos' first film, La vida después (The Life After, 2013), never received a commercial release, nor a DVD release and only became available to stream on the "pay-per-view" YouTube channel Flix Latino in January 2016.
Aesthetically pleasurable (but often gut wrenching) with mindful shot composition and framing and an observational camera that is at times reminiscent of Después de Lucía (Michel Franco, 2012), Las elegidas is a beautifully made film for which cinematographer Carolina Costa deserves high praise. Beyond the visuals, Las elegidas has fantastic performances from a handful of newcomers: the aforementioned Talamantes carries the film with her performance as Sofia, the vivacious 14-year-old who turns hollow ghost after she is forced into a prostitution ring run by the family of her boyfriend Ulises (Óscar Torres). Leidi Gutiérrez as Marta – the second girl Ulises lures into the ring in order to free Sofia – is understated, yet captivating. Rounding out the youthful trio is Ulises himself. A quiet presence throughout the film, Torres' brilliantly expressive eyes contrast his taciturn demeanor and communicate his overwhelming guilt.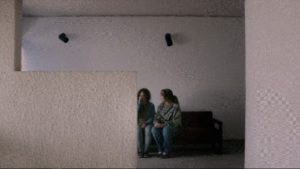 Costa's incredible shot composition further traps Sofia in this world of sex slavery.
Las elegidas has caused some heated debate within Mexico. A few months ago, Lydia Cacho published a scathing criticism entitled "Las Elegidas y el cine fallido" on Cimacnoticias. Cacho is a well-known journalist and feminist who wrote Esclavas del poder (Grijalbo, 2010), a non-fiction investigation into the world of female sex trafficking that centers on interviews with survivors. In the article, she declares Las elegidas a mediocre, unfinished film with shallow characters. Cacho sees the film as a failure due to a slew of untouched issues: the psychology of machismo, the mechanisms of power at work, and the cross-class vulnerability of girls. Cacho's critique then points to the structural complicity. She poignantly writes, "Estos creadores no se atreven a explorar su propia mirada frente al sexismo para complejizar su obra y tal vez por eso terminan flotando en la superficie, allí mismo dejan a sus audiencias y lectores, llenos de rabia y sin entender o conocer nada nuevo. El peligro del cine de denuncia fallido es que cae en la apología de aquello que pretende denunciar. Una lástima. / These creators [ie. director David Pablos and Pablo Cruz, who Cacho claims truly runs CANANA] do not dare to explore the question of their own gaze vis-à-vis sexism to render their work more complex, and perhaps that is why they end up floating on the surface, the same place where they leave their audiences and viewers, full of rage and without having understood or learned anything new. The danger of failed social criticism films is that it ends up apologizing and defending that which it pretends to critique. A shame."
Prior to reading Cacho's article, I was fully on-board with J.J. Flores Hernández, who had responded to Cacho in Corre Camara in defense of Las elegidas, which Pablos had then retweeted on Twitter. Flores Hernández gestures to Jorge Volpi's novel Las elegidas (the basis for Pablos' script) as well as Amat Escalante's short film Esclava (Slave, 2014) as additional examples of cultural production about underage sex slavery that do not go beyond the confines of that artistic medium to denounce it. In Flores Hernández's opinion (and I assume Pablos would agree), "ni Pablos ni Escalante ni Volpi quieren explicar, la intención es mostrar, provocar curiosidad (periodística, antropológica, detectivesca, lectora)." For Cacho, though, collapsing the social criticism film to a singular instance of sex trafficking, and then glossing over the psychology of those who perpetuate and participate in the sex trade (the tratantes and the participantes) misses both the "heart" of the issue and the magnitude of the problem.
This debate affected my initial impressions of the film and made me start asking larger questions. As a social criticism film, what does Las elegidas accomplish? What is its real function in the real world where this practice is really happening? What makes a social criticism film a failure (or a success)?
Ultimately, Las elegidas is not a failure. While I agree that the film's narrative fell into superficial clichés, the cinematography and sound design (along with superb acting) carry the moral thrust at work here by creating something that is beyond representation or reproduction, but rather a sensorial experience that hits on a visceral, personal, internal, and intimate level. Las elegidas constantly juxtaposes the human body alongside filthy, paint-peeled walls that envelop the characters. Everyone is confined. There is no escape from this world. Costa takes advantage of the split screen technique to contrast free and trapped women as well as Ulises' predatory hunt for a new girl. This juxtaposition demonstrates the delicacy of the division between free and trapped and emphasizes the vulnerability of women  subsumed into the sex trade by people they trust and even love.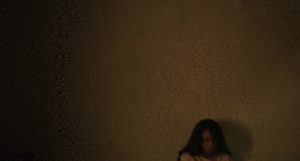 Sofia, overtaken by the dirty walls, trapped in her world.
Free women (above) and enslaved women (below) on the split screen emphasizes their parallel vulnerability.
The sounds in Las elegidas are truly sickening. We often do not see violence, but sound designer Alejandro de Icaza communicates its occurrence through asynchronous sound, which is perhaps even more jarring and memorable. The disembodied screams. The sexual skin meeting skin until (we find out later) Sofia bleeds. The beatings. We hear Ulises' mother brutally hitting another prostitute who kept too much of her earnings, but we see Sofia's blank (non-)reaction. We watch Ulises' face as he pummels Marta into submission and hear the thuds of his fist contacting with her body drowning out her cries for mercy. Prior to turning Marta over to his family's business, Ulises vomits violently, a sound that betrays his lack of compliance with the situation. His body expresses his disgust, his culpability, his shame. The gagging, choking and slapping that Sofia experiences during the rapes. Pablos handles these scenes in likely the "best" way possible: we are given a medium close up of Sofia's resilient face, crosscut with the faces of her rapists as the background fills with asynchronous sounds of undeniably non-consensual sex. These close-ups force the audience to identify directly with Sofia – another ethical push by Pablos – and gracefully avoid showing underage rape onscreen, as Talamantes is actually 14. With the exception of Sofia's penetrating stare, the sounds more than the visuals imprinted into my experience of the film and are what I continue to think about post-viewing.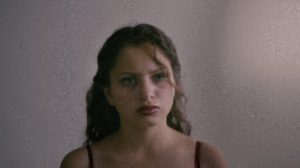 Sofia's gaze during the rape scenes.
One of the implicit themes of the film is ubiquitous complicity. The police who turn a blind eye, the townspeople who know what is going on in the hotel and watch the girls to make sure they do not escape, all of the members of Ulises' family, especially the wives who initially offer sympathy to Sofia but are actually the true facilitators of the practice. I believe this extends outside of the diegetic film; as Cacho suggested, the film points to the complicity of its producers as well as those who are consuming it, the audience. Las elegidas seems to suggest that our complicity is part of the structure of society that permits the continuance of sex slavery.
The harrowing duration coupled with implied societal complicity leads to what I view as a more complex, nuanced condemnation of sex-slavery that reaches a visceral level. Pablos forces us to bear witness, to come face to face with underage sex trafficking (and with our complicity) for 105 minutes and for that reason, Las elegidas is more difficult to watch than Escalante's 13 minute Esclava. Maybe this is cultural production's active answer to passive complicity.
Cacho's critique of Las elegidas as failed social criticism cinema continues to challenge me and raises the question: what is the intention of addressing systemic failures and violence through fictional narrative forms? Is the endgame awareness or action (or perhaps a third option)? If this is a question of awareness, then the mere fact that Netflix picked up Las elegidas indicates a step in the direction of wider visibility. If this is really about action, then I think we all – scholars, critics, filmmakers – need to reflect more deeply upon the possibilities  and limitations of narrative's interventions in and depictions of social problems.
One thing is for certain: Las elegidas has prompted some productive conversations about the function of social criticism narratives at a time when Mexican cultural producers continue to draw from horrific social realities.