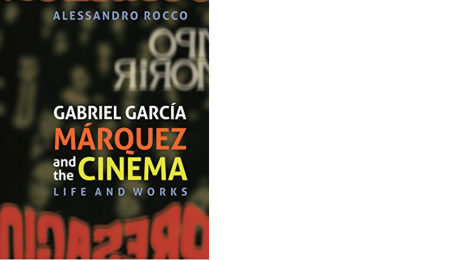 Today, Mediático happily adds to its existing resources and commentary on the relationship that the late Colombian writer Gabriel García Márquez had with the medium of cinema by publishing an excerpt from a new book on this topic by Alessandro Rocco (alessandro.rocco@uniba.it). Rocco is Researcher in Latin American Literature and Culture at the University of Bari, Italy. The excerpt appears by kind permission of the author and its publisher Tamesis Books.
Extract from Alessandro Rocco, Gabriel García Márquez and the Cinema: Life and Works (Woodbridge: Tamesis, 2014)
Book description: Far from being an occasional occupation, García Márquez's film work forms an intrinsic part of his overall aesthetic and literary poetics. The book's primary aim is to present a detailed study of García Márquez's wide-ranging filmography, which has never received a comprehensive, systematic analysis. Rocco argues that it should be recognised as an integral part of the author's narrative output, and brought into the mainstream of studies concerning his literary activity.
The first part of the book reconstructs the trajectory of García Márquez's career in cinema and his connections with the world of film. The second part looks at all his screenplays on which actual films have been based. These are examined chronologically, but also analysed according to thematic and aesthetic concerns and placed in relation to the novels and short stories with which they are 'twinned'.