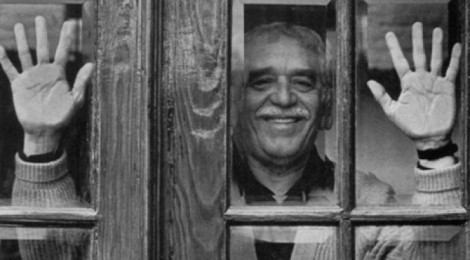 This week, Mediático remembers the life and work of Gabriel García Márquez (1927-2014). In particular, we are delighted to present an essay on García Márquez's life in the cinema by Rielle Navitski, Assistant Professor of Film Studies at the University of Georgia. She is currently at work on a book manuscript tentatively titled Visualizing Violence: Sensational Cinema and Journalism in Early Twentieth-Century Mexico and Brazil.
If you'd like to access further tributes to GGM, David Hudson has assembled links to a range of online discussions of his cinema-related work here. And Emma Scully Jones' fine online essay for Indiewire, — 'Why the Death of Gabriel Garcia Marquez is a Loss for the World of Film' — is linked to here.

'The Eclipse of the Screenwriter"?: Reconsidering Gabriel García Márquez's Life in the Cinema
By Rielle Navitski
With the recent passing of literary giant Gabriel García Márquez on April 17, print and online media have exploded with tributes to the best-selling, and perhaps most beloved, author ever to write in the Spanish language. Some eulogies rushed to highlight aspects of his work overshadowed by his hugely popular novels, including his longstanding and multifaceted relationship with the cinema. García Márquez's career as a writer was always closely intertwined with film criticism and screenwriting, beginning with his work as a film critic in the early 1950s in Barranquilla and then Bogotá, where he churned out reviews of commercial exhibitions (mostly American, French, and Italian film) alongside cineclub screenings.[1. His film criticism from this period is collected in Obra periodística, vols. II and III: Entre cachacos (Barcelona: Editorial Brugeura, 1982).] In 1955, he briefly attended the Centro Sperimentale di Cinematografia in Rome where leading filmmakers of the New Latin American cinema like Fernando Birri, Julio García Espinosa, and Tomás Gutiérrez Alea studied.
In the early 1960s, García Márquez moved to Mexico City and became a screenwriter. Playing an important role in the emergence of the Nuevo Cine Mexicano movement, he continued to work intermittently in the film industry as his literary fame grew. In the mid-1980s, he helped found the Fundación Cine Latinoamericano and the Escuela Internacional de Cine y Televisión (headed by his long-time friend Birri) in Cuba at the behest of Fidel Castro. In addition to teaching screenwriting at the EICTV, García Márquez sunk the exorbitant sums he charged American and European journalists for interviews back into the school.[2. Gerald Martin, Gabriel García Márquez: A Life (New York: Knopf, 2008), 451.] Beyond his ongoing film and television projects, García Márquez would see his books adapted to the screen in a series of high-profile international productions from the late 1980s through the late 2010s.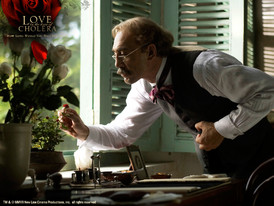 Despite this long relationship with cinema, popular and critical reactions to films based on his writing (whether original scripts or adaptations of his literary works) have been marked by a certain disappointment.[3. A useful summary can be found in Claire Taylor, "García Márquez and Film" in The Cambridge Companion to Gabriel García Márquez, ed. Philip Swanson (Cambridge: Cambridge University Press, 2010), 161-176.]  Scholars and fans of García Márquez's novels often ponder whether they are even "translatable into cinema."[4. Roger Ebert, "Love in the Time of Cholera," rogerebert.com: http://www.rogerebert.com/reviews/love-in-the-time-of-cholera-20070] Some lament that the writer's key themes and preoccupations – the force of (an often absurd) destiny, the melancholy of a specifically Latin American geographic and historical "solitude" – are only faintly visible in the films in which he had a hand. Many have criticized the participation of non-Latin American directors and global stars like Javier Bardem and Rupert Everett in films such as Love in the Time of Cholera (dir. Mike Newell, 2007), the lone Hollywood foray into García Márquez's work, and the co-production Chronicle of a Death Foretold (dir. Francesco Rosi, Italy/France/Colombia, 1987).[5. For example, see Ebert, "Love in the Time of Cholera," Stephen Holden, "50 Years and 600 Women Later, True Love,"New York Times, November 16, 2007: http://www.nytimes.com/2007/11/16/movies/16chol.html?_r=0; David Robinson, "Colombian Caper," The Times (London), June 18, 1987.]
The complexity of García Márquez's literature certainly presents unique challenges for the cinema, given his novels' innumerable characters and subplots and their non-linear constructions of narrative time. Many film adaptations of his works do struggle to create the heady atmosphere of unreality found in his books. Yet I speculate that the criticisms are also driven by a desire to distance one of Latin America's most celebrated writers from the popular, industrial, and fundamentally "impure" or "mixed" art of cinema, as André Bazin called it in his defense of film adaptation.[6. André Bazin, "In Defense of Mixed Cinema" in What is Cinema? vol. 1, ed. Hugh Gray (Berkeley: University of California Press, 2005), 53-75.] This much-maligned practice is often viewed as compromising the aesthetic independence of both literature and of cinema by making them mutually interdependent.
In part because of this suspicion, scholarly and popular writing on film usually gives short shrift to screenwriters, focusing instead on the director as an auteur striving to realize an individual artistic vision. Yet García Márquez's fame as a novelist means that his scripts and adaptations have commanded critical attention, raising questions about the creative role of the prominent figures of New Latin American Cinema who have directed his scripts or adaptations of his works: Argentine Fernando Birri (Un señor muy viejo con alas enormes/A Very Old Man with Enormous Wings, 1988), Chilean Miguel Littín (La viuda de Montiel/Montiel's Widow, 1979), adopted Brazilian Ruy Guerra (Eréndira, 1983),[7. Guerra was born in Mozambique, but directed most of his films in Brazil.] and the key directors of the Nuevo Cine Mexicano movement: Arturo Ripstein (Tiempo de morir/A Time to Die, 1966 and El coronel no tiene quien le escriba/No One Writes to the Colonel, 1999), Luis Alcoriza (Presagio/Portent, 1975), Felipe Cazals (El año del peste/A Journal of the Plague Year, 1978), and Jaime Humberto Hermosillo (María de mi corazón/Mary My Dearest, 1979).
García Márquez's career in the cinema thus invites us to rethink two conceptions of authorship: the Romantic concept of the writer as a solitary creator, and the notion of the film director as auteur. These models of artistic creation continue to have a strong hold on the popular imagination and, despite periodic protests, often prevail in academic circles as well. Yet they can distract us from the immense complexity of cinematic creation, whose richness as a medium is often due to its incorporation of other art forms (literature, theater, graphic arts, and music) and the competing aesthetic and political goals (of the crew, cast, studios, producers, and cultural institutions) involved in its production.
Cinema, of course, has also been a powerful force in sparking literary experimentation, from early twentieth-century avant-gardes to the Latin American "Boom" of the 1960s and 1970s. Yet this act of borrowing has not always been welcomed. Tellingly, literary critics often suggest that García Márquez's work in the cinema, especially his years as a scriptwriter in Mexico, brought about a necessary purification of his writing, purging it of "excessively" visual elements that appeared in much of his early work (such as the frequent references to looking and vision in No One Writes to the Colonel).[8. A summary of these positions is given in Taylor, "García Márquez and Film," 163-164. Taylor does refer to some of the ways in which the claims of auteur theory have been challenged within film studies in recent years.] In an oft-repeated anecdote that originated with García Márquez himself, after penning scripts for several key works of the Nuevo Cine Mexicano, he renounced screenwriting and shut himself in a room to write the acclaimed One Hundred Years of Solitude over a period of eighteen months.[9. García Márquez, "La penumbra del escritor de cine," El País (Madrid), November 17, 1982.] In this narrative, the creative constraints of the film industry led him to embrace the writer's solitary act of creation and hone the specifically "literary" quality of his work.
Despite the productivity of his involvement with cinema, which generated more than forty films, critics often describe it as a doomed romance. They take their cue from the writer himself, whose frustrations with the inherently collective and commercial endeavor of filmmaking are well documented, forming part of the public persona he constructed in interviews and writings. García Márquez writes in his 1982 essay "La penumbra del escritor de cine",[10. "Eclipse of the Screenwriter", available here in Spanish: http://elpais.com/diario/1982/11/17/opinion/406335611_850215.html. "Penumbra" literally means "shadows," but I have translated it as "eclipse" since here it implies obscurity as well.] that his relationship to cinema was "a mismatched marriage (matrimonio mal avenido): "I can't live with cinema and I can't live without it."
Beyond this personal incompatibility, García Márquez suggests that the work of the screenwriter is inevitably compromised, given that it highlights cinema's failure to develop into an autonomous medium. He writes,
In reality, the screenwriter's destiny is the secret glory of the shadows [penumbra], and only he who resigns himself to this internal exile has any possibility of surviving without bitterness. No other work demands greater humility. What's more, it should be considered as a transitory factor in the creation of the film and is living proof of the subaltern condition of cinema. As long as it needs a writer, that is, the assistance of a related art, it will never manage to fly with its own wings. This is one of its limitations. The other, graver still, is of course its industrial commitment. The director himself eventually realizes that there is very little he can do within the narrow margin left by the producer's accounts on one side, and the borrowed phantoms of the writer, on the other."
García Márquez implies there is one illustrious exception to this unhappy fate: Cesare Zavattini, author of what is often considered the  "Neorealist Manifesto"[11. I am referring to "Some Ideas on the Cinema," which appeared in Italian in 1952 and was first published in English in Sight and Sound 23:2 (1953), 64-69.]  and screenwriter for celebrated films like Bicycle Thieves and Umberto D., whom he had encountered during his time in Rome. One wonders if what García Márquez craved was not so much full creative autonomy as the acclaim accorded to his Italian mentor for his role in shaping the neorealist movement.
In its rejection of industrial filmmaking and its implication that cinema's dependence on screenwriters and adaptations keeps it from developing its own unique character, García Márquez comments recall the well-known tenets of the French New Wave. Yet unlike their French precursors, the Nuevo Cine Mexicano (the Latin American "New Wave" with which García Márquez was most closely involved) relied heavily on literary adaptations and original works for the screen by well-known writers. Beyond working on industrial projects like the 1964 The Golden Cockerel (El gallo de oro, dir. Roberto Gavaldón, 1964) and Arturo Ripstein's A Time to Die, both collaborations with Carlos Fuentes, García Márquez was closely linked to the experimental efforts and incipient institutions of the movement. A story from his collection Los funerales de la Mamá Grande/Big Mamá's Funeral provided the basis for the 1965 film En este pueblo no hay ladrones/There Are No Thieves in This Town. Directed by Alberto Isaac, the film won second place in the Primer Concurso de Cine Experimental, which was intended to appease the demands of young would-be directors who saw the union-controlled film industry as commercially and aesthetically stagnant. He also taught screenwriting courses at the newly opened Centro Universitario de Estudios Cinematográficos, whose founding had been championed by the Grupo Nuevo Cine in their 1961 manifesto.[11. Hojas de cine: testimonios y documentos del Nuevo Cine Latinoamericano (México, D.F.: Universidad Autónoma Metropolitana, 1988), 33-35; Interview, Marcela Fernández Violante, "Gabriel García Márquez: México, el cine y el CUEC," in La docencia y el fenómeno fílmico: Memoria de los XXV años del CUEC, 1963-88 (México, D.F.: Universidad Nacional Autónoma de México, 1988), 13-30.] García Márquez's involvement with the Nuevo Cine Mexicano prefigured a lifelong role in building institutions of Latin American film production and integrating them into broader circuits of cultural circulation. This is evident in the revolving door of international directors who visited the EICTV, from Gillo Pontecorvo and Fernando Solanas to Francis Ford Coppola and Robert Redford (García Márquez even gave a screenwriting course at Sundance in 1989 at Redford's request).[12. Martin, Gabriel García Márquez, 451-452.]
In reconsidering some prevailing critical judgments about García Márquez's works for and in cinema, my goal is not to minimize his "purely" literary achievements. Instead, I hope to draw attention to his role in forging transnational networks of film culture stretching from Colombia and Mexico to Cuba, Italy and beyond, a role that is obscured when we focus too closely on the biographical figure of the writer himself. By taking this perspective, it becomes clear that rather than being eclipsed in the shadows with his death, García Márquez's work for the cinema has forged a widely dispersed and enduring legacy that persists across widely scattered spaces, times, and modes of film production.