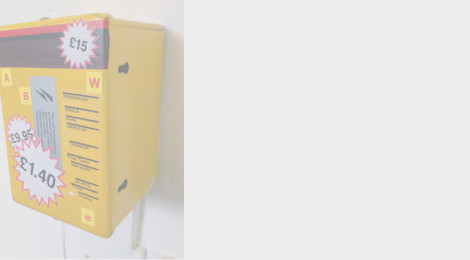 Simon Morse is an artist who creates, appropriates and distorts verbal and visual systems in order to examine the state and nature of interpersonal communications in the contemporary world. His key method is to take apparently innocuous interplays of people and situations and extend and iterate them until the ensuing mess reveals fundamental hairline cracks in the everyday.
After studying Fine Art at BA (Liverpool Polytechnic) and MA (Chelsea College of Art & Design) levels, Morse has made a career exhibiting widely, both in the UK and abroad. His most recent solo shows include 'The Evaporating Office' at Meter Room in Coventry, 'The Butler's Cough' at Grey Area in Brighton, and 'I Cannot See The Trees But I Can Hear the Mountain' at Gooden Gallery in London (who also represent him).
Morse has also pursued a parallel career in television. His work as a designer of interactive TV games garnered a BAFTA nomination. He has subsequently worked extensively as a question writer for a range of TV quiz shows, from 'Who Wants to Be A Millionaire?' to 'Eggheads'. His work in this area, with its very particular forms of address and its creation of hierarchies of knowledge, has informed his art practice greatly.