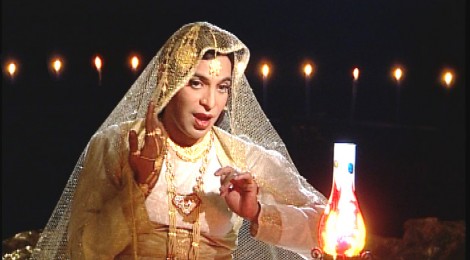 Sridhar Rangayan will be bringing a unique snapshot of the Kashish Mumbai International Queer Film Festival to Brighton this Saturday. It began in 2010––the first officially recognised LGBT film festival in India and a landmark for South Asian queer culture. Aiming to promote visibility for Indian LGBT communities, to explore complex realities and to celebrate Indian queer life, the festival screens films by new Indian filmmakers alongside the latest queer films from around the world. Festival director Sridhar Rangayan has curated a programme of Indian queer shorts just for us, ranging from urban dating comedy to socially-engaged documentary. Kashish presents a snapshot of the vibrant queer cinema emerging in India.
Discover the Indian homosexual closet with a collection of cool, quirky, funny and thought provoking short films curated by filmmaker, gay rights activist and film festival director Sridhar Rangayan. These award winning short films from KASHISH Mumbai International Queer Film Festival offer a diverse range of Indian contemporary queer experiences.
AMEN, about two men who meet through the internet but have to deal with real life emotions; IN THE CLOSET, funny look into what lies in the closet; MORE THAN A FRIEND, a hybrid documentary about lesbians negotiatining their love in orthodox Kolkata; THE NIGHT IS YOUNG, a vignette of three couples – one straight and two queer; and LOGGING OUT, about finding true love in the virtual world.
We hope to see you on Saturday for this exciting event, part of QUEER INDIA, Sridhar Rangayan's European tour, following on from tomorrow's event at Arts A05, Sussex University, where Sridhar will be in conversation, talking about his filmmaking, activism, and curatorship of Kashish – Mumbai's first official gay and lesbian film festival. This event is free and there will be a reception to follow.
Tickets can be purchased online here: http://www.cine-city.co.uk/strand/global-queer-cinema You can also buy tickets for the Sallis Benney roundtable on the door, by phone 0871 902 5728, or at the Duke of York cinema. See you on Saturday.