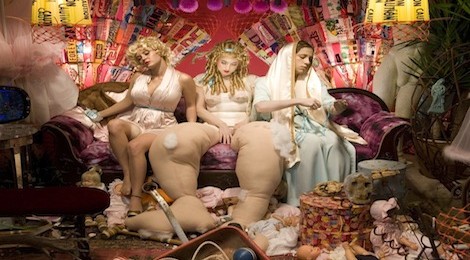 November is a big month for global queer cinema in Brighton, not only has Cinecity  arrived, but the city sees new events from Sussex University's Centre for Sexual Dissidence, the launch of a new strand of queer screenings from the Duke of York Cinema, Eyes Wide Open, launching with Antony and the Jonson's film Turning, experimental film at Brighton Museum and a town meeting on the Queer-State-of-the-Art.
GQC and Queory are hosting a special Cinecity warm-up event on 22 November at 4pm – 6pm with Indian queer filmmaker, curator, and activist Sridhar Rangayan at the University of Sussex. He will be discussing his work and showing a selection of films.
The end of November sees the Global Queer Cinema strand of Cinecity. We're really excited to be bringing a panel of international queer film folk to Brighton. Opening with a roundtable of practising queer filmmakers and festival programmers, the Curating Queer Film Symposium sees Brian Robinson of the London Lesbian and Gay Film Festival, filmmaker Campbell X, Stephen Kent Jusick of MIX NYC and Sridhar Rangayan of Mumbai's Kashish Queer  Film Festival all discussing how cinema sustains and creates public queer cultures. This will be followed by a screening of Kashish: Indian Queer Shorts, a programme of the best new LGBT filmmaking from India. In the evening, Stephen Kent Jusick bring a little NYC MIX magic to Brighton's Basement with two programmes of edgy, hilarious and political experimental film and video.
But it's not just us creating queer film events. Perhaps we've inspired something of a queer month? On 9 November, the Centre for Sexual Dissidence and the Centre for Visual Fields present a one day symposium Low Affect/ High Stakes between 11am – 6pm at Sussex University. Guest speakers include Professors Heather Love, and Peter Coviello on queer teen suicide.
LGBT Artists Speak Out is being held at Brighton Museum on 14 November between 1-6pm. Artists Ajamu X, Sadie Lee, Brian Lobel, Eddie Peake, Sarah Pucill, James Richards and GQC collaborator Campbell X will discuss their take on queer sexuality, intimacy, love and race in twenty-first century Britain.
We look forward to seeing you there!