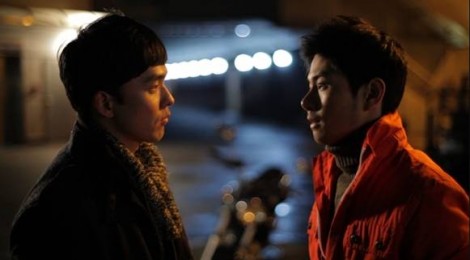 Apologies for the delayed round up this week. Behind the scenes GQC have been working  hard on getting ready for our next big event in partnership with Cinecity Brighton, Kashish Queer Film Festival in Mumbai and New York's Mix . Big thanks to Attitude for supporting the project, please have a look at the write-up on their website.
This week has seen the announcement of upcoming queer cinema across the globe. White Night, shown above, by Leesong Hee-il, is released this month, with screenings and talks from the director at both the Vancouver International Festival and the London Korean Film Festival. Mike Buonaiuto, director of Homecoming, an award-winning film which addressed equal marriage, has announced plans for a new film on the subject of same sex parenting. IRL, a short film directed by Grant Singer is to star Genesis P Orridge, member of Throbbing Gristle, and one half of the pandrogynous Lady Jaye Breyer P-Orridge, his co-star will be Damien Echols, famously of the West Memphis Three.
One of the more bizarre stories this week centres on Gigi Chao and her billionaire father, Cecil Chao's, proposal that he pay $40 million to the man who can 'convert' his lesbian daughter and marry her. This came after news that Gigi and her girlfriend, Sean Eav, had a church blessing in France. In an even stranger twist, Sacha Baron-Cohen announced plans to make a movie based on the story, simply called The Lesbian.
Finally, this week has seen the spotlight on Bisi Alimi, a Nigerian gay activist whose extraordinary career included his being the first gay Nigerian to be interviewed on national TV in Nigeria. His remarkable story is here.