Today, Mediático presents an entry on the emerging new-media genre of webnovelas by Juan Ramos, PhD student in Media and Cultural Studies at the University of Sussex, and one of the founding co-editors of this blog.
Back in October 2010, Mexican YouTuber Eduardo Soto uploaded the first episode of La bastarda to his channel. The 5 minutes and 46 seconds of the first episode are enough to establish that La bastarda tells one of the staples of the telenovela genre: the abandoned orphan girl who grows up poor and who, eventually, falls in love with a wealthy galán. However, despite the unusually short length of the episode and its online platform, there are other key differences between La bastarda and more mainstream versions of the telenovela genre. Sure, La bastarda does not have the locations exuding tropical appeal of a telenovela produced by Telemundo or TV Globo nor does it feature an impossibly well-kept hacienda like a Televisa production. And its actors are not talked about in daytime talk shows or have millions of followers on Twitter like the stars that populate the telenovelas made from Miami to Rio de Janeiro. However, La bastarda cannot merely be seen as a cheaply made parody by amateurs.
La bastarda, featuring an all male cast (except for some extras), tells the story of twin sisters, "Gabriela" and "Bárbara", who were separated at birth. While "Bárbara" was brought up by a wealthy family "Gabriela" grew up poor. If this does not sound like an original proposition to the seasoned telenovela viewer, that it is because it is not and it is not supposed to be. What makes La bastarda interesting is that, despite the lack of stars or budget, tens of thousands of people have found it compelling enough to watch the 20 episodes posted at a rate of about once a month on YouTube.  Judging from the comments and my own enjoyment of this webnovela, I don't think I would be too off the mark if I said that La bastarda enjoys great appeal among gay viewers.  
What pleasures does La bastarda offer us? Firstly, fans of the genre would find in it a hugely enjoyable telenovela. Perhaps of the most traditional kind, but compellingly told and with a catchy soundtrack, and more than acceptable acting, to boot. A recurrent comment from the show's fans is a favorable comparison to the recent telenovela output of the two national television networks in Mexico, Televisa and Azteca.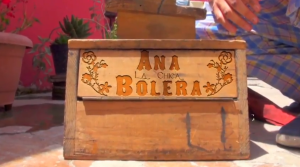 Eduardo Soto, many of the actors of La bastarda and some welcome additions, came back in  May 2012 with Ana la chica bolera (Ana, the shoeshiner). This time the main character is a spirited girl who lives with someone she thinks is her grandmother (actually, Ana is the daughter of an American couple but her origin story is too long winded for me to explain here). "Ana" falls in love with the attractive only son of Mexican Golden Age diva "Hortensia Campanario", a villain capable of anything to keep humble Ana away from her precious son. Ana la chica bolera is a telenovela in the style of María la del barrio (Humble María) or Rosa salvaje (Wild Rose). In fact, both "María" and "Rosa" make a cameo during one episode in a charming homage to those telenovelas of the past. Later in the webnovela, "Ana" and her opponent "Felicia" compete in a reality show clearly inspired by America's Next Top Model.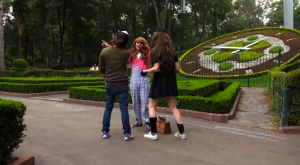 One problematic aspect of La bastarda and Ana la chica bolera is that, despite telling love stories essentially framed as battles between good and evil, there are no kisses or any other displays of affection between male and female characters. Both webnovelas take on the most conservative versions of the telenovela genre. Are these subverted by "merely" casting (gay?) men to play all major roles? Same sex kisses remain unseen on Mexican broadcast television but why should this be the case on productions specifically designed for the Internet and which overwhelmingly attract a gay male audience?  Perhaps, these webnovelas are not seeking to subvert the genre but, rather, to embrace it in its more traditional forms and combine this with a camp sensibility. This is not simply achieved by casting (gay?) men but also through the sparkling dialogue and verbal and visual references to famous Mexican telenovelas and, even, in the case of Ana la chica bolera, to the Golden Age of Mexican cinema or reality television.