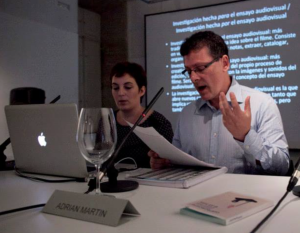 Symposium CFP: The Audio-Visual / Video Essay in Teaching & Research
10am-4pm, Tuesday 19th May 2015, University of East Anglia
Keynotes: Catherine Grant, Adrian Martin and Cristina Álvarez López.
This UEA symposium explores the recent growth of the 'audio-visual' or 'video' essay as a mode of research within the Arts & Humanities. Allowing for close visual analysis, historical documentary, and poetic reflection on a range of audio-visual texts (films, television programmes, video games), proponents of the form argue it offers a necessary expansion from oral / written approaches to the visual communication of intellectual ideas.
This symposium comes at a key moment in the adoption of the audio-visual essay. The establishment of journals such as [in]Transition: Journal of Videographic Film & Moving Image Studies is an important step in legitimising this practice, but further expansion is – arguably – based on the ability of colleagues and students to experiment with this format within research and teaching. This symposium will consider the opportunities and barriers to adopting the audio-visual essay among researchers and teachers.
We would welcome current teachers and researchers who are using the audio-visual / video essay within their current work to contribute papers to either of the sessions listed above. We would also like to run screenings of such essays throughout the day, so contributions from established and new researchers / students would be welcome.
Topics for papers could include (but are not limited to):
· Does the audio-visual essay change 'the thinking process itself' (Lee 2013), encouraging a shift from descriptive to analytical application?
· What potential does the video essay have for the pedagogic practice of media/cultural/humanities disciplines?
· What role might the video essay have in developing digital humanities research?
· Why might the UK be lagging behind other countries in adopting this new approach?
· Does the audio-visual essay encourage international students who are less confident with language to express their ideas?
· Are students eager to adopt this new technique within assessments?
· What are the barriers to recognising the audio-visual essay more centrally within the academy?
Submissions or more enquiries should be directed to Dr Sarah Godfrey (s.godfrey@uea.ac.uk) and Dr Keith M. Johnston (keith.johnston@uea.ac.uk)
This symposium is supported by a University of East Anglia Teaching Fellowship.