We are delighted to say that Elizabeth Swift's project The Two Sided Boy found alternative means of support for the initial stage of its development. You can read more about it, and find a link to the interactive prototype here.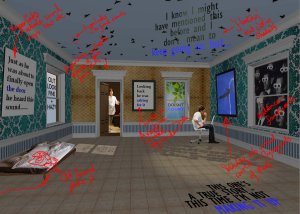 The Two Sided Boy is an interactive web opera, currently in development, by Elizabeth Swift and the performance company, VOID. The work focuses on fraught contradictions and absurd complications between the online and real existence of a teenage boy. It is constructed from sound samples, including sung arias, parts for cello and ensemble, spoken text and effects sampled from game soundtracks and social media sites.
The viewer's role is to put together this fragmented work through the process of their participation.
In the scene presented here the viewer finds the boy, Max, alone in his room and lost in his computer. In cyberspace Max is running hard and time is running out; in real life he has to deal with his mum Lucy, who wants him out of the room. To read more about the piece and find a link through to the interactive excerpt, click here.