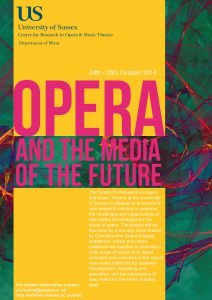 Programme:
Opera and the Media of the Future 24/25 Oct 2014
Day One : Opera Audiences
Friday 24th October
9.15-9.45 Coffee/Registration
9:45-10.00
Introductions
Professor Nick Till, Director of the Centre for Research in Opera and Music Theatre at the University of Sussex.
Session one: Live Cinecasts
10.00-10.30
Keynote Chris Morris, National University of Ireland Maynooth
The Next Best Thing
The mediatisation of opera is hardly new: audio recordings of opera have been produced since the technology first emerged, and television began broadcasting live opera over half a century ago. Meanwhile, the catalogue of opera on DVD now amounts to over 3000 titles. Yet the recent impact of webcasting and cinecasts has taken many by surprise. I reflect on these recent developments and ask what it means for the production of opera and for our understanding of the experience of opera. What does 'live' mean in this context? Can mediatised opera be understood in its own terms or is it merely what the Met has called 'the next best thing' to being in the opera house? Framing my discussion is the question of what the academic field of opera studies might bring to a consideration of these issues and whether anyone should care what it has to say.
10.30-11.30
Cinecasts: the Met/ROH model
Should we be sceptical about the future of the cinecast phenomenon? What is the effect of the global 'branding' of opera? How might cinecasts affect traditional opera, its staging and the concepts of liveness and authenticity? What are possibilities and limitations for growth of the audience and of the repertoire? What can we learn from the different experiences of webcasting as opposed to cinecasting?
John Fulljames Associate Director, Royal Opera House
Jørn Pedersen Orchestra Director / Project Manager Media Production, The Norwegian National Opera and Ballet
Vicky Kington Media Manager, Glyndebourne

Andrew Pettie Head of Culture, Telegraph Media Group
11:30-11:45 Coffee Break
Session two: Current Audience Research
11:45-12.15
Keynote Martin Barker Emeritus Professor of Film and Television Studies, University of Aberystwyth; author of Picturehouse Report on Opera Cinecasts.

"Distinct/Distinctive: What Opera Audiences Take To and From Cinema Simulcasts"
The phenomenon of opera simulcasting is clearly a major development – but what do we know about the audiences for these events?  And what do we need to know about them?  A number of pieces of research have been carried out.  The results from these have answered some of the important questions, but some others have hardly been touched.  In this presentation I will try to summarise what we know, what we don't know – as well as asking some other questions about this emergent phenomenon.
12.15 -1.15
Panel Discussion.
John Holmes Head of Marketing, English Touring Opera
Karen Wise Research Associate, Guildhall School of Music and Drama
Emma Keith  Producer, National Theatre Live (NESTA research)
1.15-2.15 pm lunch
Session Three: The Future Mediascape
2:15– 2:45
Keynote David Berry Reader in Media, University of Sussex.
"Materiality and Post Digital Media"
2:45 – 3:45

Panel discussion. Chaired by Craig Vear, Reader in Performing Arts, De Montfort University. New media and the audience experience.
Sally Jane Norman Professor of Performance Technologies, University of Sussex
Mary Agnes Krell Lecturer in Media and Film Studies, University of Sussex
3.45-4.00 Coffee Break
Session four: Audience development, Education and Marketing
4.00 – 5:00
Aine Sheil Lecturer in Music, University of York. What can new media and mobile platforms offer to opera companies seeking to expand their audiences or reach them in different ways?
Lucy Lowe Head of Education, Glyndebourne Opera
Tony Followell, Head of Media, Royal Opera House
Mark Ralphs, Managing Director, Bloom Worldwide
5:00 End Day One
 7pm Opera Turn of the Screw for those with tickets (dinner / opera deal will be available for purchase)
___________________
Day Two : New Forms for Opera
Saturday 25th October
Session One New Media and Opera
9.30-10.15 Panel Discussion. New directions new commissions, larger opera companies engaging new operatic forms.
Tim Hopkins Opera Director; Research Fellow, Centre for Research in Opera and Music Theatre
David Pickard General Director, Glyndebourne Opera
Andy Doe Music and Media Consultant
10.15-10.30 CoffeeBreak
Session Two: Opera on web and mobile platforms
10.30-11:30
This session will include presentations from practitioners in this new field:
Craig Vear Composer / Reader in Performing Arts (Music) De Montfort University. Opening remarks and brief presentation on his work 'Sentimental Journey'. What are the issued faced by composers/creatives in re-imagining opera on new platforms?
Robert Thomas Media composer. Presentation/demonstration, new mobile platforms for music.
11:30-12.30
OMF Mini Web Opera commissions
RUR (Rossum's Universal Replicants) by Martin Rieser (electronic/interactive artist) and Andrew Hugill (composer)
You Are Here by Jaakko Nousiainen (director) and Miika Hyytiäinen (composer)
Presentation / demonstration of the commissions, followed by discussion lead by Evelyn Ficarra Assistant Director of the Centre for Research in Opera and Music Theatre. Who is the author of digital opera, does digital world envisage less individual agency for the composer? Who will produce these works, opera companies or media companies?
12.30-1.30 Lunch
1.30-2.30
I. Discussion Groups

4 or 5 groups to discuss strategies and partnerships for specific areas of research development in relation to opera and new media.

Topics to be proposed during the conference, but might include:
Audience development – traditional vs new audiences?
Opera Education
The economics of new modes of broadcast
The impact of new modes of broadcast upon opera production and performance
New modes of audience interaction with opera
New artistic forms for opera
2.30-3.30
II. Report back / Synthesis
Chair Sally Jane Norman Professor of Performance Technologies, University of Sussex will lead discussion / audience questions.
3.30 Tea
4 End