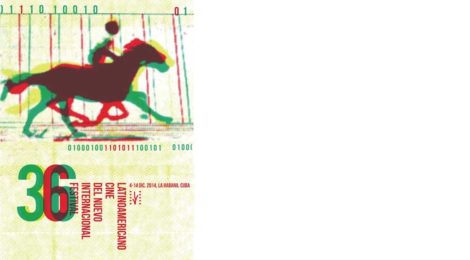 Mediático is delighted to present a report by Dunja Fehimović on the 36th annual International Festival of New Latin American Cinema. Fehimović is currently working on a doctoral thesis in the Department of Spanish and Portuguese, University of Cambridge. Her research investigates Cuban films released since 2000, looking at their articulations and reinterpretations of national identity, production processes and afterlives. The festival was held, and the below report was drafted, just before U.S. and Cuban Presidents Barack Obama and Raúl Castro announced moves on December 17, 2014, to reestablish diplomatic relations between their two countries, and to loosen restrictive travel and economic policies. Mediático is sure to return to that important topic in the coming weeks and months.
"YOUR WOMAN IN HAVANA"
By Dunja Fehimović
The Festival internacional del nuevo cine latinoamericano returned to Havana for the 36th time from the 4th to the 14th of December, 2014. The event, which has long been a highlight in any cinephile's calendar, was recently awarded a Fénix prize at the new ceremony for Iberoamerican Cinema organised by Cinema23 in Mexico City on the 30th October of this year. Cementing its status as a meeting place for both producers and consumers of Latin American film alike, the festival went back to its roots by dedicating this year's activities to one of its key historical figures: Gabriel García Márquez. Gabo, as he was affectionately known, may have won international acclaim for his writing, but he also won Cuba's heart by encouraging and developing its film industry. Not only was he a founding member of the Havana-based New Latin American Film Foundation (1985), but the following year he also helped to establish the crucial film and television school at San Antonio de los Baños (EICTV) together with Fernando Birri and Julio García Espinosa. This year's inauguration kicked off with a video homage to the greatly-missed figure, and the festival also featured a dedicated programme of documentaries and film-adaptations of Gabo's work; however, the greatest tribute was perhaps to be found in the strength of the event itself, and of the evidence it provided of the resilience of the regional initiative that Gabo helped to establish.
Despite having its technical headquarters in a beautifully renovated 'Casa del festival' near the national film institute (ICAIC) in Vedado, most of the festival's activities took place in the Hotel Nacional. This stunning Art deco building, towering slightly sinisterly over the surrounding area, provided an apt setting for press-conferences, seminars, book presentations, talks and general mingling, networking and star-spotting. Apt, I suggest, because of its glamorous history: for decades, the hotel was a hotspot for show business, ranging from the best of Cuban music (such as the Trio Matamoros, Bola de Nieve and Compay Segundo) to Hollywood stalwarts such as Rita Hayworth, Ava Gardner and Marlon Brando. In 2014, fans of Latin American film were able to spot the likes of Jorge Perugorría (Cuban actor and director best-known abroad for his role as David in Fresa y chocolate, 1993), Paco León (Spanish comedic actor and more recently, director) and Sergio Cabrera (Colombian director of classics such as La estrategia del caracol, 1993), as well as the more universally recognised (and recognisable, with his trademark facial hair and baseball cap) Benicio del Toro, who was in Havana to collect a Coral de Honor for his extensive and successful acting career. He is perhaps best known in Cuba for his leading role in the two-part biopic of Che Guevara directed by Steven Soderbergh (2008), and more recently as director of one seventh of the more unevenly-received project 7 Days in Havana (2012), but he also presented a new film: Escobar: Paradise Lost (Andrea di Stefano, 2014), for which he put on a considerable amount of weight and learnt a 'paisa' accent in order to play the notorious Colombian drug lord.
Much as I will admit to wandering through the patios of the Hotel Nacional in a somewhat starstruck state, for me the most special aspect of the festival was watching films with a Cuban audience. For one used to the respectful but unexpressive reserve of British audiences, to experience films punctuated by the laughter, exclamations, spontaneous applause and commentary of habaneros was a quite new and almost entirely endearing experience. That this was to be my new mode of viewing was made abundantly clear at the festival's inauguration at the Teatro Karl Marx on the evening of the 4th December. After an opening documentary about and homage to Gabriel García Márquez and his relationship with Cuba and Latin American cinema, the audience was treated to a short concert by the beloved founder and singer of nueva trova, Pablo Milanés. I looked on as the audience sang in unison, wishing I knew more of the lyrics than a simple 'Yolanda'. This generalised vocal enthusiasm was carried over into the featured film of the night: Relatos Salvajes (translated as Wild Tales) by the Argentine Damián Szifrón. This anthology film, best described as a black comedy, provided plenty of moments of high drama, emotion and humour, made all the more enjoyable by the reactions of those sitting around me. With lamentations regarding the increasing obsolescence of cinemas and the shift from public (cinema) to private (home) viewing ringing in my ears, it struck me that film festivals such as this one could constitute bastions of sociability and collective experience.
Indeed, the consumption of film is a hot topic on the island, as in recent years it has become increasingly clear that neither state television nor the official network of cinemas can compete with the burgeoning private, electronic circulation of audiovisual material. Many Cubans get all their entertainment from a regular, weekly 'paquete' of telenovelas, tv shows and films which they purchase in pesos from local, private tech-wizards who invariably have an unfathomably up-to-date and extensive catalogue of material. The state is struggling to respond to the quality, affordability and accessibility of these services, and has proposed alternatives (including an official version of the 'paquete' to be known as 'mi mochila') that might help it recapture some control over Cubans' cultural consumption. Unwilling to sit on its laurels as a long-established fixture, the festival responded to the apparently diminishing of importance of the cinema-space by upping its technological game: not only did ICAIC and the Ministry of Culture join forces to invest in a new digital projector, but the festival also made a deal with Spanish company Kelonik to secure two more such machines for the duration of the event. This meant that although a few technical difficulties still occurred at some cinemas, both sound and image were guaranteed to be of the highest quality in at least some of the participating venues. It is with this quality, as well as with the experience of collective viewing, that the festival hoped to compete with the convenience and choice offered by home viewing.
That is not to say, however, that the festival did not recognise its competition. In fact, as part of a rich programme of 'extra-curricular' activities, the festival organised a two-day seminar on the television series whose title acknowledged the form's current status as the most predominant and promising audiovisual form. On the first day, students and professionals alike packed out a room in order to hear from Maria and André Jacquemetton, two of the writers on the award-winning American series, Mad Men. They spoke about the process of planning and writing a season of shows, as well as about the time, talent, connections and luck it took to get them to their current position in Hollywood. On the second day, Argentine filmmaker Diego Lerman introduced us to his forthcoming television project: a thirteen-part series entitled La casa, in which each episode transpires at a different key historical moment as it was lived in one house located in Argentina's Delta del Tigre. These talks are just one example of a programme designed by the festival team to ensure that this annual meeting is genuinely useful for those useful for those already working or aspiring to work in the film and television industries. As well as organising for prizes and awards to help young filmmakers get their projects off the ground, the festival provides a space for debate about the most pressing issues in the field. For example, this year an international panel discussed audiovisual laws in Italy, Portugal and Cuba, before opening up to comments from the floor that confirmed the widespread support for a current initiative by some Cuban film industry professionals to update the national legal framework for cinema.
Perhaps most inspiring, though, was the festival's decision to revive the revolutionary cines móviles in areas of Havana which had lost their local venues. The original cine móvil project was part of a wider initiative to raise the quality of life in rural Cuba and bring culture and entertainment to remote areas, helping to integrate them into the imagined community of the revolutionary nation. Whilst the festival may not have been able to address the root causes of the disappearance of these spaces (such as the widespread inaccessibility of technology, seen in the fact that many cinemas do not have professional-standard projectors, longstanding neglect of the spaces themselves, and the arguable unsustainability of the highly-subsidised Cuban exhibition system, in which cinema tickets cost only two pesos), its temporary solution implies that the valuation of cinema as more than entertainment or escapism, a criteria inextricable from the New Latin American cinema movement, lives on. By expanding the already extensive list of locations for the festival (twelve cinemas took part around the city) into habaneros' local neighbourhoods, the festival consolidated the popularity and accessibility of cinema as a cheap and convenient source of entertainment in contemporary Cuba, as well as ensuring that the festivals' events remained tied to the city rather than evolving into a predominantly industry-based exercise in navel-gazing and mutual back-patting.
Indeed, the festival maintained its popularity amongst locals, with many screenings preceded by a wait in a discouragingly long queue, a scuffle at the entrance and throngs of eager film-goers finally unable to enter the packed salas. As one Cuban acquaintance told me, this year's programme may have been cause for particular excitement for locals, given the participation of seven Cuban feature films, six of which were in competition: Conducta (Ernesto Daranas, 2013), Fátima o el Parque de la Fraternidad (Jorge Perugorría, 2014), La pared de las palabras (Fernando Pérez, 2014), Meñique (Ernesto Padrón, 2014), Venecia (Enrique Álvarez, 2014) and Vestido de Novia (Marilyn Solaya, 2014). Whilst many local viewers were already familiar with Conducta and Meñique (Cuba's first foray into feature-length 3D computer animation), the same was not true for Pérez or Solaya's offerings, which were eagerly anticipated. Pérez is known to many as the director of such seminal Cuban films as Madagascar (1994), La vida es silbar (1998) and Suite Habana (2003). His most recent work, José Martí: el ojo del canario (2010) took an unusually personal and intimate look at Cuba's independence hero and won him both critical accolades and audience admiration. Despite being known by some as the last great ICAIC auteur, La pared de las palabras constitutes Pérez's debut as an independent filmmaker, developing on his engagement with the 'Grupo de trabajo' of Cuban cineastes which, since May of 2013, has been campaigning for the establishment of a new legal framework for national film production that will (amongst other things) recognise those working outside the state institute. The film features two standout performances, the first from an almost unrecognisable Jorge Perugorría, who takes on a non-speaking role as the severely handicapped Luis, and the second from Isabel Santos, who plays his self-sacrificing and emotionally exhausted mother.
Addressing another marginal subject in the history of Cuban cinema, Marilyn Solaya's directorial debut, Vestido de Novia, is based on a true story about the first person in Cuba to have a sex reassignment operation. This same story was told in her documentary En el cuerpo equivocado (2010) but here Solaya has been keen to frame the issue in more universal terms, pointing out that the film is about much more than the story of transsexuals in Cuba. Indeed, the viewer discovers the truth about the protagonist's (played by the hugely talented Laura de la Uz) past only just before her husband (Luis Alberto García) does, and the revelation has serious consequences for their relationship. As well as focusing on the intricacies of a marriage, the film deals with themes of corruption and the tensions of the Special Period. As was clear from the murmurs and gasps that came from the audience during a screening I attended at the Yara, it was also audacious in its portrayal (the first in film, as far as I am aware) of the event that has since become known as the Maleconazo – a protest on August 5th, 1994 that saw Cubans take to the Malecón in Havana in response to the hardships that followed the collapse of the Soviet Union and the withdrawal of its support. Although I may have been alarmed at the nervous giggles that escaped during some of the film's toughest and apparently least comical scenes, the audience's appreciation was evident in the standing ovation given to the cast and crew after the screening, and subsequently, by the fact that the film scooped the Coral Audience Award, which is given based on cinema-goers' votes. This win was perhaps particularly impressive given the fact that Vestido de Novia was competing in the section known as Ópera prima, or directorial debuts. Though the film may have suffered slightly from an excess of exposition, it clearly touched a nerve with Cuban audiences.
The festival was divided into several broad sections, the first of which was, of course, that of the Competition. Films competed in the categories of Feature-length fiction film, Medium-length and Short Film, Directorial Debut, Documentary and Animation. There was a short programme of non-competing works, as well as an extensive section entitled Latin America in Perspective, which brought together both documentary and fiction titles under thematic headings such as 'Memory', 'Cities and other landscapes', 'Music, camera, action!' and 'At midnight', which featured horror and sci-fi films. This section also gave the public a glimpse into works screened at other festivals, including Vancouver, Trinidad and Tobago and Gramado. Finally, the range of films shown was further enriched by a section entitled 'Otras latitudes', where this year Cubans and visitors alike were able to see the best of recent German, Spanish, Italian and Canadian film, as well as being treated to a programme of Japanese animation and perhaps more surprisingly (given the official cultural antipathy between Cuba and the USA – what the future holds, in the light of recent events, remains to be seen), programmes in homage to Eugene Jarecki and Jim Jarmusch and Sara Driver.
As some of the Cuban titles listed above attest, many of the films featured this year showed a recurrent concern with issues either of sexuality and gender or of youth and childhood. A predominance of coming-of-age stories and tales of adolescent development and hardship was evident in competition features such as Viento aparte (Alejandro Gerber Bicecci, Mexico) and Los Hongos (Oscar Ruiz Navia, Colombia). It was particularly prevalent in the Ópera prima category, in which films such as La vida después (David Pablos, Mexico) and El regreso (Patricia Eleanne Ortega) show young characters forced into alien, often hostile environments in quests for a lost or displaced home. In foregrounding the experiences of children or adolescents, some of these films reveal or suggest the possibility of new talents, as has been the case with Armando Valdés Freire, whose award-winning performance as Chala in Conducta astounded many, or the loveable Sebastián Molinaro, whose role in Diego Lerman's Refugiado (Argentina) is crucial to the interest, credibility and emotional impact of this portrayal of the consequences of domestic abuse. The film thoroughly deserves its Coral award for photography, for the way in which Wojciech Staron (previously awarded Berlin's Silver Bear for his work on Paula Markotovich's El premio, 2011) creates and sustains tension and pathos throughout whilst maintaining the characters' dignity.
Overwhelmed with choice and constrained by the difficulties of travelling between certain cinemas, I tried to take in as much of the competing Latin American works as I could. As well as Refugiado and Conducta, fellow-competition feature Tierra en la lengua (Rubén Mendoza Moreno, Colombia) was a particular highlight. The story centres around don Silvio (as he insists on being called, even by family members), a patriarch with whom the viewer, as much as his family, establishes a love-hate relationship. He invites his only two legitimate grandchildren on a tour of his countryside estates; once the lands have been officially surveyed and catalogued for his will, he wants his grown-up grandchildren to shoot him, thereby putting an end to the slow process of deterioration brought on by his illness. The film begins with home-video footage and a voiceover commentary on don Silvio by his wife, whose ashes Fernando and Lucía want to scatter in the countryside. What follows this introductory commentary on the protagonist's indomitable character is a subtle and complex exploration of the consequences of violence, intergenerational relationships and a stunning portrayal of the Colombian landscape and rural way of life. The use of extra-diegetic sound is sparing but spine-tingling (for a sample of this, see the trailer). Unsurprisingly, it was awarded the Special Jury prize at the final ceremony.
The latest issue of the magazine Nuevo cine latinoamericano, which was presented at a special session during the festival, contains a dossier that transcribes a seminar which took place in the scope of last year's event, and which was entitled '¿Nuevo? ¿Cine? ¿Latinoamericano?' Clearly, this two-day discussion was designed to explore the common ground between contemporary Latin American productions and the founding tenets and gestures of now colossal figures such as Fernando Birri, Glauber Rocha, Julio García Espinosa and of course, Octavio Getino and Fernando Solanas. As Cuban film critic Joel del Río noted within the debate, many the latest Latin American films undermine the opposition between genre, 'industry' or 'commercial' cinema and auteur cinema, and moreover, often address a wider audience with a different rhetorical repertoire than that typically associated with New Latin American Cinema. However, I must agree with Michael Chanan's suggestion that there is no rejection or rebellion against this tradition either. A common concern with social realities in their most problematic manifestations is evident even in many of the films shown this year. There are other, and far from inconsiderable, forces that threaten the survival of Nuevo cine latinoamericano, from the rise of the television and internet and the fall of the cinema, to the old hegemonies of Hollywood and the newer ones of (ironically) international film festivals. However, as long as events such as Havana's annual meeting for filmmakers and film-lovers continue to provide spaces for exhibition and debate, funds and opportunities for production and distribution, and networks for connection and collaboration, it seems that the spirit of New Latin American cinema will live to fight another day.