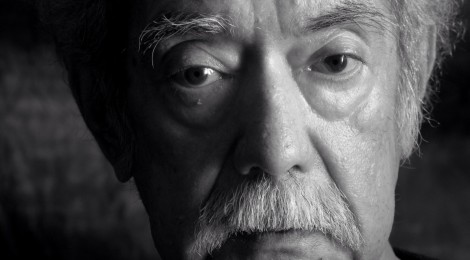 Mediático shares two videos via Vimeo which commemorate the work of experimental Chilean filmmaker, writer and teacher Raúl Ruiz (1941-2011).
'A Story is a Bridge Between Worlds: A Tribute to the Life and Work of Raúl Ruiz (1941-2011)' by Adrian Martin from Melbourne Cinematheque on Vimeo.
A talk by Adrian Martin commemorating the work of one of cinema's great artists, Raúl Ruiz (1941-2011) and a tribute to Australian writer, cinephile and activist Vikki Riley. Written and presented by Martin at The Melbourne Cinémathèque, Saturday October 6, 2012.
VIDEO CREDITS: Camera/Editing: Alifeleti Brown; Produced by Chris Luscri & Michael Koller; Featuring excerpts from: 'In Conversation with Raúl Ruiz' An interview with Adrian Martin & Vikki Riley, Directed by Stephen Goddard, February 1993; 'City of Pirates' (1983), Directed by Raúl Ruiz, Produced by Paulo Branco, Cinematography by Acácio de Almeida; Editing by Valeria Sarmiento; 'In The Blink Of An Eye' (2008), Directed by Cameron K Mcewan & Alison Telfer, Produced at The University of Aberdeen, Based on a brief by Raúl Ruiz. Copyright © 2013. Adrian Martin, Stephen Goddard & Melbourne Cinémathèque. All Rights Reserved.
LA CUECA CHILENA: Raúl Ruiz's Exilic Seductions from Catherine Grant on Vimeo.
A short video essay about a sequence from DIÁLOGOS DE EXILIADOS / DIALOGUES OF EXILES (France, 1974), a film written and directed in Paris by the late Raúl Ruiz. DIÁLOGOS was the first film to be made by a filmmaker in exile from Chile after Augusto Pinochet's 1973 coup d'état in that country against the legally elected Popular Unity government of Salvador Allende. The essay was commissioned as part of a series of posthumous tributes to Ruiz by the MUBI Notebook and was published on September 27, 2011: mubi.com/notebook/posts/raul-ruiz-blind-mans-bluff. It was made according to principles of Fair Use (or Fair Dealing), with non-commercial scholarly and critical aims, and was published under a Creative Commons Attribution-Noncommercial 3.0 Unported License in September 2011.
FURTHER READING:
'Double Vision: Links in Memory of Raúl Ruiz, a Filmmaking Legend' by Catherine Grant, Film Studies For Free, August 19, 2011:                                      http://filmstudiesforfree.blogspot.co.uk/2011/08/rip-raul-ruiz-links-in-memory-of.html
'A Ghost At Noon' – by Adrian Martin. A Personal Tribute to Raúl Ruiz published by Girish Shambu:
girishshambu.blogspot.com.au/2011/08/ghost-at-noon-by-adrian-martin.html
Selected writings by Vikki Riley. Screening The Past Issue 35. December 2012.:
screeningthepast.com/issue-35/#