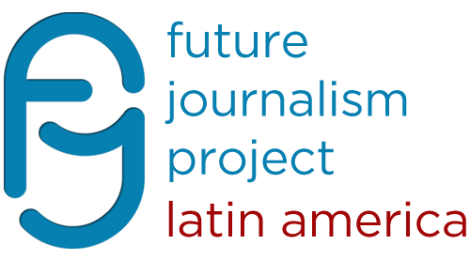 Mediático offers a short profile of the Latin America Edition of the Future Journalism Project, part of a multiplatform initiative exploring the present state, current disruption and future possibilities of media and journalism throughout the world. While its focus is on Latin America, from Mexico to Tierra Del Fuego, it also publishes "relevant linkages to Spain and the Latino communities in the US and Canada".
The Latin American edition will follow The Future Journalism Project's explorations of four major themes:
Education: New media has moved traditional journalism schools to shift their scope and update their curricula in order to keep their alumni afloat. By analyzing new scholastic trends and looking for the best practices on the subject, we will explore which schools and universities are effectively providing the adequate education and skills for future Latin American journalists, and how they compare at doing it.

Practice: The news cycle is speeding up and newsrooms are evolving in the technologies they employ. Markets are changing as well: a number of new initiatives in the larger countries now focus on the hyper-local, others try hiring freelancers and/or outsourcing a chunk of their content, and some others lower their journalistic standards by moving sensitive content to their themed blogs. How are Latin American newsrooms adjusting to these trends?

Business Models: Journalism faces a period of immense disruption and opportunity. Newspapers are updating their subscription models and mainstream TV and radio stations are embracing social media and new delivery platforms. Many are betting on sports and pop celebrities to draw more visitors, while others are giving the non-profit model a second thought. How sustainable will these businesses be in the long run? How are print, TV, radio and online companies bundling up (or down) in order to cut down costs and create sustainable business models?

Journalism and Democracy: It's long been a cornerstone belief that a strong democracy needs a strong, independent and free press. That is very true for every Latin American country. Now that democracy and the rule of law are finally overcoming long decades of dictatorships, are Latin American news organizations ready to take the next big step? Will the public really care? Are there enough watchdog NGOs advocating freedom of speech and protection of journalists throughout the continent? Are lawmakers on the side of journalists?
You can contact the project at LatAm [at] theFJP [dot] org or on Twitter (@FJP_LatAm).