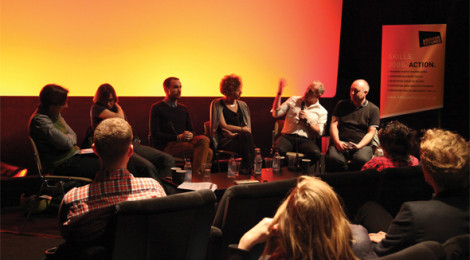 Following on from a conference in Brighton in November 2012, Rosalind Galt (University of Sussex) and Karl Schoonover (University of Warwick) chair a discussion on the expanding role of international LGBT film and its impact. Panellists will include Brian Robinson (LLGFF), international filmmakers and Festival programmers to interrogate the phenomenon of Global Queer Space.
The event is going to be held at BFI Southbank, BFI Reuben Library on Tuesday March 19th at 8.20pm. The tickets are £6 and can be bought on the door.
The participants will be our own Rosalind Galt and Karl Schoonover, in conversation with Brian Robinson (Communications Manager working in Archive and Heritage at the BFI, Sussex University alumni and tireless LLGFF programmer), Jim Hubbard (director of United in Anger, and original founder of MIX NYC), Kam Wai Kui (Programmer of the very first transgender film festival, activist and film critic), and Suzy Capo (Brazil MIX festival programmer and curator). Together they will be debating "Global Queer Cinematic Spaces", asking whether there is a new, global queer film movement emerging and if so, does it have a recognisable style? Queer festivals have championed films from Europe, Asia, Africa, Latin America and the Middle East, expanding our view of LGBT experiences and providing a crucial platform for filmmakers. But what impact do these films have on LGBT politics?
If you are interested in finding out more about queer film culture and what role  cinema can play in public life for LGBT communities, what role the film festival has in this future, how cinema intersects with queer politics or activism,  please come and join the conversation.
We hope to see you there!