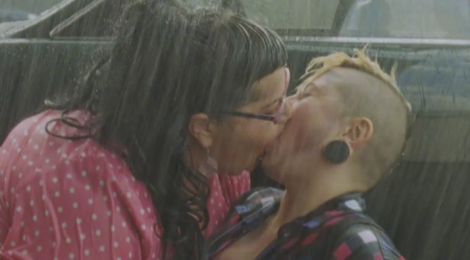 There have been some big news stories recently in the global queer cinema community, and this is a brief round up of some of the issues affecting us globally and locally.
The image attached to this post is from the upcoming Bangalore Queer Film Festival 2013. You can follow BQFF 2013 on Facebook here.
The event, which has been a huge success in past years, is organised by Good As You (GAY), Swabhava Trust, We're Here and Queer (WHAQ!) and the fabulously named Pirat Dykes. Showcasing new global queer cinema, and supporting activists, and filmmakers, this looks set to be a fantastic event.
It's great to have such a positive story, in a period when activism and resistance have never been more necessary.
There have been recent stories globally about the precarity of international queer film festivals, from  a trans festival being shut down in Indonesia , to  Anti-gay protests blocking a  film screening in Armenia. It's been good on the other hand to hear that the Slovak Queer Film Festival drew nearly 3000 viewers, and that the 2nd annual OUT Film Festival happened in Nairobi, supported by the Gay Kenya Trust, the Embassy of Switzerland and the Goethe-Institut.
In Mexico, a teacher was fired for showing the film Milk, Gus Van Sant's portrayal og gay rights activist Harvey Milk.
Locally, we were privileged to have Juliet Jacques speak at Brighton and Sussex Medical School about her Guardian Transgender Journey articles, and, of course, the recent debates around comments made in the national press by Julie Burchill and Suzanne Moore.
I'll leave you this week with a trailer from the annual Queer Lisboa Film Festival, which we have profiled on the blog before, due to its generous collaboration with MUBI, making available films shown at the festival to an international audience. In a period when it feels as though resistance is about breaking down stereotypes, this video shows us the Death of the Gay Cliche. Enjoy!