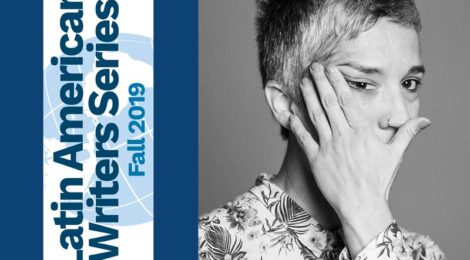 Today at Mediático we are delighted to present a sneak peak of the first of an ongoing "Latin American Writers Series"** sponsored by the Stone Center for Latin American Studies at Tulane University and put together by prize winning author (and regular Mediático contributor) Gabriela Alemán. This first instalment, presents a journey through the work, influences and publications of Powerpaola the author and artist of Virus Tropical (2011) the film adaptation of which she collaborated on and was reviewed on Mediático yesterday by Natália Pinazza and is currently streaming on Mubi . Please follow this link to view the videos, the images below are screengrabs for illustration purposes only.



Presented as a timeline these broad reaching interviews with Powerpaola range from her studies in Art in Calí and Medellín to her Artists Residency in France, from the birth of Powerpaola to her experimenting with short graphic stories, from the influence of Marjane Satrapi (Persepolis) and dialogues with other authors and graphic artists in Australia, France (Debbie Drechsler, Julie Doucet –My New York Diary [Doucet & Michel Gondry 2008]), Argentina (Liniers) and Colombia (Daniel Jiménez and the Entreviñetas historietas festival). Powerpaola also speaks about the different publications of Virus Tropical including in Argentina, Spain and Ecuador, her graphic novels since then including QP, (2014) Todo va a estar bien (2015) and Nos Vamos, (2016), the film version of Virus Tropical (2017) and her subsequent projects. These interviews with Powerpaola are an invaluable resource for those wanting to know more about her and her interventions in the art of the graphic novel.

**El Latin American Writers Series es un proyecto creado por el Stone Center for Latin American Studies de la Universidad de Tulane con el propósito de entender cómo se escribe y publica en América Latina en la actualidad. El archivo digital reúne entrevistas realizadas por la escritora ecuatoriana Gabriela Alemán con algunos de los autores más representativos del continente; material donado por ellos para el archivo; Timelines sobre sus vidas, influencias y obra; StoryMaps de sus publicaciones para seguir el recorrido y circulación de sus textos, clave para entender los problemas y aciertos de la distribución de libros en el mundo hispano; lecturas en viva voz de los autores y transcripciones y traducciones al inglés de las entrevistas. Cuenta con un bonus track de tres editores (de Puerto Rico, Chile y Uruguay) que recorren la historia de sus editoriales, la filosofía atrás de sus publicaciones y sus catálogos. El material, de libre acceso, estará a la disposición de investigadores, profesores, estudiantes y público general dentro del Tulane University Digital Library.
The Latin American Writers Series series brings together Latin America's most representative creative voices and the editorial entrepreneurs that publish them. By way of interviews conducted by renowned Ecuadorian writer Gabriela Alemán and presentations of various editorial missions, the guests will shed light on a literary world shaped by the contemporary issues of the continent. Moving forward, their conversations will comprise the centerpiece of a digital archive that introduces their ideas to a global audience.