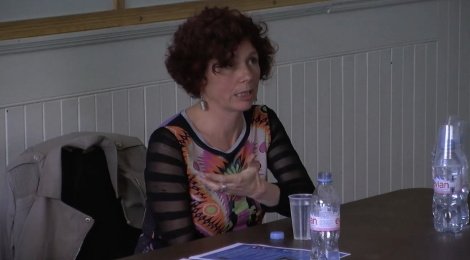 Today, Mediático presents some embedded video recordings of sessions from the LA MIRADA DE ICIAR BOLLAIN symposium was held — in honour of the groundbreaking scholar of Spanish cinema Isabel Santaolalla (Professor of Spanish and Film Studies at the University of Roehampton, and author of the book The Cinema of Iciar Bollain, Machester University Press, 2012) as well as of the important Spanish filmmaker and actor Bollain herself, who participated in the event– at the University of St Andrews, St Salvators quadrangle, on May 30, 2014.
The symposium was introduced by Bernard Bentley, of the Spanish Department at University of St Andrews, author of A Companion to Spanish Cinema (Boydell & Brewer Ltd, 2008). The videos are embedded below in the following order:
Professor Nuria Triana Toribio (University of Kent – Hispanic Studies, author of Spanish National Cinema (Routledge, 2003), co-author of The Cinema of Álex de la Iglesia(Manchester University Press, 2007), and co-editor of the series Spanish and Latin American Filmmakers for Manchester University Press) . Professor Triana Toribio gave a talk entitled: "Spanish 'realism social' and Iciar Bollain's Mataharis"
Dr David Archibald (University of Glasgow – Film Studies, author of  The War That Won't Die: The Spanish Civil war in Cinema. Manchester University Press, 2012, among many other publications. Dr Archibald's talk was entitled: "Cinematic representations of anti-facist women in the Spanish Civil War with close-ups on Tierra y Libertad 1986"
An extensive Question and Answer session was held with the subject of the symposium herself, Spanish filmmaker Iciar Bollaín, introduced and moderated by Bernard Bentley, discussing Iciar's acting, directing and producing career in the film profession.
Spanish Symposium – Prof Nuria Triana Toribio from University of St Andrews
Spanish Symposium – Dr David Archibald from University of St Andrews
Spanish Symposium – Q and A session with Iciar Bollain from University of St Andrews