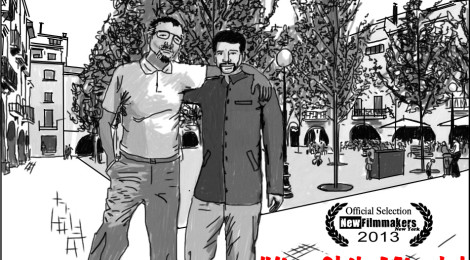 Mediático presents below two trailers for important new documentaries by UK filmmakers which treat the enduring effects of dictatorships in Chile and Argentina, and issues of exile, national identity, truth and reconciliation.
Viva Chile Mierda Trailer from Adrian Goycoolea on Vimeo.
Chile, 1974. Under the cloak of darkness Pinochet's military intelligence service raid the home of the filmmaker's aunt Gaby. She, together with her husband and brother, were blindfolded and taken to a secret military prison to be interrogated. For three weeks they were tortured and terrorized. No one knew where they were. Their children were kept under armed guard. Were it not for the help given to them by one young prison guard, they would not have coped. That guard was Andres 'Papudo' Valenzuela, who several years later would be the first military intelligence officer to admit to the crimes committed by the dictatorship. Through intimate interviews, illustrations, animations and first person voice over, this film traces the lives of both prisoners and guard in order to reflect on the enduring effects of this traumatic history. Their stories shine light on larger issues of exile, national identity, truth and reconciliation. [Adrian Goycoolea – read more here: http://vivachilemierdathefilm.wordpress.com/]
Interrupted Memory Teaser from Michael Chanan on Vimeo.
Interrupted Memory is a documentary about memory and politics in Argentina and Chile, shot in Buenos Aires, Córdoba and Santiago in the southern autumn of 2013, which follows the course of people of different generations in the act of remembering in front of the camera. Asked about their earliest political memories, people recollect incidents and experiences from childhood and youth which frequently figure demonstrations, popular militancy, rebellion, and military coups. Recalling salient episodes in their political experience, their memories also testify to histories of state terrorism and repression. In Argentina, an old trade unionist remembers a factory occupation which landed him in prison; a woman speaks about being kidnapped by state intelligence at the age of seventeen; another of spending seven years as a political prisoner; a father and son tell the story of the other son who disappeared. In Chile, a woman remembers her Communist father being released from concentration camp in 1949, people remember the military coup of 1973 at different ages, and younger ones remember discovering they were living in a dictatorship. A psychologist in Chile and a psychoanalyst in Buenos Aires speak of psychoanalysis under dictatorship. [Michael Chanan – read more here: mchanan.com/interrupted-memory]