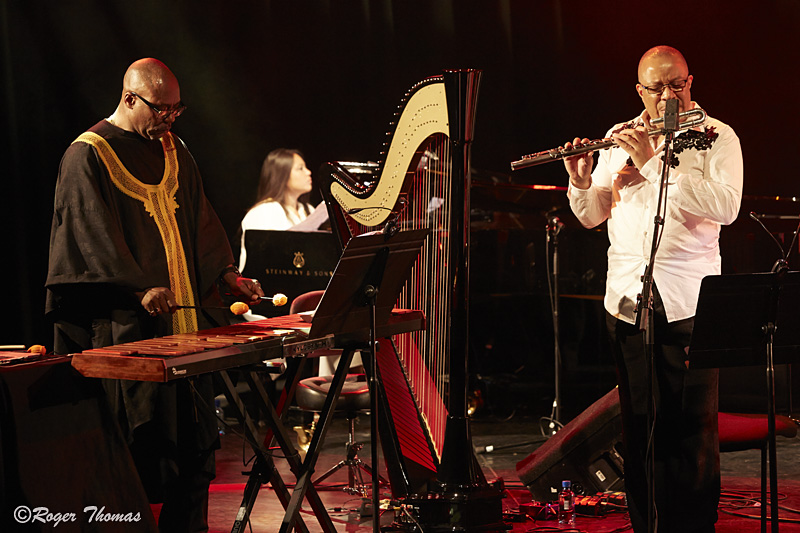 Rowland Sutherland in conversation with Ed Hughes. 1
Rowland Sutherland is a British flautist and composer whose extensive international work encompasses jazz, classical, pop, improvised music, and non-Western music. In 2014 he fully realised Enlightenment, his composition in four parts inspired by the John Coltrane album A Love Supreme (1964), on the fiftieth anniversary of its release. Enlightenment achieved notable performances at James Lavelle's Meltdown in the Queen Elizabeth Hall, Southbank Centre, London, and was broadcast on BBC Radio 3. The ensemble comprised soloists from a range of different backgrounds: Ansuman Biswas – percussion and melodic Indian instruments, Crispin Robinson, Dave Patman, Oli Savill – bata drums, Juwon Ogungbe, Cleveland Watkiss – voices, Tunde Jegede – kora, Neil Charles – double bass, Nikki Yeoh – piano, Orphy Robinson – xylosynth, Pat Thomas – electronics, Rowland Sutherland – flute and alto flute, Mark Mondesir – drums, Steve Williamson – tenor saxophone, Shabaka Hutchings – bass clarinet.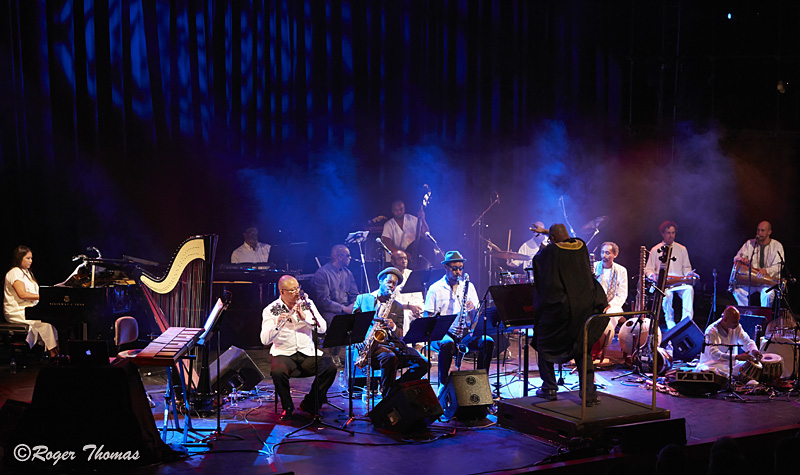 In this discussion with Ed Hughes, Rowland Sutherland speaks of his dialogue with the recent past – a conversation with the iconic album A Love Supreme by John Coltrane (1964), in the form of a brand new composition, Enlightenment (2014), which reflects some of Coltrane's structure, methods, experimental musical thinking, and philosophy. While Rowland Sutherland's work is distinct from other approaches profiled in these interviews in that it primarily responds to a recording and not a score, it also has things in common, especially thinking of 'texts' as open and subject to new readings and interpretations 2. Rowland Sutherland points out that both Coltrane's work and his own Enlightenment used notations to help shape and plan progression across the large-scale of an album in long movements which perhaps have an almost symphonic quality. But most importantly, this is a new work which absorbs earlier principles and ways of thinking in order to attain the 'feel' and 'spirit' that is vital to a strong new identity. This is not about mimicking past practices or adhering precisely to a model. Its vision is of a shared and collaborative musical language for today that embraces several cultures of the past 3 and present, including Western, Indian, West African, and Cuban.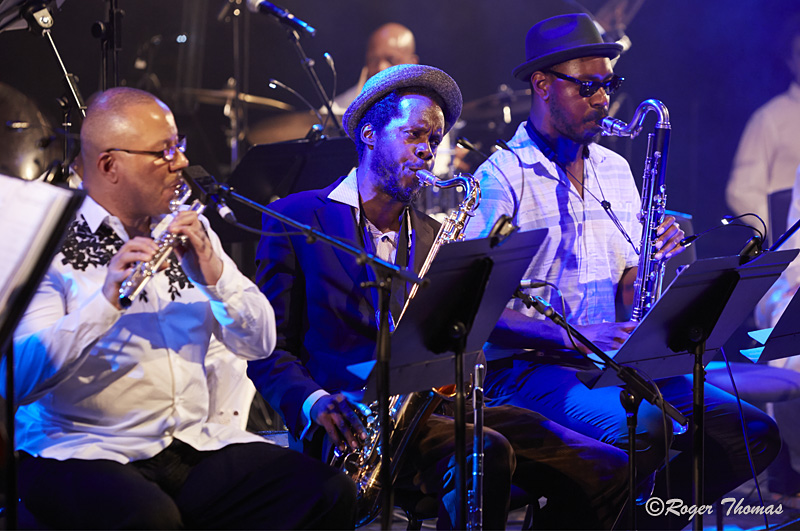 Ed Hughes: I'm very interested in your composition Enlightenment in part because in an oblique way it has something in common with my project Sinfonia in which I worked with scores from the 16th Century. You've created a piece inspired by the work of an earlier artist. In my case I worked with scores from 500 years ago, in your case you worked with an album from 50 years ago. So, I admire your work, but would like to learn more about it. What is Enlightenment and how did it come about?
Rowland Sutherland: I chose that title after reading about John Coltrane 4 (1926-1967) and his situation, and what he was going through, around the time before he wrote A Love Supreme 5 (1964). And also listening to people who worked with him, and his family members and what they had to say about his experience. He'd been on a decline – not as a musician – but he got caught up in the drugs' scene and with alcohol; and he got to such a bad situation… such as a time when some musicians got called to a session by Miles Davis, and on this occasion Coltrane didn't turn up; and it became apparent that it was due to the drug abuse making him forget engagements. I think it got to a stage where Miles felt he couldn't hire him any more, sadly 6. I know black musicians were going through a very difficult time during those periods. All kinds of horrific things they had to live with: being treated as second-class citizens; in comparison to white musicians and having reduced opportunities. A lot of the hardships caused many black folks to turn to drink and drugs. Not just black musicians though. Chet Baker 7, for instance, was an addict too, as were a number of other white musicians. But African American musicians found things particularly bad because of the abuse they met within society. I took part in physical theatre productions on the life of the pianist, bandleader and composer Thelonious Monk 8 and his last seven years. He went through some awful things. He was befriended by the Baroness Pannonica de Koenigswarter 9 who was disowned by her family, the Rothschilds, for her friendships with Black musicians. They were both in a car once which was hailed down by the police who told Monk to wind down his window; spoke to him in a horrible way, for no reason, got vicious and demanded he got out of the car; Monk froze, whilst gripping the steering wheel; the policeman then attacked his hands with a truncheon. All kinds of terrible things like that went on. Going back to Coltrane, he fell into despair. His upbringing was from within a very religious family – Christian. I believe he went to Pentecostal church, surrounded by Pentecostal worshippers. Singing, dancing, playing of instruments. Almost celebratory environment sometimes, like when the congregation would be overcome by the spirit – speaking in tongues. A lot of that stayed with Coltrane and came out in his playing. There were some members of the audience who couldn't stomach what he was doing. Some people feel he was replicating the speaking in tongues that he experienced as a boy. He's always had a spiritual side to his playing. It was becoming apparent that he was abusing drugs; so, according to his second wife, Alice Coltrane 10, he decided to lock himself away to focus on a special composition: he asked God to help him; perhaps he went 'cold turkey'; something hit home hard with him and he turned to God in a bigger way and said if you can get me through this and help me to play much better again and get me out of this mess then I'll devote myself to you. A Love Supreme therefore became an offering to God, as a thank you. To the point where, in the last part of A Love Supreme, on the original album sleeve, Coltrane reveals his devotional writing to God. Not long after this he regained special qualities in his playing.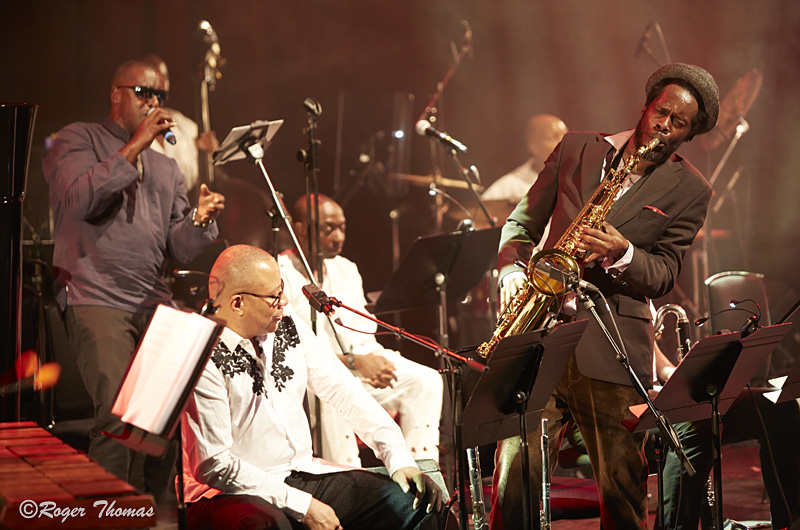 EH: He had a short life didn't he. It was positive that he attained his powers again.
RS: Yes, he managed to reach an even higher plane. All that is behind A Love Supreme, his dedication and gratitude to God. The album is in four parts. My own work Enlightenment (completed in 2014) is also in four parts – under the influence of A Love Supreme. I think of it as expressing the turmoil and struggle that you can experience in life and lack of coherence, and being blinded by the wrong stuff, and taking the wrong path… and then you suddenly see the light; that's how I see it but not exclusively. What I decided to do was to go more meditative with it. I decided to be more reflective about love and more in the zone with devotional love. Where Coltrane was heading in life, he was becoming more and more spiritual, as was his wife Alice Coltrane. She gained her spiritual fulfilment from what she discovered in Indian practices. She practiced yoga; had a yogi master. The point is that I took inspiration also from Alice Coltrane; as she had even released her own track called 'A Love Supreme' 11. Her albums strike me as being devotional with chant; they remind me of Hare Krishna worshippers with their chanting, mantras and bells. There are other albums by her which are more jazz-like with world influences. This particular album is incredibly ethereal and loving; there's a moment where she gets her yogi master, Swami Satchidananda, to recite a love poem. And I used the words of that in what I wrote for the introduction to Enlightenment.
Interestingly, John Coltrane was also moving more into non-western musical elements and incorporating African drummers, Indian musicians… Taking in musics and spiritualities from other realms and bringing these to his own music. So what we decided to do was to relate Coltrane's approach to our own present day realities, concerns and experiences.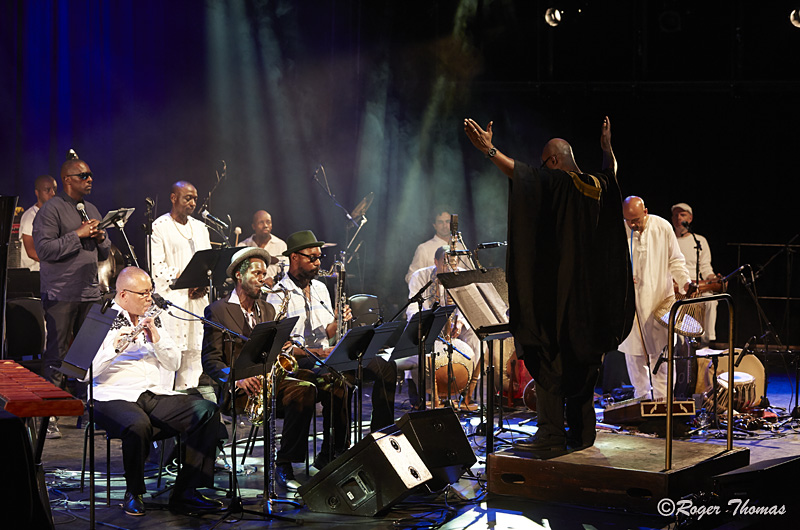 EH: You conceived and composed Enlightenment – but I understand you see yourself as working with a collective of musicians?
RS: Exactly. For example, I wanted an Indian element so I approached Ansuman Biswas – both a contemporary and traditional musician as well as an improviser. I couldn't notate everything because it needs space, freedom, and improvisation. But what I did was give him the framework and I actually sang to him the themes that were going to be in the introduction. So he had the themes and motif; and he was able to play lines on the santoor 12 that are centred on the themes that I gave him, to the point where it sounds like traditional Indian music, and relates to the traditional stuff he's doing today in his community. And basically I explained how I'd like it to build; and so it opens with the tampura 13 playing the sustained drone notes and then the santoor comes in gently, and starts building, and goes into a rhythmic vibe. Sometimes he actually would sing an Indian love poem that he knows; and I wanted an African element to add to this – and I wanted something very traditional. So I brought in a kora 14 instrumentalist because they have a griot tradition with vast knowledge and storytelling traditions in West Africa. A kora player to evoke the West African spirit of the Griot/Kora traditions, and then marry together with the Indian traditions.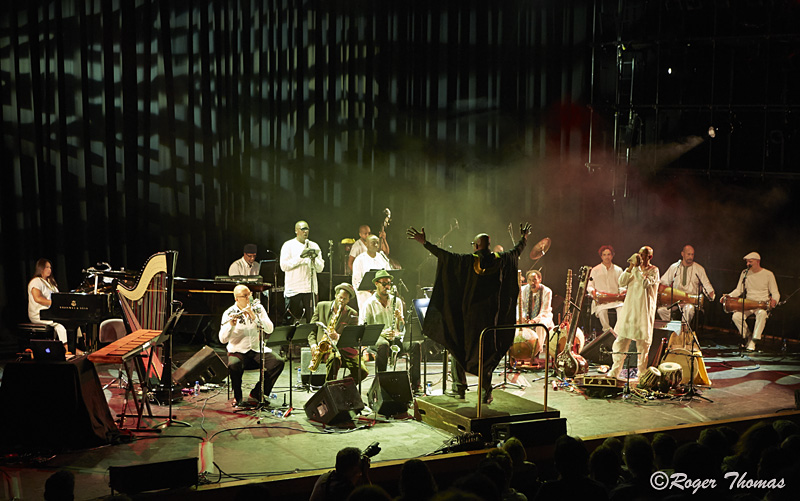 EH: I read that Coltrane was interested in Indian music theory and that he had an idea that all music is connected, and there is a universality in music. So everything that you say about your own composition is in the spirit of Coltrane?
RS: That was our aim.
EH: So you were the composer, but your approach meant that it was a shared enterprise.
RS: The curator was Paul Bradshaw who appointed me as the composer and he was the editor of Straight No Chaser (1988-2007, and 2017-) a left field magazine that featured jazz and jazz related music, world jazz, jazz within hip hop, jazz dance – it had a big audience. The magazine collaborated with DJs as well as jazz artists. It had a particular style with an interesting focus on art work as well. Paul Bradshaw told me his ideas as a curator. These fed in to the process. It was agreed that the project should speak to our experiences today.
EH: So, a little like making motets modern, it's not about being antiquated, but about speaking today by somehow connecting with the historical. It's an attitude.
RS: Exactly. So what we wanted to do was to continue curating this melting pot, also reflecting the environment I grew up in as well. And so we added more and more elements. We wanted to infuse a Latin American element. And I did this from an African perspective – so I've got African Cuban musics that are also infused into it. There's traditional chanting, of the kind of things that happen in Santeria 15 which is based on the Yoruba tradition.
EH: As in Nigeria?
RS: Exactly. But there's a big development of that in Cuba, which is ceremonial, and has chants that represent certain occasions.
EH: Do you feel you grew up with Coltrane?
RS: I grew up with Coltrane as much as I did with Miles Davis, Hubert Laws, Dave Valentin, Chick Corea, and a whole host of artists that influenced me strongly as I matured. I didn't hugely focus on Coltrane but he was very much part of the environment.
EH: So – regarding these influences from Yoruba and Cuba – these are your world, it's not really Coltrane's world?
RS: No, some of it was where he was heading – he was working with the spirit of their culture and he wanted to become a part of that too, and absorb the traditions they grew up in and were sharing with him. Some players who were brought into the ensemble are musicians steeped in the spiritual, potent experience of music in Santeria practices, in Cuba. Music with certain specific rhythms that have certain specific meanings. And so I fused that with the Indian and West African traditions – they are all married together. And so the music is building all the time, and within that I've added the words of Alice Coltrane's Yogi Master. I brought in a musician whom I first noticed featured in Straight No Chaser whilst I was still at music school, Juwon Ogungbe 16. He was becoming better known in London as a Nigerian musician with a unique voice. He possesses a rich classically trained voice singing from baroque to classical recital to opera to traditional and modern Nigerian music – with a well rounded, deep voice – and caught the attention of a lot of people like Paul Bradshaw and others involved in the left field scene. So, I brought Juwon in to recite this poem and it just keeps building – this is all just the intro! Later on I'm playing the melody inspired by the three of the first four notes that Coltrane' played on A Love Supreme [C, F, G]. So that was like the seed of Enlightenment from which I developed the new composition. This musical motif then becomes the first theme of Enlightenment, once the introduction has developed. Just after that theme there's a moment where I go into a solo.
By then it's quite potent – you have the batá 17 drums – and there's three of those drums – going in rhythm; Ansuman is on the tablas; a rhythmic thing is going on, by Tunde, on the kora; Orphy Robinson then comes in on the xylosynth; and so it's bubbling away, potent; with myself on the alto flute. And then once that's been played, then I bring in the jazz side of things, and the jazz musicians. And that's where it goes into this vibrant, pretty deep, Latin feel. It goes into African Latin Jazz. What used to be termed as Afro-Jazz. And it just keeps building from there. From that point, it has slight traces of some of the harmonies from A Love Supreme, at this point, but not the melodies. What you've got to remember is, if you looked at the score for A Love Supreme, it looks like a rough sketch. It's not heavily notated – there are harmonies, but not lots of lines. It's not that specific. So, it's more like a feel. So, on the contrary, I wrote something which has specific lines, and has counterpoint.
EH: So your composition, Enlightenment, has a score?
RS: Yes – everyone has a part. It's all scored out. Even Ansuman. And the kora player. The kora player changed a few times, but the main kora player was Tunde Jegede. Mosi Conde and Kadialy Kouyate were the other kora players.
The batá drums were the only ones without parts except at the start. I get some of the musicians to intertwine, like the vocalists, coming in and out, in and out. For me that's all centred around the theme of love and developing that. But in the midst of that, especially when the sax solo starts, that brings in some of the tension and the turmoil. It is incessant; goes deeper – explores turmoil and anguish. After that there's a bit more light and the piano solo comes in. The main theme comes back again, and then it goes in to part two.
EH: Is that main theme the one that references Coltrane?
RS: No – it's more through-composing. However there is another echo of A Love Supreme. There was a song that someone wrote derived from chant. Coltrane does something like that on the original album – [sings] 'A Love Supreme, A Love Supreme'. I did something similar that echoes my theme [but with the melody being amongst the instruments]. It repeats itself at certain points when the main theme with the whole band is playing [long, short, long: Eb, down to C, up to F]. It's a three note chant-like pattern. It's not the same, but it is similar [in function].
EH: It's almost like an idée fixe 18?
RS: Yeah, exactly. Exactly. And so that comes back after the solos, and then it goes into the second part. And it's got a similar feel to A Love Supreme.
EH: So just to zoom out a bit. The piece is very much your music. Although you are following the structure of Coltrane, it's new music. But in the midst of that, there are some what you might call secret references to Coltrane?
RS: No, not really. Rather than secret, I would use the term subliminal. It's more the first part – the opening and the first part. So… In the second part we are now more heading to swing. That's inspired by what happens in Coltrane where there is a real swing feel. I felt that spirit so I composed something that had a strong swing feel.
EH: You are not quoting the Coltrane album; but you are using a similar method or approach.
RS: Yes…there exists a certain feel or spirit that you can detect in a sense from what he is playing. It's quite loose. He does have a specific theme – but then they develop it radically once that theme is laid down. The second part is another. It's important to understand that my response is informed by how my personal experience relates to Coltrane's. I grew up in a church; I've got the Caribbean background where many embrace the Pentecostal church and I've seen the worship there and the, at times, ecstatic state of the congregation. And when the band is playing and you've got the tambourine going – there is a celebratory aspect to what goes on, and there is heightened spirit. I wanted to infuse that atmosphere in my part 2. Even when the horns are playing, it's a theme you can sing back. I've got the bass clarinet doing the high notes, sustained theme, which gives off the wail that goes on amongst that – the calling out to the greater being. That shuffle feel makes this part the footstomper part. Somewhat like the Jazz Messengers (where the drum leader Art Blakey exudes a very spirited and jubilant feel) who are synonymous with this style. So this jubilation is associated with the Pentecostal church. You are being lifted. That's partly why I called the work Enlightenment. You are becoming more spiritually aware and sensing the goodness of the spirit. At the conclusion of that I took it to this powerful and vigorous section which starts slowish, featuring the bata drums, the tabla, and chanting as well. Then the kick drum joins in and it builds, faster, louder, stronger and explodes in the drum kit players powerful energy – goes into this vigorous solo – this is on the Union Chapel clip. It's another ecstatic moment.
And then it enters into the third part. On A Love Supreme, Coltrane goes to the blues; I also go to the blues. It keeps within that spirit. Fast, loose. Fast and furious. Now he's up and running – he's got his health back. For me it's like when you are celebrating having fought the obstacles and you are back and raring to go. You are so bursting to go so it shows in that energy. When we did it at the QEH it really took off in a ridiculous way. It was like fireworks going off on stage – I had a brilliant player in Pat Thomas using electronics and it sparking. The whole stage erupted.
EH: So it's like a scherzo?
RS: Yes, exactly, exactly it's like the scherzo. For example, Beethoven 7 19. Quite vigorous. Or the Eroica scherzo! They've got a merry romp feel to them. Or the 9th Symphony.
EH: The fifth is weird too with its segue into the finale. Beethoven's work was also a dream of freedom, somewhat against the reality of the conditions in which he lived. This reminds me of my chat with Shirley Thompson. She said her utopian New Nation Rising, A 21st Century Symphony (2002) was modelled on Beethoven's Symphony No. 9.
RS: Really! That's very interesting. I haven't heard her symphony yet.
EH: Her fourth movement is a 'melting pot'. She used that phrase too. It has the Beethovenian dimension. But also she draws together a rapper and other musicians from different areas.
RS: Overall… the soloists in mine are also narrating, singing, chanting. The setting [moves into] an otherworldly realm for the fourth part. I took inspiration from the word setting of Coltrane's psalm. There are these momentary phrases that go in and out of the horns. You have the psalms, and the build towards the end, and then an ending with calmness. I was touched by the response of the audience. I literally saw people moved to tears at the end. Nevertheless Cleveland Watkiss's reading of Coltrane's psalm-like poem was the most controversial thing about the whole piece, according to some of the press it received. I think there were some reviewers that weren't totally aware of what was being recited. 20 After all, there's a lot of God thanking during this final part.
EH: Like Haydn who usually closed his works with the remark 'Laus Deo'?
RS: Yes. Surely religious texts can be appreciated in art. Steve Reich's Tehillim (1981) is purely psalms. Handel's Messiah – nobody worries or complains.
EH: I saw Roxanna Panufnik – and she has had to face difficult reviews about style; but I wondered whether the reviewers actual problem was that some of her works are an explicit representation of faith.
RS: So that's a no-go area is it.
EH: I'm totally with you on this – we wouldn't have Messiaen's music 21 if you couldn't celebrate divine ecstasy.
RS: Why is that not a problem – is it only when you go into words and scriptures?
EH: Somehow with Messiaen you're listening to ecstatic chords and colours. Perhaps the problem is with text.
RS: So text jars with certain people who might be agnostic or atheist?
EH: This is purely my off-the-cuff speculation. I have no idea. I am just wondering if the worry, the anxiety, for reviewers, is if people are not using their music so much for serving a concert-going audience but instead actually aiming at an expression of inner spirituality. I don't know – it's an interesting point you have raised. I haven't read the reviews to Enlightenment but it sounds like it was a huge success.
RS: It felt extremely well received to be honest – to the point where BBC Radio 3 broadcast it on the date of the 50th anniversary of the release of A Love Supreme. And, they interviewed me before they played it. And they interviewed me before they aired it. The interview was placed alongside archive interviews with Alice Coltrane and with the members of John Coltrane's Quartet who played on A Love Supreme. Which was a real honour. And Jez Nelson, the presenter, made his own comments before they played it. Almost, in a subtle way, to prepare the listeners to his show.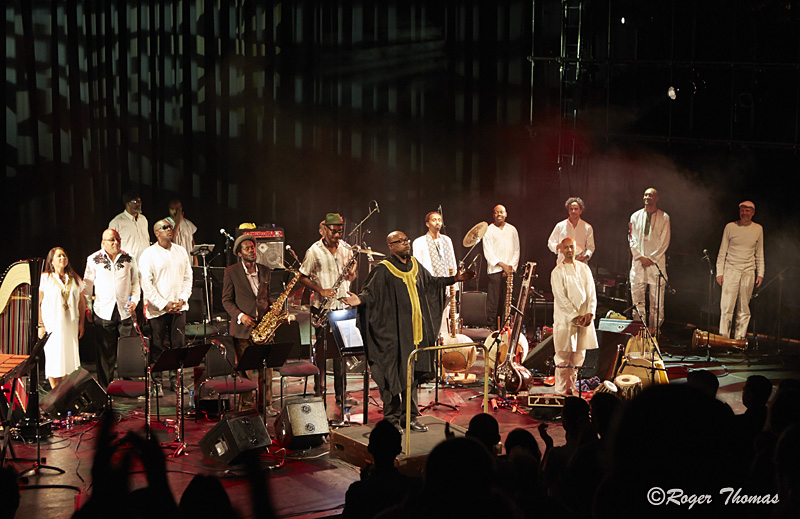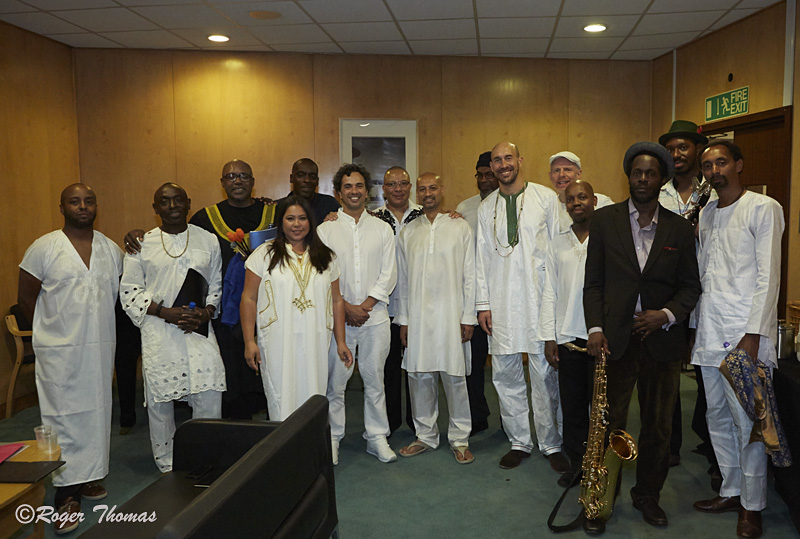 EH: Is there any possibility of reviving it live?
RS: It's only been performed in London. The curator isn't a promoter who has the capacity to promote it elsewhere. He did a brilliant job when it did happen. It kicked off at Kings College London, Chapel, Strand; in a raw, initial form 22. But there was still more to sort out in the music. And then we played it at the Meltdown Festival, Southbank Centre. And James Lavelle was curator… once employed by Straight No Chaser. Hence the connection. And it gave Lavelle a platform in an important magazine. When they released the tickets for sale, only 6 weeks before the Enlightenment concert, it sold out within a week. So when the Southbank Centre saw that they gave us a matinee show as well. Bear in mind, James Lavelle gave us the final day – we were on the last day of Meltdown. So, it was a big night (and afternoon). Both performances were sold out and it had rapturous ovations. A very memorable day. And then later on we performed it on two separate occasions at Union Chapel 23. It exhausted London. To be honest, I'm not totally sure why, but you couldn't get the promoters outside London to take it on. So sadly other parts of the country didn't get to experience it.