-by Stuart Price and Ruth Sanz Sabido
Our goal in editing Contemporary Protest and the Legacy of Dissent was to bring together the work of politically engaged individuals who could speak with authority, both about the inner life of social movements, and about the ways in which these movements are theorised and understood. The imposition of regimes of austerity in Europe and beyond has brought the relationship between the state and the corporate sector into greater focus. It has also revealed the extent to which outright repression is used in the 'management' of a crisis, one that has been most acutely felt by the poor and vulnerable. Meanwhile, established theories of protest, from the position adopted by the 'contentious politics' school, to notions of the performative, have come under scrutiny, as class, ethnicity and gender have once again come to the fore of academic debate.
The material in the book includes studies of the organisational practices adopted by groups within the Occupy movement, the representation of the 2011 'riots', the inside story of the so-called 'anti-Tesco' disturbances in Bristol, the use of the Republican flag on Spanish demonstrations, the work of migrant solidarity movements in Calais, an analysis of the political situation in the Ukraine, and many other analyses of vocal public dissent. One aspect of the book that we wished to emphasise was the fact that modern protesters, although they may organise themselves in ways that would have been inconceivable to their predecessors, still pursue similar agendas and will, ultimately, have to engage in embodied activity. Our emphasis is therefore on the ways in which individuals and groups operate, particularly with regard to communication and the mediated appearance of their activities.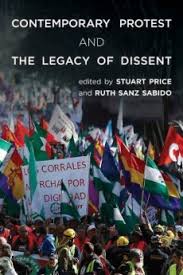 The book represents our interest in engaging with new and enlivened theories of protest, a goal we intend to pursue further as we begin to draw together new work in the field: we have recently secured a contract to produce a book series called 'Protest, Media and Culture', and welcome suggestions for volumes within the general outline issued here. In the meantime, we continue to conduct research into the actual configuration of protest events, an investigation that concentrates at present on the 'manifestacion' in Spanish cities. In all these projects, the legacy of the past, including the experience of dictatorship and repression, helps to contextualise our understanding of the 'democratic' present. If colleagues have any proposals for books that they may have in mind, and that will fit into our general perspective, then please feel free to email us at sprice@dmu.ac.uk and ruth.sanz-sabido@canterbury.ac.uk.
Table of contents:
Part I: Protest, Memory and Citizenship
1. The Legacy of Dissent: Class, Gender and Austerity – Stuart Price
2. 'They Call it Democracy': Cultural Memory and Anti-Austerity Protests in Spain – Ruth Sanz Sabido
3. Social Protest, Political Change and Democratisation in Ukraine – Soeren Keil, David Bates and Matthew Ogilvie
Part II: Occupation, Technology and Ideology
4. No Gods, no Masters … no Leaders? The Role of 'anarchists' in Occupy – Mark Bergfeld
5. A Marxist and an Anarchist Walk into the Occupy Movement: Internal and External Communication Practices of Radical Left Groups – Thomas Swann
6. Accelerating the Revolution: the Mediated Usurpation of Street Protest – Ingrid M. Hoofd
Part III: Riots and Political Discourse
7. Calls to Order: 'Anarchy', Riots and State Repression – Stuart Price
8. Conflicting Narratives in the Fog of Riot: The Case of the 2011 Stokes Croft Riots – Cassian Sparkes-Vian
9. Student Occupations: A New Generation of Protesters – Lee Salter
Part IV: Solidarity, Citizenship and Intervention
10. Bordering on Reproducing the State: Migrant Solidarity Collectives and Constructions of the Other in 'Safer Spaces'- Claire English
11. Marxism, Anti-imperialism and the Asian Youth Movements in Britain – Anandi Ramamurthy
12. Citizen Journalism and Active Citizenship – Vincent Campbell