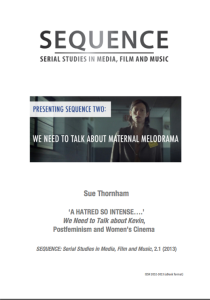 SEQUENCE Two: We Need to Talk about Maternal Melodrama
Sue Thornham's 'A HATRED SO INTENSE….: We Need to Talk about Kevin, Postfeminism and Women's Cinema', SEQUENCE, 2.1, 2013 is now available in the following free eBook versions:
INSTRUCTIONS: To open one of the above in your chosen mobile or tablet eReading application, directly select it and follow instructions. To download a version to your computer, right click on it and choose SAVE LINK AS, then open the saved file in your eReading application. With Kindle formats, you should also be able to access the eBook via a Kindle web browser – from the browser just click on the link and follow any instructions.
IMPORTANT: The above free files have been tested by SEQUENCE for their functionality, and are offered in good faith, as is. Your choice to access them by clicking on the above links, indicates your full acknowledgement and agreement that SEQUENCE, REFRAME and the University of Sussex shall not be responsible or liable, directly or indirectly, for any damage or loss caused or alleged to be caused by or in connection with your use of or reliance on them.