We are delighted to present, above, a fascinating and informative new film about psychoanalysis at Birkbeck, University of London.
Birkbeck has a long standing and lively tradition of Freudian thought and a distinctive, highly interdisciplinary approach to psychoanalysis. In this film a number of academics with sustained interests in psychoanalysis, drawn from across different disciplines in the College, talk about the many spaces that psychoanalytical ideas occupy in their lives and research. Spaces of Psychoanalysis makes extensive use of drawings and collages offering a panoramic view of the Freudian legacy's contemporary inflections and elaborations.
This 2016 film was directed by Bartek Dziadosz and produced by Lily Ford at Birkbeck's Derek Jarman Lab.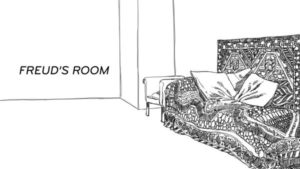 The featured image was shared on Twitter by the Derek Jarman Lab on May 15, 2016.