The above video was made as a tribute to Elizabeth Cowie, groundbreaking film scholar, Professor Emeritus, and CHASE Psychoanalysis Network member. Details of its making are published here.
A pioneer in psychoanalytic and feminist approaches to cinema studies and author of two important books in our field (Representing the Woman: Cinema and Psychoanalysis, 1997, and Recording Reality, Desiring the Real, 2011), Professor Cowie recently retired from the post she had held in Film Studies at the University of Kent since 1982.
The publication of the video coincides with an event to celebrate Cowie's work and career to be held at the University of Kent on Monday, June 6, 2016. Details are given below. The event is free but please RSVP to arts@kent.ac.uk if you would like to attend.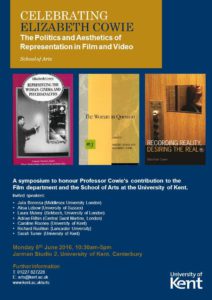 SCHEDULE: The Politics and Aesthetics of Representation in Film and Video – Celebrating Elizabeth Cowie
Monday 6 June, 10:30-17:00, Jarman 2 (School of Arts, University of Kent)
10:30: Peter Stanfield – Introduction
10:45: Richard Rushton – Three Propositions on Filmic Reality (Chair: Cecilia Sayad)
11:15: Alisa Lebow – Identity Slips (Chair: Lavinia Brydon)
11:45 Coffee break (Jarman foyer)
12:00: Caroline Rooney – On Making Documentaries: Elusive Realities (Mattias Frey)
12:30-14:00: Lunch break
14:00: Julia Borossa – Memory, Trauma and Communication: links to psychoanalytic practice (Chair: Michael Newall)
14:30: Laura Mulvey – Where did it all begin? Freud, film and feminism in the 1970s (Chair: Peter Stanfield)
15:00: Coffee break (Jarman foyer)
15:15: Adrian Rifkin – Why ask for the moon, we already have the stars? …  or the happy ending need never be an alibi! (Chair: Tamar Jeffers McDonald)
15:45: Sarah Turner and Elizabeth Cowie – Excerpts and discussion of Public House (Sarah Turner, 2015) (Chair: Catherine Grant)
16:30 Concluding remarks (Elizabeth Cowie)
17:00 Drinks reception