Leshu Torchin is a lecturer in Film Studies at St Andrews University. Her current research focuses on how screen media bear witness to human rights abuses and genocide in order to mobilise audiences. In her guest post for RE.FRAMING ACTIVISM, Torchin introduces some of the issues that are central to her new book, Creating the Witness: Documenting Genocide on Film, Video, and the Internet. Thanks to Torchin and the book's publishers University of Minnesota Press, REFRAME has been granted the permission to share the introduction to the book online. You can read it at the end of her article below.
Elie Wiesel has been in the news once again, courtesy of a new novel (Hostage) and a new memoir (Open Heart); multiple interviews have appeared online alongside his appearance on the Oprah Winfrey Network's Super Soul Sunday. There is much that can be said about one of the Holocaust's most famous and still living witnesses, but what strikes me the most is his declaration "Anyone who listens to a witness becomes one."
This claim drives my book, Creating the Witness: Documenting Genocide on Film, Video, and the Internet (University of Minnesota Press, 2012). In it, I explore the ways screen media have been used to create witnesses to genocide—not simply audiences, but publics who recognise the international crime and become poised to act.
Born from a longstanding interest in representations of the Holocaust, and namely the challenges around representing trauma, the project developed to embrace an activist edge. The whys of this decision are difficult to answer: In some ways, the focus on the traumatic seemed to feed on itself, generating more and more discussions about impossibility and contagion. These are important, but do not answer questions about the role of film and other popular media in bearing witness to the Holocaust or other genocides. These questions became particularly important in light of the status of genocide as mandate as well as international law: That is, it holds a status almost of performative utterance as recognition becomes obligation to act.
In some ways, this is not different from Elie Wiesel's claim that the witness to the witness becomes a witness. Indeed, this thinking has longstanding roots. It lingers in the Enlightenment-style conviction in the power of exposure that underpins the hopes of human rights workers, journalists and filmmakers: That if people know, they will act. It also lingers in the witness's partner: testimony, traditionally understood as a first person truthful narration of suffering.  The term is loaded with transformative potential in its numerous iterations. Christianity's martyr (Greek for 'witness') testifies to the truth of Christ to usher in a utopia. The testimony given on the witness stand is intended to bring justice. African-American slave narratives, published and performed, provided key tactics in the Abolitionist movement.  The Latin American genre of testimonio records the first person narration of suffering in popular political projects. And for Shoshanna Felman and Dori Laub, testimony is a speech act that occasions beneficial change, recuperating the individual and fostering a community ready to listen and respond.
Film and video radically enhance the testimonial encounter, extending the reach of the witness to multiple audiences dispersed across the globe. Moreover, as photographic media, they can emphasize immediacy and urgency, whether through the ontologically privileged status of the documentary (assumed), or the realism of the docudrama, which holds fast to its origins with the legend: Based on a true story.
However, the trajectory from exposure to action is not so seamless. As we well know, media are not transparent delivery systems for testimony. A constellation of factors contributes to the efficacy of a testimony. Rhetorical and iconographic strategies supply interpretive grids to make distant suffering a cause for concern, compassion, outrage, and solidarity. Practice, too, matters, as activities associated with distribution and exhibition can help channel the sentiment into action. It is as much about the testimonial encounter as the testimony itself.
Take, for example, Ravished Armenia (Oscar Apfel, 1919).  A co-production by international humanitarian organisation Near East Relief and proto-Hollywood studio Selig Polyscope, this silent feature length film adapted the survivor testimony of Aurora Mardiganian (née Arshalus Mardignian). In a bid to authenticity and sensationalism and perhaps to capitalise on the familiarity of the subject whose chronicles appeared first in serialised form, then as book, Aurora played herself in the film. In effect, she brought the impression of a first-person testimony through the ostensible re-enactment of her experience in a medium that left her otherwise mute.
The film played a significant role in the relief organisation's $30million  (US) fundraising campaigning. Its initial circuit of a twenty-one-city tour carried a ticket price ranging from $2.50 to $10.00, more than ten times the average. A casual calculation based on a twelve-day run in New York of matinees and evening screenings suggests a net of a possible $240,000 in that city alone.
Exhibitions were events designed to enhance both experience and awareness building. Screenings were held in conjunction with luncheons, plays, and guest speakers—typically diplomats, relief workers and survivors. These speakers corroborated the truth of the depiction and further animating it with their own testimony and presence. This was perhaps made most extreme in the case of Aurora, who toured with the film (until exhaustion claimed her and Aurora impersonators were hired).
Grassroots activity developed both capacity building and fundraising potential as NER chapters held screenings and set up their own advertising campaigns. An article in the Motion Picture Herald reports an instance in Texas where a local branch sent letters to "society people" and other citizens of influence, encouraging them to attend a screening (at $10 per ticket).  The letters often chronicled their own experiences watching the film and listening to the speakers who moved them.
The existing infrastructures of commercial film distribution and the circuits of a transnational relief organisation not only enabled the circulation of the film and its testimony, but may have shaped this testimony as well.  Gaylyn Studlar notes that the period of 1916-1926 was characterised by orientalist images of rapacious despots and harems. Ravished Armenia, as the title suggests certainly co-opted this sexualized violence in order to turn the reports of distant atrocities (including rape, murder, enforced privation and exile) into something familiar and possibly even titillating. Although the tropes dehumanized the Turkish people, they engaged audiences through the use of a familiar frame—one that stimulated sympathy, outrage and interest. Not surprisingly, especially given the Protestant evangelical roots of NER, the biblical associations with Armenia (e.g. Ararat), and the religious identity of the victims, Christian iconography also figures into the testimony. Alongside the suffering harem girls are the persecuted Christians, in some cases coming together, such as in a spectacular sequence depicting the mass crucifixion of naked women. Filtered through recognizable tropes, the suffering becomes one of moral outrage and horror visited upon the innocent—particularly for a Christian audience now primed to forge alliances with other foreign subjects.
There are problems with these images to be sure, but what is noteworthy here are the ways in which real-life events are shaped according to the circuits along which they travel and according to the audiences for whom they are performed. Perhaps also as important is that this story reveals the longstanding intersection of popular entertainment culture and advocacy (and religious organisations!). It is often tempting to uphold a binary with pure activist independent media on the one hand and a tainted commercial process on the other; however, they are not only enmeshed, but may mutually enhance each others' goals. Indeed, emboldened by the success of Ravished Armenia as a tool for publicity, NER continued to explore the use of film in its campaigns. The organisation cultivated partnerships with journalists, allowing them access to mission sites in the Near East in exchange for footage they made into short films that would run in mainstream cinema houses. Celebrities were also brought in.  Child star Jackie Coogan became the figurehead for "the Children's Crusade" to attract interest and aid in support for orphanages filled with the displaced child survivors. NER shorts with Coogan would be shown in between the commercial pictures featuring the young actor. In one case, NER coordinated a milk campaign in which a can of condensed milk bought entry to a Coogan film.
This story is predictive of many situations to come, certainly in terms of the geopolitical aspects of genocide, displacement, and ethnic cleansing, but also very much in terms of media advocacy: multi-platform campaigns, synergies between organizations (humanitarian, religious, and nongovernmental) and entertainment industries, and ranges of practices that are designed to engage audiences—whether donating money or coming together to write letters to potential donors and decision makers.
In fact, one of NER's films, Seeing is Believing, shares its name with the documentary, Seeing is Believing: Handicams, Human Rights and the News (Peter Wintonick and Katarina Cizek, 2002) that came almost a century later. This film addresses, at least in part, the work of WITNESS, a U.S.-based human rights organisation that trains its partners in the use of video in an advocacy campaign.
Despite the seeming transparency or ease suggested in either the title of the film or in the WITNESS logo "See it Film It Change It", the organisation takes up many of the challenges involved in creating witnesses to human rights violations—witnesses who will take action. They do not simply provide cameras and train their partners in their use, rather they engage in strategic considerations of exhibition and distribution plans that will inform the shape the film takes.  As noted in a 2005 report, "WITNESS is more than a provider of technology…footage alone is not enough to stop human rights violations. WITNESS makes a difference because we work with our partners to make compelling testimony and images into powerful human stories and strategic advocacy campaigns."
It is not uncommon for activists and filmmakers to seek help in making a film, hoping to build awareness. However, these desires are all too often detached from broader considerations: Who is their anticipated audience? What do they want this audience to do? What shape should the video take? How will this video contribute to a larger campaign? Is video the best tool or are there safety concerns that might undermine its uses? After all, what can a one-off television documentary screening accomplish—particularly after negotiations with the television station (date and time of airing, running time)? This is not to say that there is no value to such a screening, but without a plan for navigating an already crowded media landscape, the effects might be limited.  Similarly, will choppy footage filled with cuts and jumps, and handled without consideration of chain of custody have limited use as visible evidence in a court of law? And, if one wishes to attract an audience with a decision-maker, is a four-hour poetic treatise a better option than a short, direct outline of the issues and the desired action to be taken?  An emotional appeal is one thing, but there are practical concerns in video for advocacy.
Increased visibility has little effect if not attached to a plan for navigating a crowded media landscape.  Under these circumstances, it is important to consider both how to make a story meaningful in an array of contexts and how to mobilise the sentiment generated. There is no one single answer; rather stories will depend upon the circuits, platforms and audiences. These are varied and contingent. Indeed, rather than see the transmission of testimony as an exchange from one witness to another, the activity may be best characterised as a "field of witnessing," comprising multiple actors, processes, institutions, and beliefs—even if they all fall under the heading of international law.
This field has only grown with online and mobile technologies, which have both amplified possibilities for both practice and ethical considerations. And with this field, WITNESS has also grown, generating online video hosting and blogs, allowing for both new avenues of action as well as critical reflection, and in many cases, both, as evidenced by WITNESS's decision to close the Hub and to update its online strategy. Their critical reflexivity and commitment continues on their blog, which explores issues in both video and online advocacy. There, WITNESS program manager Sam Gregory provided a useful response to the Kony 2012 phenomenon (and although not hosted via WITNESS, Gregory, along with scholar and co-director of the Finger Lakes Environmental Film Festival Patty Zimmermann, has produced a crucial breakdown of ethical issues in the circulation of online video related to human rights advocacy.
These overviews of the Armenian case and WITNESS are far too brief (although they do receive lengthier and at least marginally more deserving treatment in Creating the Witness). However, even in brief, these examples go a long way to unpicking the work that goes into making witnesses out of audiences. Elie Wiesel is correct: We increasingly rely on prostheses—human and technological— to maintain both memory and commitment, but it is also as important to consider how this works.
Below, you can read the 'Introduction' to Leshu Torchin's new book Creating the Witness: Documenting Genocide on Film, Video, and the Internet (Minneapolis: University of Minnesota Press, 2012). REFRAME and RE.FRAMING ACTIVISM are very grateful to the book's author and publisher for granting us permission to display this chapter. You can buy a copy of the book from the University of Minnesota Press website.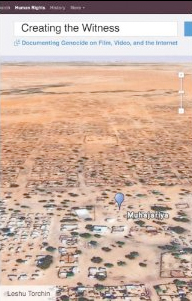 Copyright 2012 by the Regents of the University of Minnesota.
All rights reserved. No part of this publication may be reproduced, stored in a retrieval system, or transmitted, in any form or by any means, electronic, mechanical, photo- copying, recording, or otherwise, without the prior written permission of the publisher.
Published by the University of Minnesota Press 111 Third Avenue South, Suite 290 Minneapolis, MN 55401–2520 http://www.upress.umn.edu